Bangladesh Premier League
The golden arm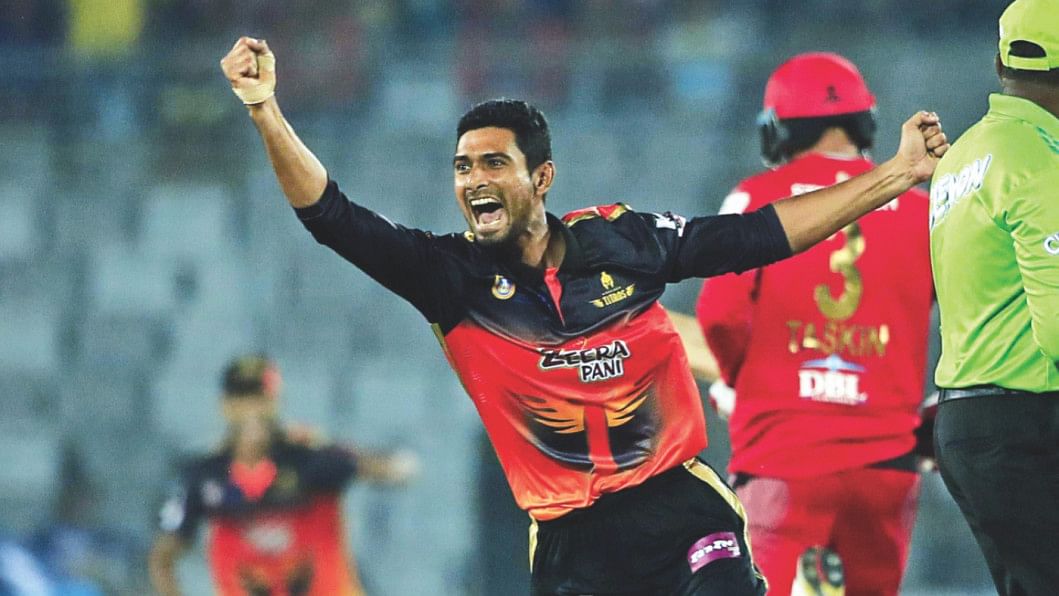 "I am still sweating. I really don't know what happened out there." These are the words that Mahmudullah Riyad used when asked to describe the story behind his unique feat.
After defending seven runs off the last over against the Rajshahi Kings on November 9, Mahmudullah did the unthinkable by managing to repeat the heroics. He defended six against two set Chittagong Vikings batsmen and led the Titans to their second unlikely win of the tournament.
After the game against Rajshahi on Wednesday, he described that moment as something that happens once in a blue moon. After yesterday's win, he was exasperated. He did not have any words to describe what he had done.
"I really don't know what happened. It just worked out. I don't know anything else. I was very nervous. I am still sweating," blurted Riyad at the start of the post-match press conference yesterday at Mirpur.
"Six runs off six balls. They just needed one six to win the game and the wicket was good. It was always going to be tough. I don't know. My plan was just to keep [Mohammad] Nabi at the non-strikers end for as long as possible. Chaturanga's [De Silva] wicket was crucial and then there was a dot. That's when the confidence slowly started building.
"There were no mental games. I just tried to bowl in the right areas. I told myself that the game was already out of reach. Now I just need to try my best and that's what I did," added Riyad.
Even Tamim Iqbal, who was extremely disappointed with the defeat, appreciated Mahmudullah's guts.
"If you think of it, this can only happen once in ten occasions. We had two set batsmen and we needed just six runs. Yes, he definitely deserves credit for this win, but to me I think we lost this game because of our faults.
"But no doubt, to win two matches from such a stage is not a joke. He defended seven runs one day and today he defended six. Today's was even more difficult. He is doing something right and that's why he is getting success," said Tamim.
Going by Mahmudullah's performances, it won't be a surprise if he keeps bringing himself at the death in the coming days. However, it is something that he hopes he will not have to do time and again during the competition.
"I don't want to bowl. Honestly, I don't. My best bowlers should be bowling the death overs. But I didn't have any options and that's why I had to take the responsibility. Thank God it's working out for me," said Mahmudullah.
Towards the end of the press conference Mahmudullah was asked if yesterday's win would help heal the wounds of the defeat against India during the World T20 when Bangladesh needed two runs off three balls.
To that Mahmudullah replied: "If you compare this match to that, then this is nothing. I don't know how I can overcome the World Cup defeat. That will always be a mark. But if God gives us a chance, we will, I will try to come out on the positive side."