Fan factor in Asia Cup final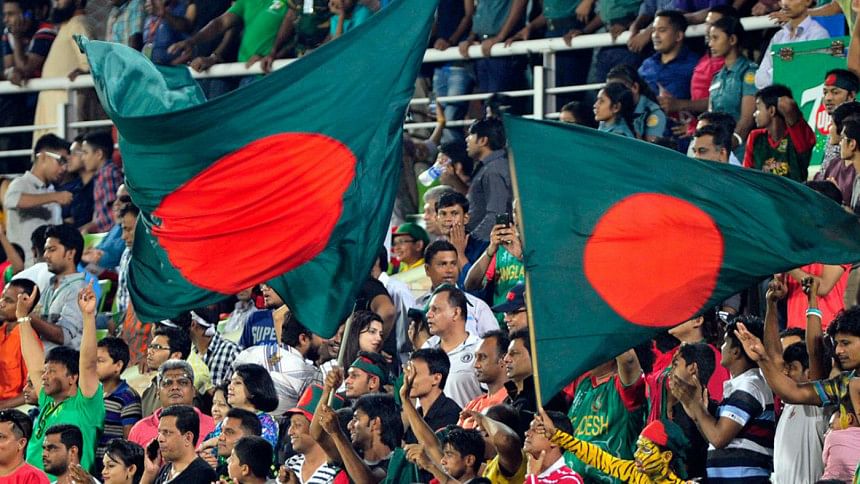 The Sher-e-Bangla National stadium is a bit massive. A little under 200m across, a little under 150m long, surrounded by two tiers of stands capable of hosting 25,000 people. It is not going to be enough.
Tickets for the Asia Cup have become the most sought after commodity in Dhaka. Mile-long queues frequented various vendors in Mirpur on the eve of the final. Hotel staff pop the question in between serving the teams their tea. Even journalists get the occasional request or two to dodge. It is all very Willy Wonka. A city of 15 million scouring for their golden ticket.
Day-to-day responsibilities have been put on hold for the chance to endure the poking and prodding of the tightest security and then end up packed like sardines. Why? To watch a little game of cricket. Well, maybe not so little. Bangladesh are about to play their third final in history. And they are in top form.
The victory against Pakistan to get to this stage was among the finest in their up-and-down Twenty20 career. And the crowd that had taken over every nook and cranny of the ground contributed to it. Their volume ebbed and flowed with the ebb and flow of the game. They were thrilled when Al-Amin Hossain struck with his first ball. They were quiet as Shahid Afridi strode out to the middle. They were in rapture when Tamim Iqbal flicked Mohammad Amir for six. They were in mourning when Shakib Al Hasan gave free passage for the ball to topple his stumps.
The atmosphere in the Mirpur arena spills out into Mirpur's streets, too. Adjoining shop owners have a radio to their ears and the customers check on the score before moving onto business. Pools of kids mill around electronic stores to watch the match on the television screens, whooping and clapping. Fireworks are set off. Slogans are belted out.
"This is Bangladesh," beams one of the BCB's media men. It could be their X-factor too with Mustafizur Rahman injured.
Home advantage usually pertains to an intimate knowledge of conditions and a sense of security that develops from playing hundreds of games. Where the other team panics, you don't because you have been there before.
The thing is: cricket is a spectator sport and their impact cannot be completely ruled out.
"Our biggest strength has always been our crowd if they weren't there we wouldn't have been inspired so much," Mashrafe Mortaza said. "I think this is a big opportunity for us, if we can do something big, then it will be really good."
India aren't strangers to playing cricket in cacophony. Even the least experienced man in their squad, Pawan Negi, has had experience with partisan crowds courtesy the IPL, where city loyalties can run deep.
"We're used to noise," team director Ravi Shastri said. "Let there be 100% [support for Bangladesh]. Who cares? When you play at that level, you are immune to that. You can use to your advantage as well. You can be more geed up and show that you can play."
Fuelling that confidence is the fact that India are used to the mechanics of an all-or-nothing match. They've routinely put in their best displays when it's mattered most -World T20 2007, World Cup 2011, Champions Trophy 2013, World Cup 2015. The home crowd roaring for the home team shouldn't shake them. But it does add a fascinating dimension to a contest where even Mashrafe has tipped his hat and said, "India are clear favourites."
Bangladesh have the capacity to change that, and fast. They were noticeably charged-up in the game against Pakistan. Taskin Ahmed and Al-Amin were pacy - Mirpur loved that - and accurate. The fielders tumbled after the ball even if it was destined for the boundary and clawed it back - Mirpur loved that immensely and as a player, there is no running away from it.
There are no gaps in the stands here. People surround you, tower over you and scrutinize you non-stop. If it isn't overwhelming, it should at least be distracting. South Africa felt it at the World Cup, when they were marooned at the MCG when it became a sea of blue. England felt it - in their own backyard - when they lost an ODI series in 2014. Both teams had been up against an Indian side that was coming off a Test series loss, and yet both teams found the crowd supporting MS Dhoni's men unflinchingly.
It is not often that India go on tour and want for support. Besides a helpfully large expat population, a team that includes the likes of Virat Kohli, Rohit Sharma, Yuvraj Singh and helmed by Dhoni tends to turn heads and change hearts. But it will be different tomorrow. Perhaps even slightly difficult.
But as Shastri pointed out, raising your game in adversity isn't impossible. Australia witnessed and even contributed to the outpouring of emotion during Brendon McCullum's final series. They withstood his onslaught - which grew to become the fastest Test century in history - at his new home in Christchurch and finally won that game and the series 2-0.
Things are just simmering now. It will peak when they wake up in the morning and realise it is match day and just as the first ball is about to be bowled, it will transcend description.