Bangladesh A in India 2015-16
Streak keen on developing winning culture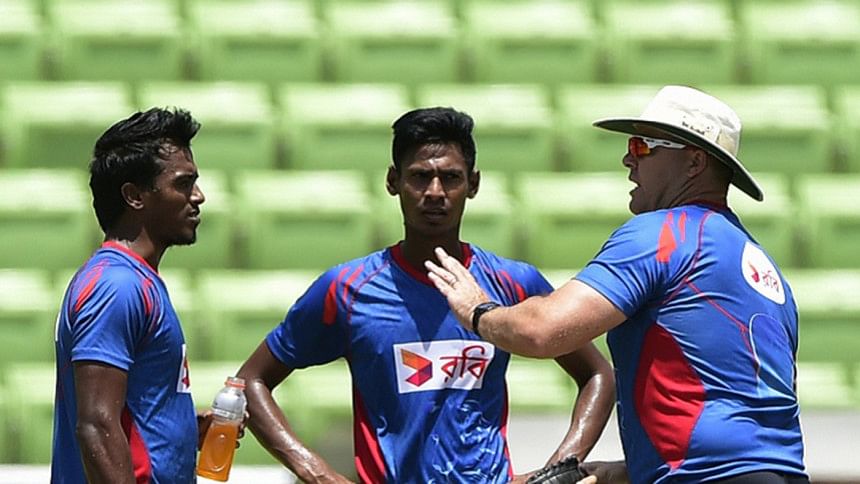 Bangladesh A coach Heath Streak has termed the five-match tour of India as an 'important step' ahead of the two-match Test series at home against Australia, starting October 9.
Streak believes Bangladesh are capable of beating Australia, who find themselves 272 Tests light following the retirements of Michael Clarke, Chris Rogers, Ryan Harris, Brad Haddin, and Shane Watson.
"A tour like this is an important step for Bangladesh cricket in its continued learning curve for all formats," Streak said.
"I think everyone knows Bangladesh in Bangladesh are a tough team to beat and I think despite Australia coming, it's no different.
"They got a few inexperienced players and rely pretty heavily on their more senior players like [Steven] Smith. If they don't play their best cricket and we play to our potential, we can beat Australia, especially in our conditions."
Bangladesh are yet to play a Test in India, but Bangladesh A have previously toured the country in 2001, 2009, and 2012. Streak identified the series as platform to get used to the conditions and build on gains, besides calling for the one-day form of the national team to be transferred to Tests.
"[This is a] Very important tour for Bangladesh in terms of their progression", Streak said. " We are not looking at the series as a warm up. For us it's about winning and continuing winning culture.
"In a country like India, this is a great opportunity for them to expose themselves to the conditions and gain more experience. Whilst we have performed well in one-day cricket, we have still got big strides to make in the Test arena. It is a good opportunity for Bangladesh to show their improvement in Test cricket as well."
Streak also believed that the the fast-bowling department was well stocked, as it has been bolstered further by the return of Taskin Ahmed from injury. Taskin sustained a tear on his left side before the third ODI against India, but has recovered fully and is set for his first first-class match since February 2013.
"[We have] Rubel [Hossain] and Taskin [Ahmed], while Mashrafe [Mortaza] is a very experienced campaigner. Mustafizur [Rahman] has come on the scene and made an impression right from the outset," Streak said.
"We have people like Shafiul [Islam], Al-Amin [Hossain], [Mohammad] Shahid. We have a good group of guys and some really good Under-19s.
"This will be the first time Taskin will be playing long-form cricket [after suffering a stress fracture in 2014 and a side tear early this year]", Streak said.
"Taskin, despite the injury bowled the most number of the balls of all Bangladesh bowlers last year [he actually bowled 474 balls across formats in 2015, the fifth-highest among Bangladesh bowlers].
"In terms of his preparation, it has been good. We have been maintaining him and we got an important T20 World Cup coming up, which is at the top of the list. Those sort of quick bowlers are important to us and how we manage them is the key."