No problem working with Dravid, says Shastri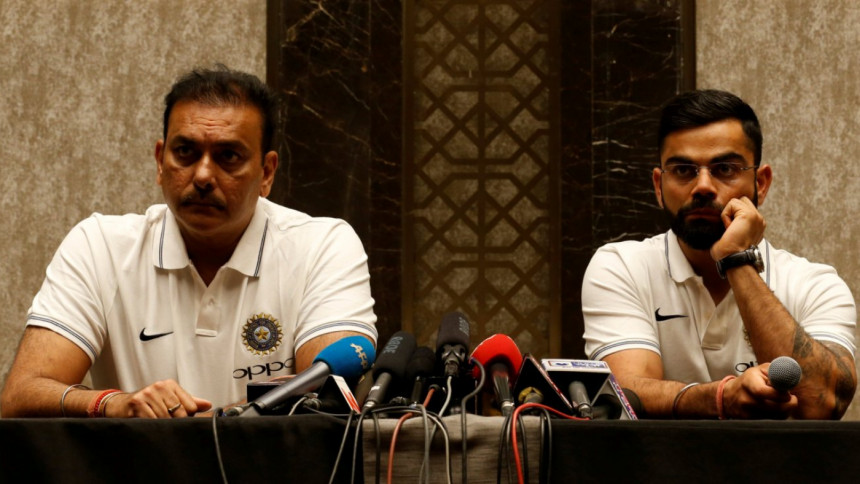 Ravi Shastri answered his critics strongly on the topic of coach assignments and made it clear that he means no 'disrespect' to individuals who are rich in experience and can contribute to Team India's cause.
At a Team India press conference, Ravi Shastri answered questions from reporters with captain Virat Kohli sitting beside him. 'Ravi Shastri has hit back like a tracer bullet' read the opening line of a Times of India report.
Shastri opened up on the controversial surroundings of the coach appointments.
The former cricketer hinted at difficulties he faced in getting his own choice of support stuff – essentially bowling coach Bharat Arun.
"I have matured since we last went to Sri Lanka. I feel have matured a lot in the last two weeks," he thundered.
He also lauded the capacity of the players for performing so well during the last three years. According to Shastri, if Team India did well recently, it was solely due to the efforts of the players and not the coach.
"Mine will be the refresh button. I don't come with any baggage. The team has done exceedingly well in the last three years, they are the people who deserve credit. The Ravi Shastris and Anil Kumbles will come and go. If India are the No.1 Test team today, it is because of the effort of the players. People will come and go. The fabric of Indian cricket will remain," he stressed.
Regarding his preference for Arun ahead of Zaheer Khan, he replied: "There's track record there. Fifteen years of his life have been spent coaching.
"He has been with A teams, U-19 teams, junior World Cup teams. He knows the boys better than I do. In the 2015 World Cup, our bowlers took 77 out of 80 wickets.
"If he was a big name, you would have put him on the top of the tree. I don't need to elaborate too much on what he is good at. It's there for everyone to see."
Regarding the topic of Rahul Dravid as batting consultant, he added that he has no problem, whatsoever, in working with the batting legend.
"I'm very clear about that. Rahul can bring great advantages and we all know that. If he can decide on how he can divide his time and let the BCCI know when he can be available, I am all for it," Shastri told TOI.