Transitional demands face transformed Hathurusingha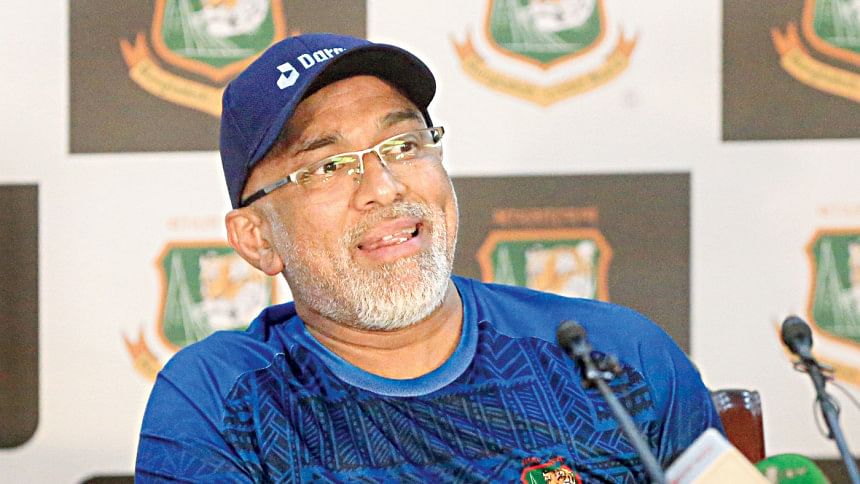 There were a lot of expectations as Chandika Hathurusingha's first press conference commenced on his return to Bangladesh's head coaching role, but far from being explosive, the Sri Lankan appeared far cooler and composed than in his first stint. Even while dismissing suggestions about bad relationships with seniors, the tone he set was one of calm.
There was an instance when the Hathursingha of old peeked through the slightly passive press conference after one journalist asserted that focusing on the home advantage had led to short-term success but not long-term assurances, especially in Tests. In that one moment at the very end of the press conference, it became apparent that Hathurusingha had not lost his edge in terms of assertiveness. But by and large, the rest of the press conference had been about some sort of new-found calmness. "I am a little bit older," he had joked when asked whether it was Hathurusingha 2.0 who had come back to the hot seat.
The Bangladesh job had been offered to him quite a few times since his departure in 2017, as he himself acknowledged. The relationship had ended rather unceremoniously despite many glittering successes, with two years of his contract left unfulfilled and relationships with a few of the seniors strained. A more productive opportunity in his homeland and a lack of ammunition to make the team stronger were axioms built around the end of his first stint. What motivated him to come back? It brings to mind some of the arguments used to explain his departure in 2017. There is no doubt Bangladesh are a team in transition, even in their strongest format: ODIs. The seniors are reaching the end of their journey, with many having opted out of one or two formats. Replacing those legends in the team has been a difficult idea to fathom in Bangladesh cricket. Mahmudullah Riyad had decided to retire from Tests while in Zimbabwe although he had said before the tour that he wanted to play on. This is a project that requires hand-on experience, and it is what the BCB might have thought of as well.
Hathurusingha explained politely but there were some suggestions as to the change he needed to make when talking about his motivation to return. "I will answer from my point of view. I think we [Bangladesh team] will be in a transitional period for the next two or three years. A lot of the senior players have done really well for Bangladesh cricket. They are going to be remembered as a really good generation. On the other side, really good young players are coming through. To be part of that kind of challenge has always motivated me to come back," Hathurusingha said.
It will be his task to keep the seniors happy through to the ODI World Cup in India in eight months' time. But he does not see them change their roles, as long as they are selected, which he pointed out during the press conference.
A big part of the criticism has been the nature of home wickets which Bangladesh management fell upon so acutely that it rendered the team unable to adjust to conditions when playing away. He noted that there was a lack of firepower and 'guerrilla' warfare was needed. Much has changed now in five-and-a-half years in terms of spin dependency.
The team will hold an intra-squad practice game and by the looks of it, a slower, flatter wicket could be used today for preparations against England. Such devices point to a keenness to not take too many risks in the very first series on return.
Will the Tigers resort to short-term benefits given that wickets may once again be conducive to slowness? Or does Hathurusingha have more under his wily belt than he cared to give away? Only time will tell.