There's no stopping Marufa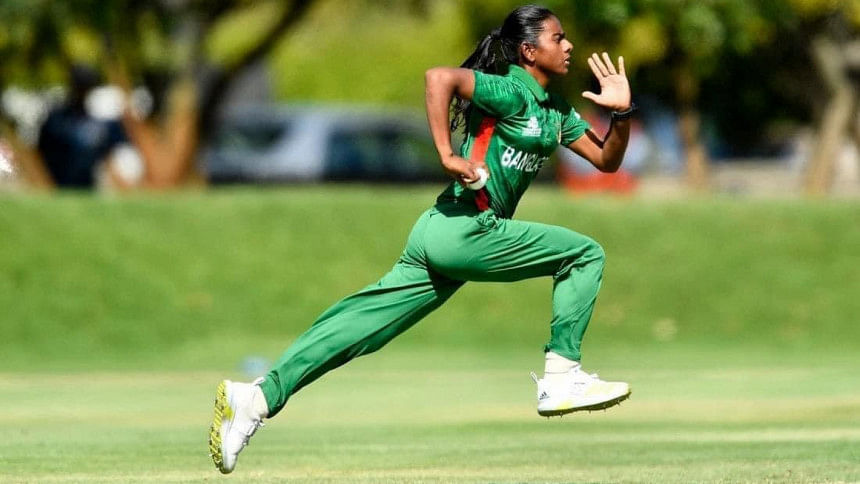 The story of cricketer Marufa Akter's ascension – from the remotest of areas in northern Bangladesh to gracing the centre-stage in Dhaka – beats a fairy tale.  
Stories or plots in cinemas often reflect the lives of people. Certain life stories, however, remain beyond the scope of films or novels. Such one story revolves around Marufa.  
Born in a conservative society in Dhelapir, under Saidpur upazilla in Nilphamari -- and that too in a family desperately making ends meet in a sea of poverty -- the daughter of farmer Aimullah dreaming of becoming a cricketer had seemed quite far-fetched at first.  
But when a dreamer is dauntless, who can dare stop them? Marufa's success-story is tied to the mantra: in not giving up. She did not hesitate to acknowledge how ploughing the field with her father had sown the seeds of strength and courage in her.
Fast-forward to July 16 this year, Bangladesh went on to achieve their maiden ODI victory over India. 18-year-old Marufa's four-wicket haul had been the key, aided by teammate Rabeya Khatun's three scalps, as the foundation of a 40-run win in a rain-curtailed match at the Sher-e-Bangla National Cricket Stadium was laid for the Tigresses.     
Back in 2018-19 when financial shortcomings blocked Marufa's admission to the BKSP, the Bangladesh Cricket Board (BCB) came forward after the news broke in the media.  
The BCB recognized it had an uncut gem in hand, as later evidenced when she became the highest wicket-taker in the Women's Dhaka Premier League and, despite being only a tenth-grader, she rightfully bagged the best-emerging-player award. Consequently, Marufa made the cut in the 15-member squad for the Women's T20 World Cup Qualifiers.
In the 1960s, confinement was prevalent among women in Old Dhaka who, for instance, had to even curtain the rickshaw during commute. In today's Bangladesh, though, the likes of Marufa continue to break whatever remnants of shackles as she operates with a fiery determination; a sort of courage our women had achieved through the Liberation War. 
In the name of social norms or customs or religion, women had long been denied equal opportunity. Begum Rokeya, a pioneer of women's awakening in Bengal, expressed in her writings how patriarchy manipulated women into being oppressed. "Whenever a sister tried to raise her head, it was crushed by a weapon in the name of religion or scriptures. What we did not oblige at first, we later accepted it in the name of religious order. To keep us in the dark, men have preached those scriptures as God's commandments."
In a still patriarchal society at large, Marufa is a wonderful symbol of women moving forward and breaking barriers; an endless source of inspiration.
In this country, women are achieving success in various fields of work - in administration, teaching, banks, NGOs, and so on. Our huge garment industry features girls who emerge out of remote villages, regardless of social stigma, to enrich the country's economy. 
Let our achievements in the field of sports and culture go on to cross the national borders.
Keep moving forward like a cheetah that you are, and radiate like a beacon, sister Marufa.
[Alamgir Shahriar, the writer of this piece, is a poet and a researcher]