The breeding grounds for young cricketers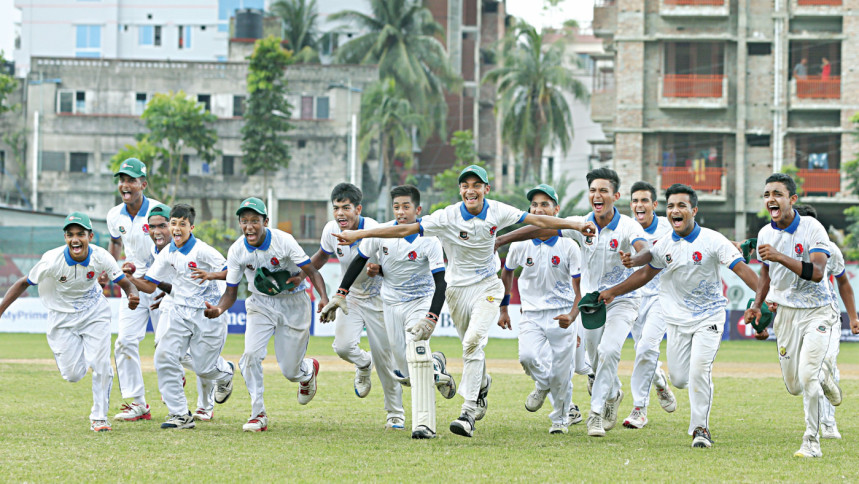 School cricket has played a huge role in scouting aspiring cricketers over the years and, following a halt due to the Covid-19 pandemic, the prestigious tournament once again made a positive impact as Shishu Niketon High School clinched the Prime Bank National School Cricket title by beating Meherpur Government High School by 59 runs in the final yesterday.
The Bangladesh Cricket Board's attempt to rekindle school cricket competitions, where youngsters can showcase their talents in a festive environment, was spearheaded by board director and BCB School Cricket Committee chairman Obeid Rashid Nizam. The matches being telecast on TV has only added to the excitement.
Shishu Niketon leg-spinner Shaikh Imtiaz Shihab, who was named player of the tournament, starred in the final with a five-wicket haul as Meherpur were bundled out for just 43 runs in chase of a modest of 102 at the Shamsuzzoha Sports Complex in Narayanganj.
Like Shihab, who scalped 33 wickets in 10 games in the tournament, many others have been testament to school cricket's being a source of producing cricketers at the grassroots level.
"School cricket is a regular program under game development activities. The tournament didn't hit the field due to the Covid-19, but it was a regular feature in the past. We previously had around 550 schools participating but this time we reduced it to 348. The reason was to ensure quality," BCB age-level selector and former Bangladesh opener Hannan Sarkar told The Daily Star. "We made sure schools would meet specific criteria to be able to participate so that the standards of the teams could be ensured."
Selectors will conduct a training camp with 120 cricketers from the school cricket tournament and form a 15-member squad. They are also planning to provide scholarships to the cricketers.
"Shihab was in our national under-15 camp and is part of the set-up. When we make the shortlist, you will see a majority of our age-group cricketers coming through the process. However, there are some players who somehow miss out or were dropped. Those players got the opportunity to showcase their worth," he said.
Hannan also chimed in on why he felt that Bangladesh were struggling to produce leg-spinners for the senior side despite many leggies coming through the system.
"We announced the under-15 squad recently and included two leg-spinners. We have three leg spinners in the under-17 squad and we will have four to five leg spinners in the team in the upcoming under-19 squad. We never had a shortage of leg-spinners at the age-level. But I don't want to comment about what happens after that. Honestly, I think maybe clubs don't show interest in playing leg-spinners at the competitive level. That is probably one aspect," Hannan said.
There have been instances of players attempting to hide their age to fit into the system, but Hannan said the board ensures proper medical tests to determine age.
"When the medical tests start before the tournament, we have one representative from the board designated to follow procedures. We also have a doctor in the team along with district and divisional coaches. Officials provide papers such as a birth certificate.
"Each individual grows differently so it's quite difficult to determine age perfectly. But we take it that sixty to seventy percent is right. If we have any doubts about a player, we go for bone tests as an authentic and final option," he added.