Tamim distraction ahead of WI Tests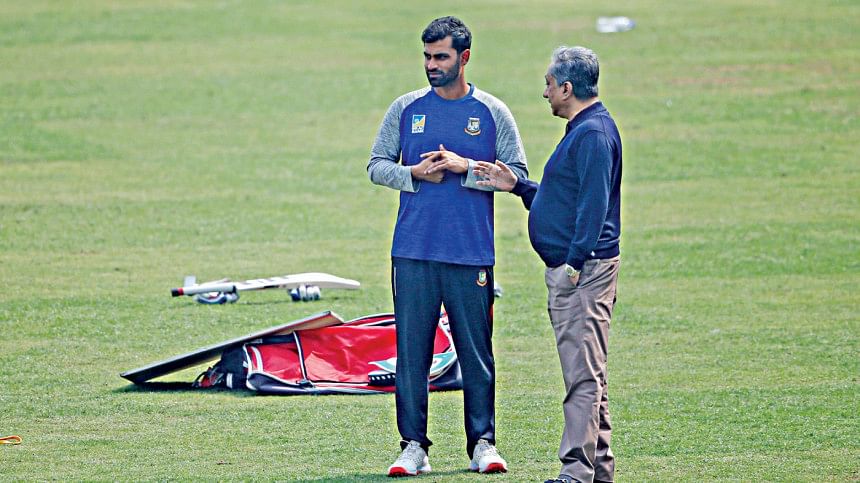 The fracas in the media over Tamim Iqbal's recent comments and those of the Bangladesh Cricket Board has exposed a pretty dismal picture of the national team environment ahead of the West Indies tour. As the team leaves for the Caribbean for the month-long tour starting with the first Test in Antigua on June 16, it is not the longest format or the players of the format that are hogging the limelight, instead it is ODI captain Tamim Iqbal's T20I future that is the talk of the town.
The issue surfaced during an event on Sunday when Tamim reacted regarding a question that was posed to Jamie Siddons the day before. The batting coach was asked whether Tamim would do well coming down the order. While Siddons replied that 'Tamim would love that but we need to find another opening batter first,' the batter felt that the question itself was 'stupid'.
Things further rolled on during that event when Tamim was asked about his T20I future. He said he was not being able to talk about his decision as 'either you (media) say it or someone else says it.'
This newspaper had reported back in April that according to BCB sources, an announcement from Tamim on his T20I future was imminent. That announcement did not come and BCB sources had said Tamim would state his decision to the media himself.
With one-and-a-half months left of his self-imposed hiatus from T20Is, Tamim felt the announcement should be left up to him. In a statement yesterday on Facebook, he wrote that his words had been misconstrued and he did not, in any way, mean that the board had not communicated with him regarding his T20I future.
However, apart from the media, who that 'someone else' is was not clarified. What Tamim said on Sunday, may easily be conceived as BCB higher-ups talking ahead of time.
BCB president Nazmul Hassan Papon, speaking to a national English daily on Monday, said that Tamim had already sent a letter to the board saying he was not going to play T20Is. He also said that BCB had urged Tamim to clarify his stance. Meanwhile, Tamim, in his statement yesterday, said he has been communicated by the board and the board knows his decision and he never said that the board did not ask him about his T20I future.
However, while the BCB president did not shy away from saying what he felt, the discussion ahead of a key Test series has once again turned to the T20I availability of a player who last played in the format in March of 2020. The fracas between the board and the players, which had caused an uproar during the T20 World Cup in UAE, is once again at play.