Shanto, a portrait of assuredness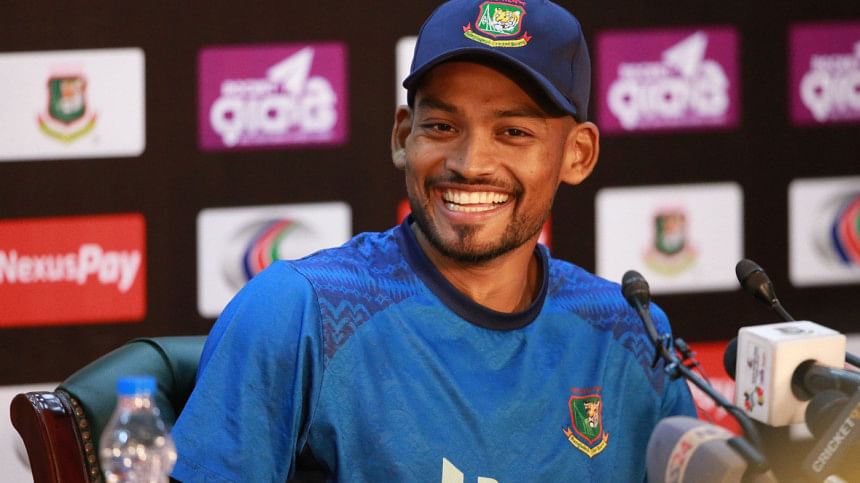 Bangladesh cricket team had big dreams and expectations surrounding the upcoming ODI World Cup in India.
"Hopefully, this time our goal will be to win the 2023 World Cup," former ODI captain Tamim Iqbal had said back in 2021.
The experienced stars' performances and youngsters coming through the ranks had prompted many of the national team players speak positively about Bangladesh's World Cup possibilities.
Some of that expectation had been curbed by the performances in the recent Asia Cup. Following the multi-nation event, coach Chandika Hathurusingha had said in an interview that those who are dreaming of winning the World Cup should wake up from their sleep.
It was an unprecedented remark, considering it came from the head coach and that too very close to the World Cup. Tamim, who recently stepped down from captaincy, was surprised by the comment and asked how a dream can be fulfilled if it is not there?
Yesterday, Najmul Hossain Shanto came to the press conference as the 16th ODI captain of Bangladesh, with Liton Das rested for the third ODI against New Zealand. Shanto projected the kind of assuredness that puts his struggle with trolling and finding a foothold in international cricket in context.
Despite the dent in Tigers' aspirations, Shanto seemed vibrant. Just like he is getting used to scoring runs in international cricket, Shanto was responding to the questions without a seed of doubt.
When asked to comment on Hathurusingha's remarks, Shanto responded with an emphatically positive tone.
"No, actually we are still seeing the same dream which we were seeing before. The players wanted to finish within the top four when we started the World Cup qualification [ODI Super League] and we finished in top three. Since then we dreamt of getting good results in the World Cup, something we didn't do before but we have the ability. We still have the same dream," Shanto said nonchalantly.
Shanto's assuredness at this moment is encapsulated by the very struggles he faced when he did not perform as a player. His responsibility would be big too. The number three batting position is key to settling the batting side for big things. His role would be a pivotal one to avoid a batting slump like those that have been seen in recent games.
"After getting a good start, our work is to build big partnerships. That would be the goal and that's what everyone is working on. Those of us who are batting in the top-order would try to ensure that whoever gets set, would look to see how big an innings we can play. Hoping it [top-order slump] would be rectified soon," the left-handed batter said.
Enjoying his journey in international cricket, Shanto wore the burden of being made the captain for one match like an emblem, showing mental toughness that would be necessary to reinstate the broken momentum ahead of the World Cup.