Shanto identified 'what needs to be done'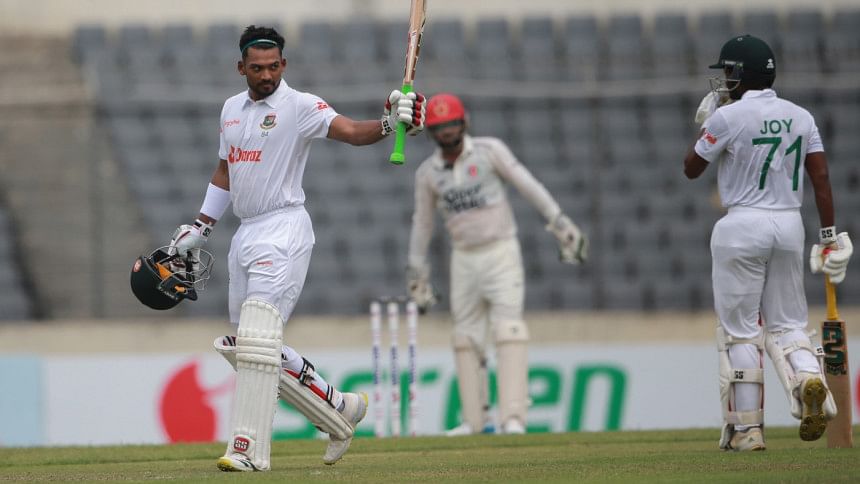 "No, I am happy with whatever I have done," a nonchalant Najmul Hossain Shanto said at yesterday's press conference when asked if he was feeling the pangs of missing out on what could very well have been an even bigger innings. The question placed by the media about there being some sort of 'disappointment' stemmed from the ease with which Shanto asserted himself against Afghanistan yesterday.
The drives, flicks and pulls in front of square all came out during a mammoth innings of 146. Only the way his innings ended, holed out at deep mid-wicket trying to go for a big shot, could be termed as disappointing. However, there was nothing disappointing about the way Shanto has been answering his critics recently.
Since the start of the year, he has averaged over 50 in all three formats and came up with important knocks in the England T20Is at home during a 3-0 clean sweep. He clinched his maiden ODI ton in a sumptuous chase against Ireland in England just recently. Form-wise, he is Bangladesh's best batter and in the one-off Test, the challenge was to overcome heat, exhaustion and keep grinding for bigger knocks.
He defeated those first two challenges and made it look easy even though he himself did not feel so. He denied the insinuation as clearly as he dispatched some of the Afghanistan bowlers to the boundary yesterday. He talked about batting to a clear plan and on the field, it showed in the clarity of his strokeplay.
"No, I didn't feel it was easy out there. I tried to execute according to the plan I was batting to. I had a clear mind about what I needed to do. Maybe it seemed easy to you, but from the beginning I faced difficulties," he said.
Having been deemed unfit for the national team by a large portion of fans for so long, Shanto assumed that his hard work and belief that was born from hours in the nets were paying off.
"There is no difference [between the bad times and the good times]. I always believed in my practice pattern and hard work and identifying what needed to be done. I had the belief that I was going in the right direction and I was giving effort in practice. When you are not scoring, a bad feeling comes about, but I didn't overthink, or worry about the outcomes. It's very true for me. I didn't focus on the negatives. The main thing was focusing on where I was lacking. I didn't get results then, but now it is coming and I would like to continue," he said.
Shanto had paced himself for a flowing knock from the off. His intent and aggression also took the greenish pitch out of the visitors' minds. Afghanistan's bowlers may have lacked discipline, but Shanto argued that he has not faced a weak opposition in international cricket till now.
"Whatever international cricket I have played, no opposition felt weak. It was difficult to score against every side," he said when it was suggested the Afghanistan attack appeared weak compared to current international standards. "Their spinners bowled some good overs. All the credit goes to our batters for the way they negotiated the spinners."
It was Shanto's maiden ton on home soil and, if there was any disappointment, it is Shanto himself who has to work things out. "It's true the innings could have been bigger and when an opportunity comes, I will look to make such innings even bigger," he said.