Shakib looks to end Asia Cup on high with win against India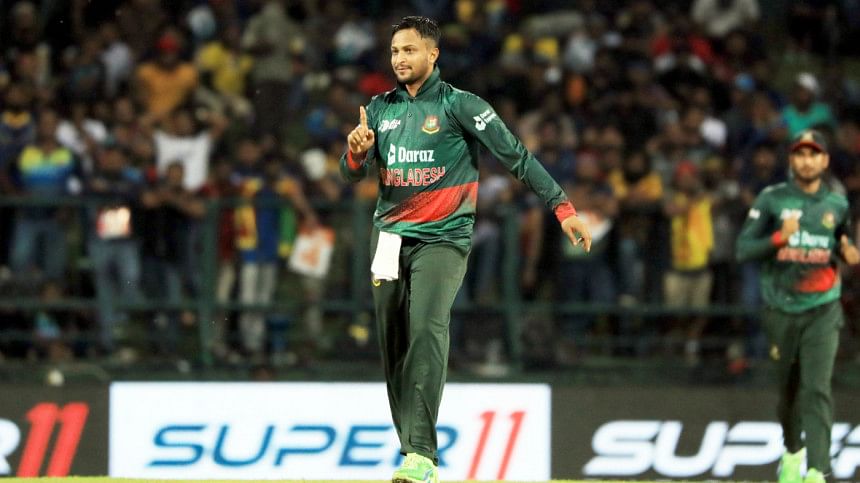 Bangladesh's Asia Cup hopes have already been dashed but with a host of starters unavailable, the Tigers will be keen on trying a few new combinations to finish their campaign on a high against India in Colombo today.
Skipper Shakib Al Hasan, however, seemed quite uninterested in entertaining the eager questions from the media when he attended Thursday's pre-match presser. In fact, he did not seem very eager to answer anything in particular.
In a very nonchalant manner, Shakib said that it is not only up to him to shoulder all the responsibility when asked what his message to the side was ahead of today's contest as the most experienced campaigner.
"The thing is that not all the responsibility is mine alone. I am sure everyone will work from their position and if individually they do that then our chances of doing well as a team increase. If we can combine those individual performances, maybe we will be able to do well," Shakib said during the media interaction in Colombo yesterday.
As Shakib mentioned, his only motive is now to win against India. He also brushed aside suggestions that he will not feature in the coming series against New Zealand.
"Actually, what areas I am satisfied with and what areas I am not satisfied with are not things to be discussed in the media. These are topics for the team management to discuss and find solutions to," he said.
Some of the batters have not been in form and for that, all that Shakib had to say was: "They haven't contributed that much and they know that. They are trying to do that."
The skipper also mentioned that he was not quite sure whether Asia Cup performances would affect the side going forward.
Amid all his snarky replies yesterday, Shakib, however, did leave a message for the team.
"I think [Abdur Razzak] Raz bhai said one good thing that day which is that those who are playing in the national team are doing so because they are capable. Here experience or inexperience or new and old doesn't come into the equation. If we can play well as a team it would be good for us," Shakib said.