Shakib likens Tamim's behaviour to a child's antics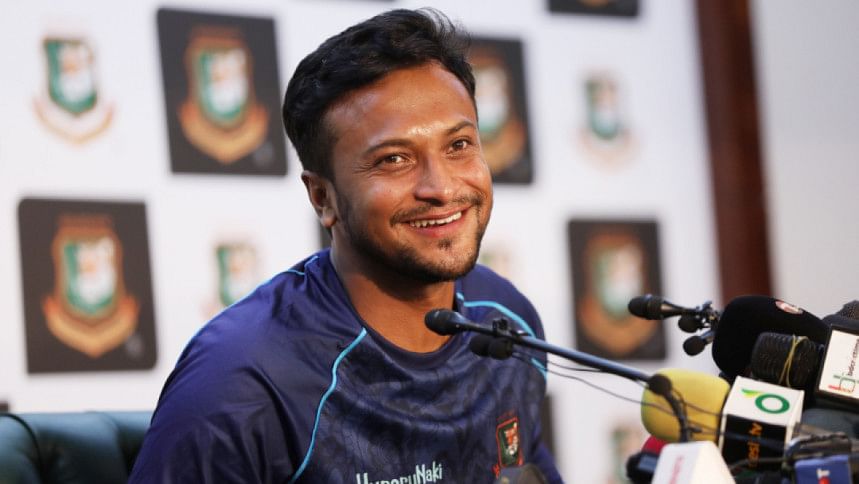 Bangladesh ODI captain Shakib Al Hasan gave his opinion regarding Tamim Iqbal's exclusion from the World Cup squad in an exclusive interview with T Sports, aired on Wednesday night.
In a roundabout way, Shakib detailed that the decision to exclude Tamim was part of many processes and facts which he was not part of.
He used Mahmudullah Riyad as an example.
"Mahmudullah Riyad bhai wasn't there but suddenly he came to the World Cup team. I felt he couldn't do that but his dedication, his responsibility for the team and his urge to play for the team, those things were noticed by all. So there is a difference," Shakib said, indicating that there was a difference in attitude between Mahmudullah and Tamim.
Tamim had said in a Facebook video yesterday, posted after the Bangladesh team's departure for India, that a board high-up had approached him to skip the first World Cup game and also bat lower down the order.
Shakib denied involvement in such a request being put to Tamim. He, however, likened Tamim's behaviour to a child's antics at the playground.
"I have not discussed anything like that so I don't know where the question is coming from….If someone made that proposal, is there something wrong with it? Or is it like you can't make a proposal like that? Like you have to tell a particular person that 'you do whatever you want?' It's like a childish behaviour where someone is saying 'it's my bat, only I will play.'
"For the good of the team, anyone should be ready to play in any position. It's about team first," he added.
"Someone like Rohit Sharma built his career from No. 7 to opener, scored 10,000-plus runs. If he sometimes bats at No 3 or 4, would it be a big problem? It is totally childish. It is my bat, I will play. No one else can play. A player should bat at any position for the team. Team first. It doesn't make any difference if you have made 100 or 200, and the team loses. What can you do with personal achievement? You want to make a name for yourself?
"You are not thinking about the team at all. People don't understand these things. Why was the proposal given to him? It was for the team. What is wrong in that? You are a team man when you agree to such a proposal. Unless you are thinking along those lines, you are not a team man. You are playing for individual records, success, fame, and name. Not for the team."
Shakib also said why taking Tamim would have been a difficult proposition for him. "Kane Williamson won't play the first two matches, but then he will start playing," Shakib said. "If I knew something like this, I wouldn't have any problems. But if I know that there's uncertainty about him playing the seventh or the third or the first game, or that I will only know in the morning of the game, it will be difficult for me to select the team. I don't think we need such a player."
"I didn't discuss the subject with the particular player, medical team or selector. It is definitely the board's decision. People might doubt my capability or capacity but someone like MS Dhoni, who has won everything and has the knowledge and sense, once said that the unfit player who is playing is cheating his team and country. I think we should accept it, and not just Tamim but every player."
Shakib also asserted that he was willing to resign from captaincy after the Asia Cup (September 17) but didn't do so on request of BCB high-ups.
"I never gave any conditions for captaincy. On the 17th [September], I sent a mail to resign from the captaincy. I will not captain for a day after the World Cup. That's why I didn't want to take it before the Asia Cup. I felt like I wanted to laugh, play, perform. That's one reason I didn't want to take it." informed Shakib.
"I have not given any conditions. Given the circumstances, the easiest was not to take. Papon Bhai [BCB president Nazmul Hassan] also told me in the beginning that there is no need to do it. I have no reason to take this pressure at this age. I want to smile, perform for Bangladesh. And want to spend the last few days well. He described the situation in his own way,
"A captain's job is not only just in on-field but running outside the field too. The board, coach, team management felt that it is not possible without me. I did not believe that anyone could give up in such an important situation. There is no reason to take it here,"
"There is no other reason. It is best if there is no captain. Is captaincy adding any value to my career at this stage? I don't think so," the Bangladesh captain said.
Shakib also criticised Tamim for resigning as ODI captain just two months out from the World Cup. "I have often heard in the dressing room that he is leaving the captaincy. Even a player once told him that 'bhai, leave it early so that the new captain gets a bit of time'. Exactly that's what happened. The one who came in, didn't get the time. Each and everyone knew including the selectors and board officials. Papon bhai (BCB president Nazmul Hassan) certainly knew about it.
"I don't know why he didn't leave it (earlier). He can tell you. It is like, your commander takes you to war but (Shakib mimicking a solider) after he has got you ready, the commander isn't telling you to fire or retreat. Where will you go? We were in this situation in the last two matches against Afghanistan (in July).
"The captain wouldn't have changed ahead of the Asia Cup and the World Cup, unless he himself announced that he was resigning or retiring. It would have happened 18 months ago, when everyone knew what was about to happen."
During the half-hour interview, the ace all-rounder also touched upon his individual plans for future, saying he might hang up his bat soon, with next year's T20 World Cup his last in that format and the 2025 Champions Trophy might be his last outing in ODIs. He said he might give up playing Tests even sooner, even though these are not chalked out yet.