Shakib dominates discussion ahead of final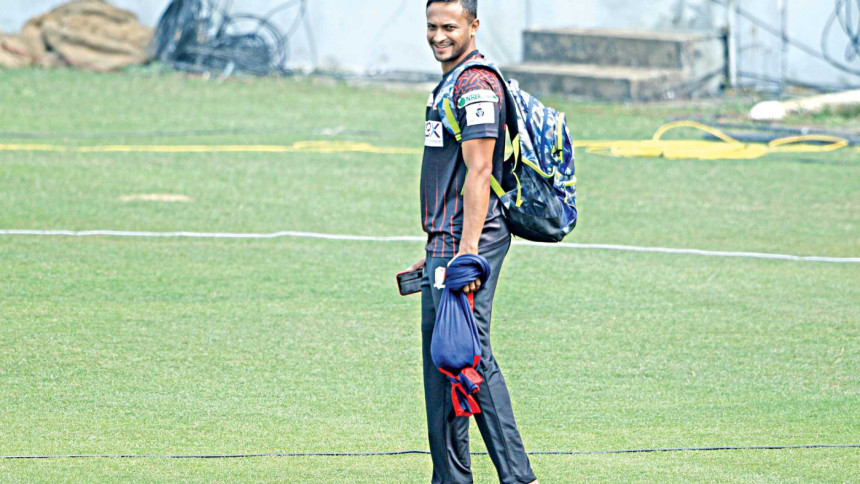 Fortune Barishal captain Shakib Al Hasan and Comilla Victorians skipper Imrul Kayes were scheduled to attend a photo session with the BPL trophy on Wednesday ahead of the final, but following Shakib's failure to attend, two different explanations surfaced regarding his absence.
Conspicuous by absence is a term that goes well with Shakib. Previously, it was a Bangladesh team photo session before the ODI World Cup in England where Shakib's absence created an uproar. Nurul Hasan Sohan, who came to the event yesterday in Shakib's stead, said: "We had optional practice yesterday and we participated. Maybe he did gym today and that's why he couldn't come."
Team management sources however relayed earlier that Shakib had an upset stomach. It was learned that he did not want to practice today and the management was informed of his decision. "He's not feeling well and I don't ever push Shakib. He knows his game very well," Barishal coach Khaled Mahmud told the media yesterday following their practice session.
"He likes working on his game in individual practice so when he told me he wouldn't practice, I said 'no problem," Khaled added.
However, even without being there, Shakib was major focus of the final because of what he has done so far in this tournament through captaincy alone. "Barishal's strength is Shakib. We have to play against Shakib's head. He's captaining really well and utilising his resources," Comilla coach Mohammad Salahuddin said.
He added that there were 'tricks' Shakib was using that cause make batters misinterpret the situation. Barishal have been able to defend middling scores this tournament with bowling changes keeping them in the game. In one match against Khulna Tigers, Shakib bowled eight overs in tandem with Mujeeb Ur Rahman on the trot to eat up the Powerplay and squeeze the runs.
In his side's last game, he banked on young pacers Mehedi Hasan Rana and Shofiqul Islam in critical stages after drying up the runs following Comilla's effective start in Powerplay in chase of just 144. Banking on Nazmul Hossain as a bowler also created surprise for opponents.
"The vibe I get from Shakib is that he is not indecisive when it comes to taking bold decisions. Many may be a little uneasy when taking bold decisions, but Shakib can take such decisions without hestitation and with a straight face," Shakib's long-time mentor and Barishal's batting coach Nazmul Abedeen Fahim told The Daily Star yesterday.
He has been able to keep his team calm but excited to do well. Along with the think-tank of Mahmud and Fahim, Shakib has been able to shine in a captaincy role. "Our dressing room environment is good and it helps us on the field," Sohan had said during the photo session.
Despite performing with the bat and ball and picking up a record five player-of-the-match awards on the trot, it is Shakib's captaincy which can make the difference in the final.
Despite Comilla's obvious strength and overall balance, they are still wary of what comes out of the Barishal captain's head. Barishal's team jersey unveiling was initially scheduled to take place in Barishal but pandemic complications saw the event held in Dhaka. Shakib relayed a message to the people of Barishal saying that he wants to win the trophy for them. Now he is just one step away from his goal.