'Said 100 percent again, danger'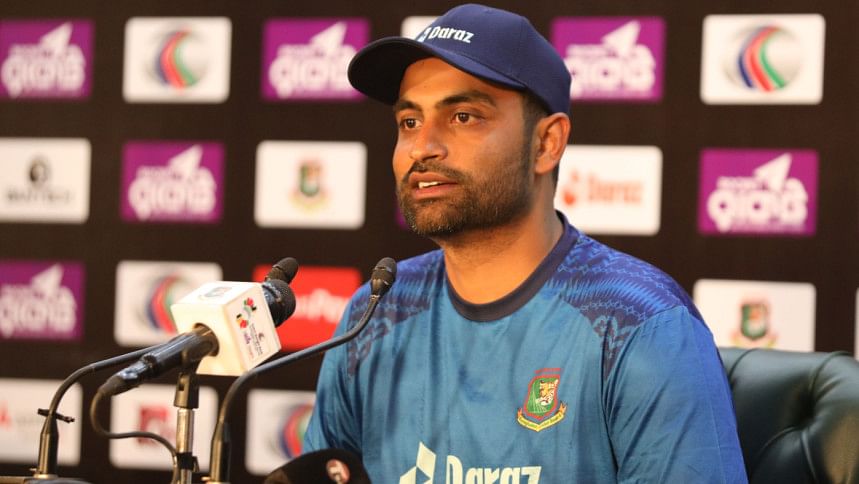 Bangladesh opener Tamim Iqbal created a lot of uproar when he said during a press conference that he 'wasn't a 100 percent fit' before a game against Afghanistan in July this year. 
The events that followed that presser included the Bangladesh Cricket Board (BCB) president Nazmul Hassan Papon questioning Tamim's way of talking about his fitness issues in the media, Tamim retiring from international cricket, the cricketer reversing his retirement decision but relinquishing his ODI captaincy.  
The stalwart batted for Bangladesh for the first time against New Zealand in the second ODI yesterday since all those incidents had transpired. After a solid 44-run knock, Tamim attended the post-match press conference, and as expected, was asked about his back issue -- the injury that was at the focal point of all the controversy and also the one that saw him skip the Asia Cup after his retirement u-turn. 
"The medical team will decide how they will manage me. Perhaps this (the discomfort) won't be solved entirely. I hope the plan will be about minimising it as well as possible. I am coming in after a long time from an injury, so it's very natural that I won't be a 100 percent….I said 100 percent again, another danger….a player can also be 99 percent fit," Tamim joked at his last remark as the whole press room burst out in laughter.
Bangladesh succumbed to an 86-run defeat in the second ODI against New Zealand in the second of the three-match ODI series at the Sher-e-Bangla National Cricket Stadium on Saturday.
Tamim admitted that he was nervous making a return after a lot of controversy but said that he felt good to be out there playing. 
"To tell you the truth, I was nervous. If I say that it was just another game then it won't be the truth. Whatever has happened in the last couple of months, when I was coming on to bat, the nerve was there. But after the first over, it came down. It was nice to be hitting balls again.
"It was good to be out there honestly. Even in the first game, I fielded for 30 overs and today I batted for 20 overs. Certainly, it was good to be out there but there is still a lot of discomfort in my back. So, the physios and even myself are trying to overcome it but there is discomfort still."