Prantik a winner in defeat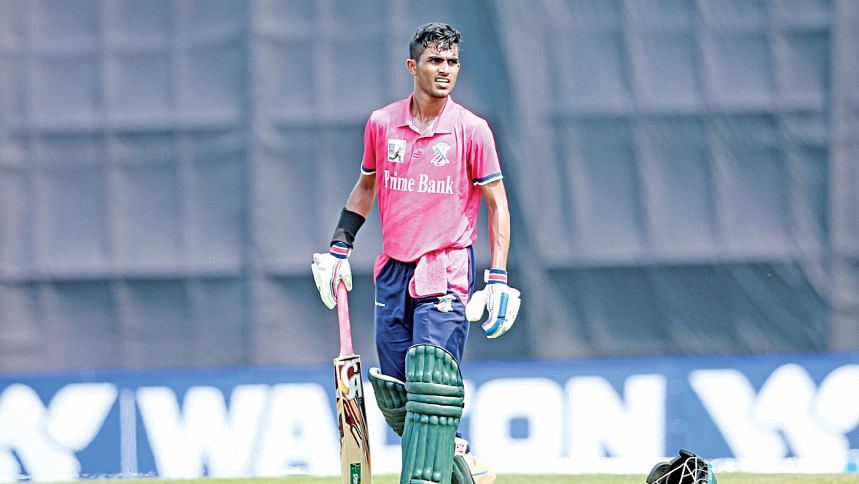 Prantik Nawrose Nabil, member of Bangladesh's U-19 World Cup-winning team, did something unprecedented for Prime Bank in their Dhaka Premier League's Super League fixture against Sheikh Jamal Dhanmondi Club yesterday.
A steady partnership of 136 between Nabil and Shahadat Dipu had just ended in the 30th over and two deliveries later in the same over, Sheikh Jamal were vociferous in their appeal and Prantik walked with the umpire only raising his finger after the batter started walking.
His knock ended on 75, having taken his side to a strong position. In his mind, however, taking the higher ground had taken precedence over results as Prime Bank fell short by 13 runs in the end.
"It's always been this way and after I nicked it, I didn't look at what the umpire was doing. While I was walking back, I realised that he hadn't given out and I knew that I was never going to walk back," Prantik told reporters yesterday.
If we think as a whole, then anything that is wrong should never be valid. It doesn't apply to our team but to any sector.Prantik Nawrose Nabil
"It's about your personal ethics and it feels fulfilling to myself if it comes this way in regards to the hard work I've done. Maybe if I had scored the century, it'd feel like I didn't do this the proper way," he added.
He was asked if he could have not walked thinking about the team.
"It's a tricky question. If we think as a whole, then anything that is wrong should never be valid. It doesn't apply to our team but to any sector. We must always think what is right and what is wrong amidst the situation," he said strongly.
Many of his teammates from that U-19 World Cup have made the national team or at least been in the limelight. Prantik though was keen on the process, not feeling any hurry to make the national setup.
"I was always focused on the process and that's what I'm doing. Someone does it early and someone does it later. It's not about how quickly I make it but about how long I can make it," the 19-year-old youngster said.
Sheikh Jamal won important points that keep them in the race for the title, still ahead on head-to-head over Abahani Limited, who relied on Mahmudul Hasan Joy's 67 to win by four wickets against Legends of Rupganj at BKSP.
Sheikh Jamal play Abahani on May 13th in Mirpur in what could be a potential title-decider.
Mohammedan, meanwhile, won against Gazi Group by 20 runs with Mahmudullah Riyad's valuable 71 the highlight as they posted 240 for nine before bowlers thwarted Gazi's chase.
The relegation league came to an end as Shinepukur Cricket Club defeated Agrani Bank by 140 runs after opener Amite Hasan's ton set them up for a big total of 316. Dhaka Leopards and Agrani will go down as Shinepukur remain, having won both relegation league games.