Only Shakib's availability can shield Liton, opines Ashraful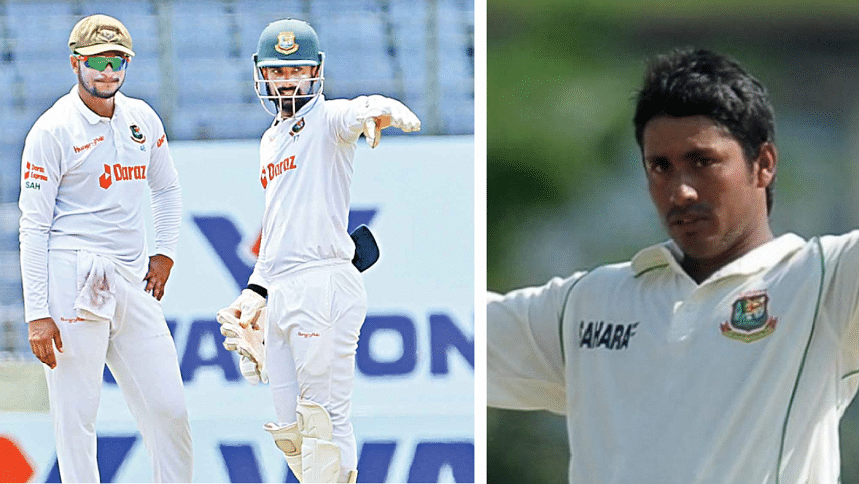 'It's not because of the runs he [Liton Das] has under his belt but his style of batting attracts me the most like many other fans. It's eye-soothing, it's pure entertainment," said former Bangladesh captain Mohammad Ashraful, who also enthralled the cricket fans all over the world despite being inconsistent during a topsy-turvy international career.
"He [Liton] looks like a complete batter," Ashraful told The Daily Star.
The stylish right-hander had recently attained career-best ratings in Tests after remaining instrumental with the bat in Bangladesh's last two-match Test series against Sri Lanka at home.
Liton, who played a 141-run knock in the final match of the tour, moved up five places to 12 in the rankings with 724 rating points -- highest by any Bangladesh batter in history.
"I think it's just the beginning of a bright career," Ashraful further said.
Ashraful, however, has doubts about whether it was a wise decision from the board to hand him a leadership role at this point.
"Let Liton play freely. I believe it should have been the motto of the team management. He is in a good touch and if he can continue like this, it will change the whole scenario of the team as he will be the backbone of our batting.
"After two years the board may think about the captaincy role. It's my personal opinion," opined the experienced cricketer.
"I can understand that the board may want to develop him as a future captain. And apparently, there is not much pressure for the vice-captain. However, Shakib's availability can only ensure the full development of Liton as a leader.
"No doubt under Shakib, he [Liton] can develop but if he needs to lead the side at this moment, it can backfire.
"These days, captaincy is a very difficult job and when it comes to Bangladesh, things become even more difficult. Some extent, it's easy to manage the dressing room and on-field affairs but it's very difficult to face the off-field affairs. Day in and day out, you have to face the media and you have to know the art of communication," said Ashraful.
He also expanded on the reasons behind why he could not quite approve Liton's captaincy role right at present.
"If you can remember Liton had got the opportunity to lead the team in a T20I in absence of injured Mahmudullah Riyad last year. Pressure seemed to have worked on him when he unsuccessfully tried an unorthodox paddle in his first delivery against Tim Southee. It just gave me an impression because I also got the captaincy at a very young age.
"We saw Liton's good involvement during the match but he is very introverted as per I know him during domestic competitions. I am not sure whether he will be able to handle the pressure during bad times for the team or any other player.
"Why Mashrafe (Bin Mortaza) so successful as a captain? He had a very special mechanism to handle all affairs off-the-field. He took everyone's opinion during the match but off-the-field he followed his own traits," he continued.
Ashraful said he was not clear about the Bangladesh Cricket Board's policy regarding captaincy.
"Mahmudullah was the best choice while the board picked up Mominul (Haque) as a captain. Now my question is that if they had some plan with Mominul then why did they put pressure on him so early? 
"I still believe the seniors in the team should take the captaincy role at least for the next two to three years and wait for consistent performances from young players before handing them the role."
However, Ashraful was looking forward to seeing Liton dictating the terms in the Caribbean tour.
"It would be fantastic if he can continue his form during this tour. I am confident he will be able to do this and will not think much about the future of captaincy."