Nine World Cup fixtures rescheduled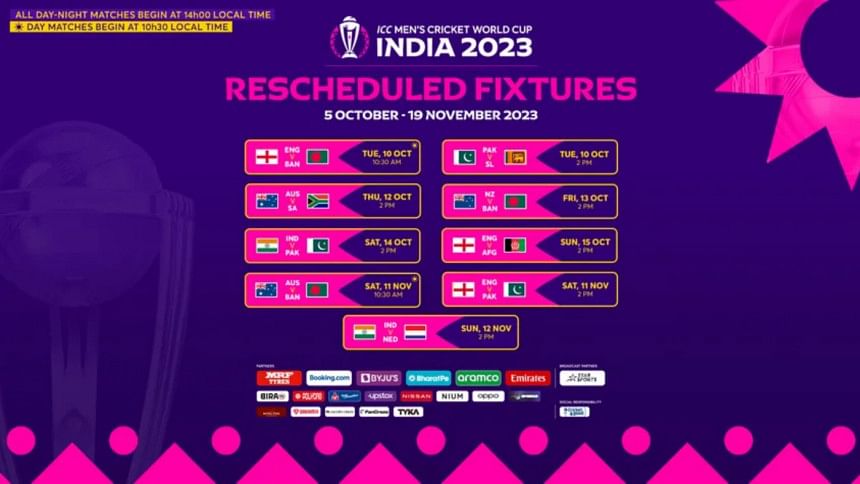 The eagerly-awaited contest between India and Pakistan at this year's ICC Men's Cricket World Cup has been rescheduled to a different day, while details of eight other matches have also been changed.
The clash between India and Pakistan was originally slated to take place in Ahmedabad on Sunday, 15 October, but this has been moved a day earlier and will now be held at the same venue on Saturday, 14 October.
As a result, England's fixture against Afghanistan in Delhi will be moved from Saturday, 14 October and will now be played 24 hours later on Sunday, 15 October.
Pakistan's contest against Sri Lanka in Hyderabad has moved from Thursday, 12 October to now being played on Tuesday, 10 October and Australia's big match against South Africa in Lucknow moved back 24 hours and will now be played on Thursday, 12 October instead of Friday, 13 October.
Similarly, New Zealand's game against Bangladesh originally scheduled as a day match for 14 October in Chennai has been moved back and will now be held on Friday, 13 October and be played as a day-night contest.
From the initial phase of the tournament, a minor change to the fixture refers to the timing of England's match-up against Bangladesh in Dharamsala, with the clash becoming a day match and a 10:30AM (local time) start after it was originally scheduled as a day-night fixture.
Towards the end of the league stage, there are three changes with the double-header encounters of Sunday, 12 November being moved a day earlier to Saturday, 11 November – Australia vs Pakistan in Pune (10:30AM) and England vs Pakistan in Kolkata (02:00PM).
Meanwhile, India's last league game against the Netherlands has now been shifted from 11 to 12 November, a day-night clash to be played in Bengaluru.
The World Cup commences on Thursday, 5 October when 2019 finalists England and New Zealand clash at Narendra Modi Stadium in Ahmedabad, with the event culminating in the final at the same venue on Sunday, 19 November.