National cricketers convey Eid greetings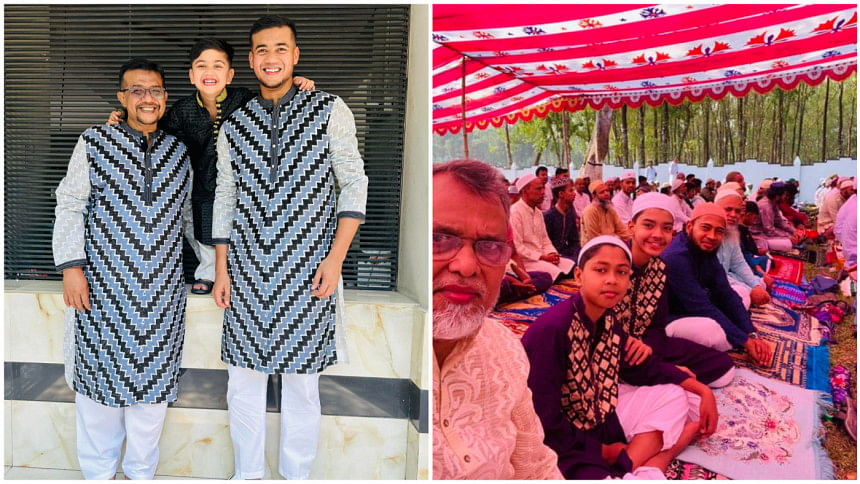 Bangladesh national cricket team players conveyed Eid greetings to their fans and followers on Saturday as the country celebrates Eid-ul-Fitr, the largest religious festival of the Muslims. 
Wicketkeeper-batter Mushfiqur Rahim, who is celebrating this joyous occasion with his family in Bogura, wrote on his official Facebook page: "Assalamualaikum all… Eid Mubarak…May Almighty grant all our good deeds." 
Mushfiqur also talked to the media briefly following the Eid Namaz, seeking prayers for their upcoming series against Ireland in England. 
"Alhamdullillah, this feels great. Wishing everyone Eid Mubarak. Everyone celebrate Eid with family safely, and please do pray for us [Bangladesh team] for our upcoming series [against Ireland] in England," Mushfiqur said. 
ODI skipper Tamim Iqbal also took to social media to wish everyone. 
"Wishing everyone a very happy Eid. Eid Mubarak," Tamim wrote. 
"Eid Mubarak to you and your family! May the spirit of Ramadan stay with you throughout the year and fill your life with goodness and grace," wrote Mahmudullah Riyad. 
Meanwhile, Bangladesh Test and T20I skipper Shakib Al Hasan, who had attended Eid-up-Fitr prayer congregation at the Nomani Maidan in Magura today, had earlier wished his followers on social media on the occasion: 
"No matter where you are, may you and your loved ones enjoy every moment together and may the new year bring an abundance of love, happiness and tranquility to everyone. Eid Mubarak!" 
The national team cricketers, however, will have to soon resume training. The Tigers are scheduled to hold a short training camp in Sylhet from April 26 before departing for the United Kingdom for the three-match ODI series against Ireland, which will be part of the ICC Men's Cricket World Cup Super League. 
The Tigers will take part in the first of the three match ODI series on May 9. The second and third games are scheduled for May 12 and 14, respectively. All the matches will take place at the Cloud County Ground in Chelmsford.