Mrittunjoy: Chattogram's beacon in the dark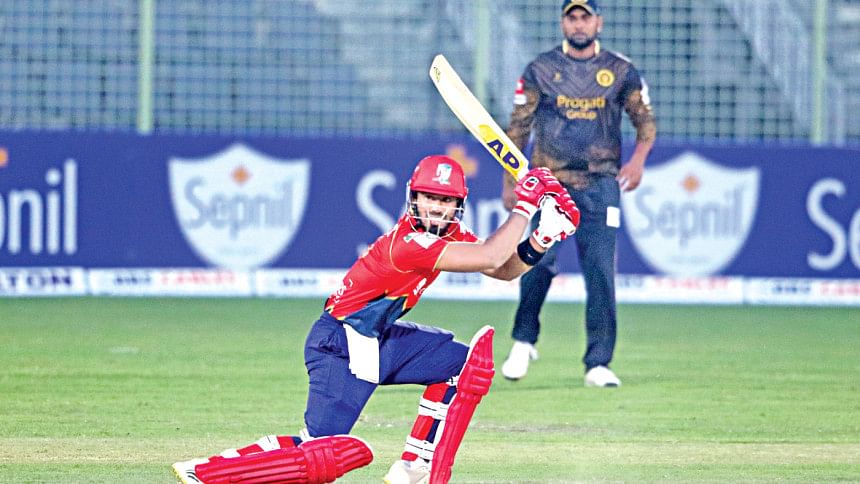 There was joy and jubilation on one side, a clutter of youthful energy converging and coming through. At the side of things, wearing a dreary look was the experienced Tamim Iqbal, stranded at the other end in the last delivery after what should have been a match-winning knock of 73. Tamim would have hoped that Mohammad Naim would do something special, only his partner could not find what was required. The one who got it right was Chattogram Challengers' 20-year-old Mrittunjoy Chowdhury, holding his nerve against the odds in a crucial death over against experienced batters.
There are quite a few oddities leading up to this three-run win against Dhaka. Mehedi Miraz's ejection from captaincy created a hail in the media which brought up bad memories of BPL scandals in the past. Then Naeem Islam was replaced by Afif Hossain yesterday with the former not even making the playing eleven against Dhaka.
There was joy around Mrittunjoy; other young guns Afif, Nasum Ahmed, Shoriful Islam and Shamim Hossain converging towards him, a brilliant last moment of sheer joy of going against the odds. A young side, answering for themselves amidst the circus. Most of those names have done their bit in this ongoing BPL but things have remained clumsy for the franchise.
"We're a young side. Our sense of joy in a win or disappointments in defeats is a bit more than others. We were very cheerful at the beginning [of BPL]. It was a matter of proving ourselves as youngsters. There was a lot of planning for today's game and when it was won, it was difficult to contain that joy," Mrittunjoy told The Daily Star in an interview yesterday.
Tamim was set for glory, his side needing just nine runs in that last over. "Nine runs [in an over] is too little to defend," the pacer remarked.
There was a quiet confidence about him and he knew how to shift his plans. From picking up Mashrafe Bin Mortaza and Qais Ahmed's wicket with slowers in previous spell, he went to his yorkers with five deliveries remaining. "I planned according to the batters and then tried to execute. Panic doesn't do you good. I would have tried slowers if Tamim bhai was new to the crease, but at that moment I felt he might get under it and yorkers were the better option. The changes in pace was confusing them," he said, having landed one of his yorkers that sneaked under set-batter Tamim during the match.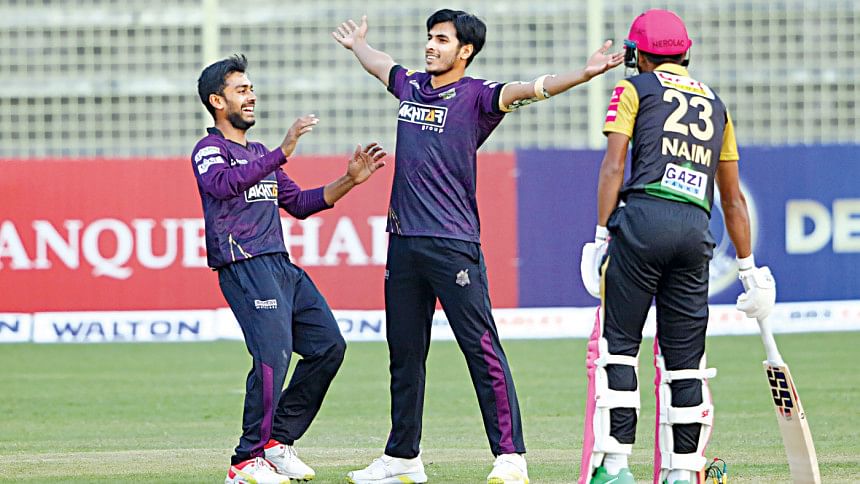 "I went very wide of the crease, I wanted to land it right [ a tad outside off stump] where his bat would come down from natural stance," he said when asked about cutting down Tamim's bat swing with yorkers.
"I like the challenge of death over bowling. I feel less pressure than normal and competing with batters gives me confidence. I feel I have an idea of how batters think. When I have bad days, I feel I have enough experience of bad days struggling two years with injury."
He has 10 wickets in five games now, including a hattrick in one and a three-wicket over in another. A beacon for Chattogram in the dark. "I wanted to do well this BPL for my family, my coaches, my support structure."
Biggest facet of this win is that it keeps their hopes alive. 'We're very energized now'.
Meanwhile, in the night game that followed, Sylhet Sunrisers' hopes of progressing to the next round faded completely despite a 49-ball 90 from Colin Ingram as they fell short by 12 runs against Fortune Barishal, who amassed 199 while batting first, the second-highest total of this BPL edition, riding on quick-fire knocks from opener Munim Shahriar (51 off 28), Shakib Al Hasan (38 off 19) and Dwayne Bravo (34 off 13) while Chris Gayle (51 off 45) anchored the innings from the top.