'Main target is to play the World Cup final'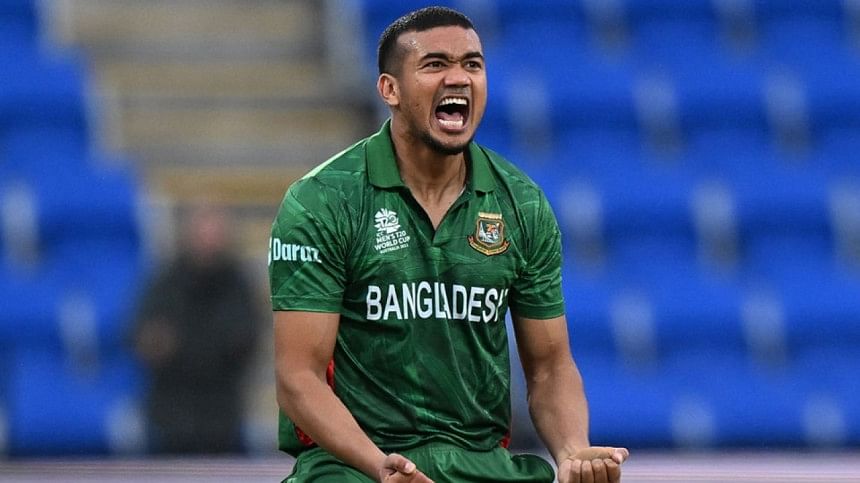 Injury and Taskin Ahmed have been the close associates of each other ever since the pacer made his international debut. Taskin who is recovering from a side strain injury is gearing up to return even stronger as the 28 year old who has been a revolution in the Tigers pace bowling unit spoke about his bowling, plans over the upcoming World Cup along with a few other topics during an exclusive interview with The Daily Star's Mazhar Uddin.
The excerpts of the interview are given below:
The Daily Star (DS): What is the latest on your recovery process?
Taskin Ahmed (TA): Alhamdulillah the recovery process is going well. I have already started bowling from this week.
DS: Were you disappointed to miss yet another couple of series due to injury despite being I good rhythm?
TA: Definitely it feels bad if I miss any series and if it is for injury then as a player it obviously feels bad. But this is also part of a cricketer's career and I believe whatever happens its for good. I try not to keep that disappointment in my mind for long and stick to my process.
DS: You have successfully overcome injuries in the past. How difficult it is for a fast bowler to return with full rhythm after recovering from injury constantly?
TA: To be honest its not easy to back in full rhythm after any injury as it starts to improve once you get the match fitness. But obviously its challenging and wait patiently rather not become disappointed if things doesn't go well at the start and focus on the process. So patience is very important after recovering from the injury.
DS: What are the aspects you work with your personal mind trainer?
TA: Well we all have different mindset and emotions as a person and the topic of work is very confidential with the mind trainer. Basically it's a confidential thing but yes this is very helpful aspect of a sportsman and maybe it is not as regular in Bangladesh than the other countries. It doesn't matter whether you are going through a bad or good time it's important to have a mind trainer in various phase of our life.
DS: How did you see the performance of our fast bowlers in the Ireland series?
TA: I think we did reasonably well overall in the Ireland series but I belief we are better than this. But its okay since there will be different experiences in different conditions and the more we play in such conditions we will learn more. I won't say we did too bad it was not very good too and it's a good learning experience for us.
DS: Apart from your bowling skills the young pacers in the team are also following your footsteps to improve their batting skills.
TA: Well the main skill of the bowlers is bowling but if we can improve our batting it will eventually help our team. In world cricket if you notice most the tail enders are now contributing and we have been talking about this among the bowling group. There is no hard if we can work on our batting a little bit and we get the help from our batting coaches and players. So this is the main aim to contribute if there is any early collapse and support the set batsman at the crease. I am trying that and but still I have a lot to learn and I think keeping the modern day cricket in mind it is important for the bowling unit to also be able to bat.
DS: Since the ODI World Cup scheduled later this year do you have any personal target for the flagship event?
TA: I am not going to share about my world cup plan at the moment but I will tell once it's the right time. But the main target is to play the final of the World Cup if the almighty keeps us healthy.
DS: Since you are now one of the experienced bowler in the Tigers side what are your expectation from the pace bowling unit in India for the World Cup?
TA: I have played a T20 World Cup and a Test match in India. India has always got sporting wickets however there are few grounds which is batting friendly so its going to be challenging for the pacers. But at the same time the bowling unit we have if we can execute properly we will be able to give a tough fight against any team. We are improving and we still have four-five months before the world cup so we will try to take our skill levels one step further and I have big hopes to do something extraordinary in the World Cup.