Kohli, Gambhir slapped with massive fines after ugly brawl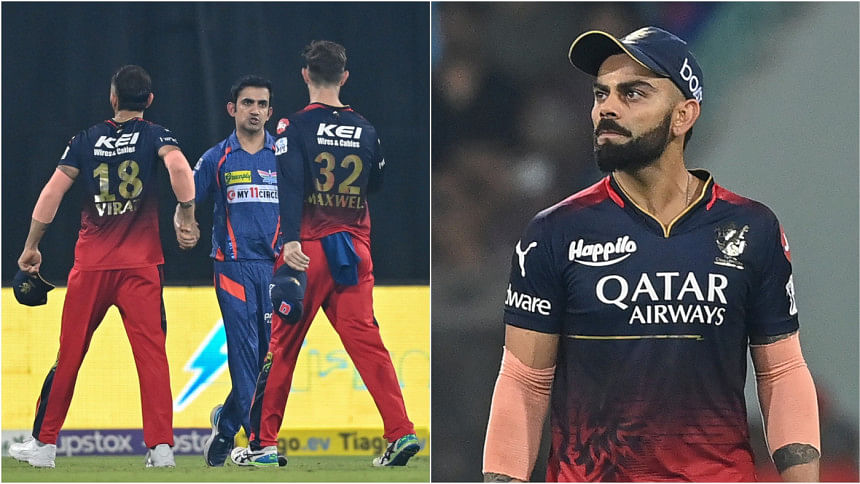 Virat Kohli and Gautam Gambhir added another chapter to their fierce rivalry on Monday night. 
Royal Challengers Bangalore (RCB) batter Kohli was involved in a heated exchange with Lucknow Super Giants (LSG) team mentor Gambhir and Naveen-ul-Haq after the Royal Challengers Bangalore's victory over Lucknow Super Giants.
Gambhir and Kohli have been fined 100 per cent of their match fee for breaching the IPL code of Conduct.
As per the BCCI statement, both Gambhir and Kohli has admitted to the Level 2 offence under Article 2.21 of the IPL Code of Conduct.
LSG bowler Naveen-ul-Haq has also been fined 50 per cent of his match fees for breaching the IPL Code of Conduct. The left-arm seamer has admitted to the Level 1 offence.
The altercation came after Royal Challengers Bangalore had bowled Lucknow Super Giants out for 108, with KL Rahul batting through a leg injury in an unsuccessful attempt to see his side home. During the LSG innings, Kohli had celebrated wickets falling with his usual animated gestures.
 "It's unbecoming for the game," former India international Robin Uthappa would say on air. 
The incident seemed to have originated following what appeared to be in-game sledging involving Kohli and Lucknow's Naveen-ul-Haq when the latter came to bat during the chase. Following RCB's win in an emotionally-charged contest, the two players had to be separated after a conversation during the handshakes took an ugly turn.
It wasn't the first heated instance involving Kohli and Gambhir in the IPL either. They had clashed in 2013 during a RCB-KKR match, when Gambhir skippered the latter.
Former RCB captain Anil Kumble was disappointed with the behaviour on show. "Lot of emotion goes in (the game), but you don't want to be displaying those emotions. Yes, you need to have a conversation but this is something that is unaccepted. No matter what, you have to respect the opposition. You have to respect the game."
For context, in the previous fixture between the two sides last month, Lucknow team mentor Gambhir had signalled to the Bangalore home crowd to be quiet after LSG's narrow victory. Not only did Kohli blow kisses in the Lucknow crowd's direction when their team lost a wicket on this occasion, but he also emulated Gambhir by pressing his finger to his lips.
After Monday's match, Lucknow Super Giants sit third in the table, with Royal Challengers Bangalore in fifth.