High-profile coach begins training country's gymnasts ahead of CW Games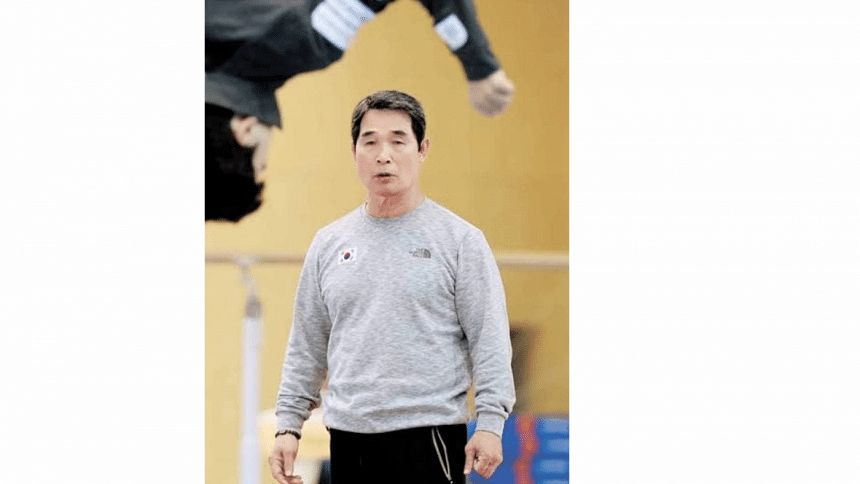 Korean gymnastic coach Cho Sung Dong started working with the country's gymnasts at the National Sports Council gymnasium today after arriving in Bangladesh last night, said Bangladesh Gymnastic Federation (BGF) general secretary Ahmed ur-Rahman.
Ahead of Commonwealth Games, Islamic Solidarity Games and Asian Gymnastic Championships, BGF has roped in a high-profile coach in Cho Sung Dong, who had once been the head coach of the Chinese Gymnastic team.
Though Cho Sung Dong will work with Bangladesh for one year, he will initially stay for three months because of a visa criteria, which will be later extended by the federation.  
"The coach started training our 11 male gymnasts after arriving here yesterday [Tuesday] night as three gymnasts will vie for Commonwealth Games, two gymnasts will take part in the Islamic Solidarity Games while the full team will participate in Asian Gymnastics Championships," the general secretary told The Daily Star today.     
"He had been the head coach of the Chinese gymnastic team. He has offered us to keep him for the next four years, he will bring our gymnasts to the Olympics. So far we know that his son grabbed two gold medals in the London Olympics," Ahmed said while adding that they have to pay 3,000 dollars per month apart from food and accommodation.
"BGF president Bashir Ahmed and I will initially bear all expenditure of the coach. However, we will seek a portion of coach's expenditure to the Bangladesh Olympic Association."