Harsh past made Munim fearless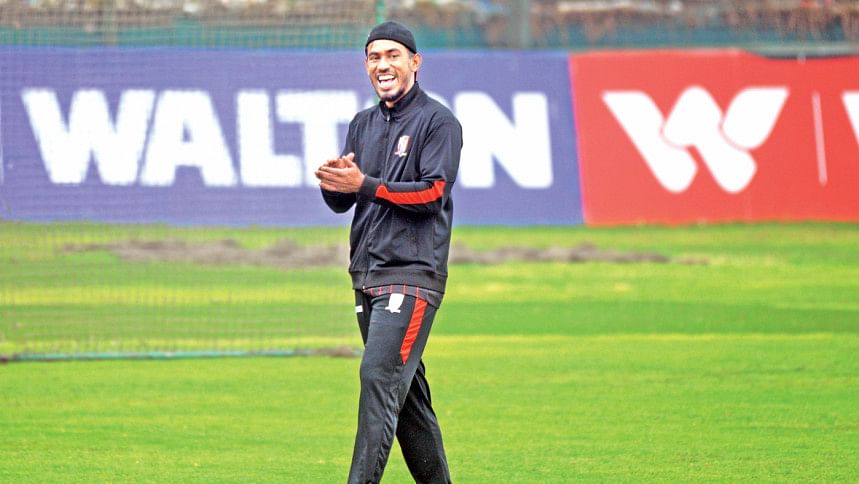 Known for his fearless batting approach, Munim Shahriar boasts a staggering 167.50 strike rate in the four matches he played for Fortune Barishal in the ongoing Bangladesh Premier League. Learn about the right-hander's reason behind such a batting mentality, the struggles he had to face to reach this level and his expectation surrounding the national team among many other things as he shares his story with The Daily Star's Ekush Tapader in an interview. The excerpts of the interview are as follows:  
The Daily Star (DS): How happy are you with your performance?
Munim Shahriar (MS): There is no point being happy or sad in cricket. I am trying my best. I will leave the happiness part for life after cricket. It is a problem if you become too happy in your cricketing career.
DS: How did it feel to have not gotten a team directly from the draft even after doing so well in the Dhaka Premier League last year?
MS: As a human being, I did get upset. But I took this normally. I am used to this as nothing in this world is certain or permanent, not in Bangladesh at least. But I was glad when I was picked by a team later.
DS: You could not start playing straightway in this edition of the Bangladesh Premier League. How did it feel?
MS: I contracted Covid-19 after getting a team in BPL and it took me some time to recover. As I was in quarantine, it took me some time to get into the groove in practice. My coaches -- Fortune Barishal batting coach Nazmul Abedeen Fahim and head coach Khaled Mahmud -- helped me a lot in the nets. That helped me prepare myself.
DS:  What is the reason behind your fearless mentality?
MS: The life from which I emerged, I actually don't feel like I have anything to lose after that. Even if things go awry, it can't be as bad as my life was previously. That's why I tried to apply such a fearless mentality. I just want to put pressure on myself and keep going. The result is not in my hand.
DS: Could you elaborate on the struggles you faced in life?
MS: I was out of the scene for a while after representing the country in the Under-19 level. I was in focus for a while in 2016 when the likes of [Mehedi Hasan] Miraz and [Mohammad] Saifuddin represented the Bangladesh Under-19 side. After that I had to struggle a lot. I could not perform well for the Under-19 side and that's why I got off-tracked. Also, I was not able to take the one or two chances that I got in the premier league. I played a decent knock once in a while but I lacked consistency. I had other troubles in my life at that time and that too affected my career.
DS: Tell us about your turnaround.
MS: I got a chance to play for Abahani in the last Dhaka Premier Division T20 League as Liton [Das] bhai was injured. I was actually not supposed to play but Liton bhai's injury made way for me. I used to do well in the local tournaments that I played across the country. I used to play for hire.
DS: What's your plan now for your career? It must be amazing for you to be performing in BPL.
MS: It is the Almighty's blessing. People always wanted to see me playing on TV. So it's nice that I am playing reasonably well and getting telecast on TV. I hope that I can play my way for as long as I am playing cricket.
DS: Was it your innate characteristic to play attacking cricket as required in the T20 format?
MS: "Hit a ball so hard that the fielder fears to even attempt to stop it." This is what my childhood coach Hayatul Islam Hanna sir from Mymensingh used to say. But I don't think of myself as such a power hitter. I just try to follow my mentor's advice. That actually shaped my mentality.
DS: You have got coaches like Faheem and Mahmud. What are their takes on your batting approach?     
MS: I feel blessed to work with people like them. They give me advice that I can incorporate practically. They gave me the freedom to play freely and that is very important to help grow one's confidence.   
DS: How do you feel about your chances to represent the national team?
MS: The Almighty has a plan for me. But it does not matter if I play in the national team or not. However, if I do get a chance, I will want to play for Bangladesh for a long period.