Durjoy laments subpar monsoon set-up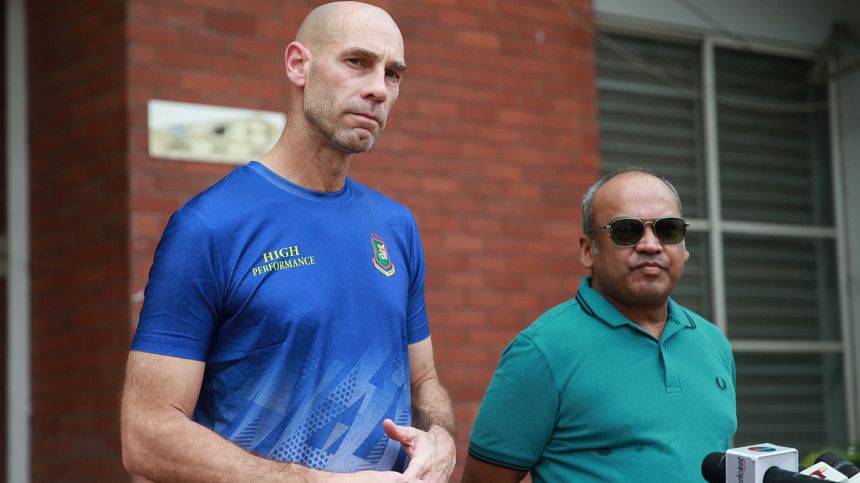 Chairman of the High-Performance Committee Naimur Rahman Durjoy lamented how Bangladesh's cricketing infrastructure is still lacking in a few aspects, pointing out the issues it brings especially during the rainy season.
The former Bangladesh captain underlined the struggles that players face in the rainy season owing to a lack of indoor facilities to train. Doubled with a jam-packed schedule due to other domestic competitions, the HP program is forced to run its course in that season of unpredictability.
"I still think I haven't been able to do everything from the Bangladeshi perspective because we have a few gaps infrastructure-wise like grounds, indoor, gym. We have to struggle a lot in the rainy season. Similarly, we have to run the HP program during the rainy season," Durjoy told the media at the Sher-e-Bangla National Cricket Stadium in Mirpur yesterday.
"The players remain busy as they have to play the national league, domestic cricket, BPL, and DPL. We can't run those programs during those times, particularly the skill training can't be carried out then. So, we have to do those things during the rainy season which is why we have to make improvements in terms of infrastructure, especially when it comes to indoors, gyms," he added.
Meanwhile, the Sher-e-Bangla National Cricket Stadium welcomed the arrival of newly appointed HP head coach David Hemp yesterday.
"It is a really important role in terms of the development of players in the Bangladesh cricket community," Hemp told reporters.
"We are trying to help players achieve their goal, which is, in essence, to play for the Bangladesh national side. We provide that platform where players can learn and grow, and step up into that next group – the A team. From that, they can go into the main national side," added the former Bermudian cricketer.
Hemp's first assignment will see him take charge of HP's new program that will be carried out in three phases across three cities— Dhaka, Bogura, and Rajshahi—starting from June 24. While the SBNCS has adequate indoor facilities and a gym, the venues in Rajshahi and Bogura have rudimentary facilities and if it rains, the training sessions in those venues would have to come to a halt.