Domingo backs misfiring veterans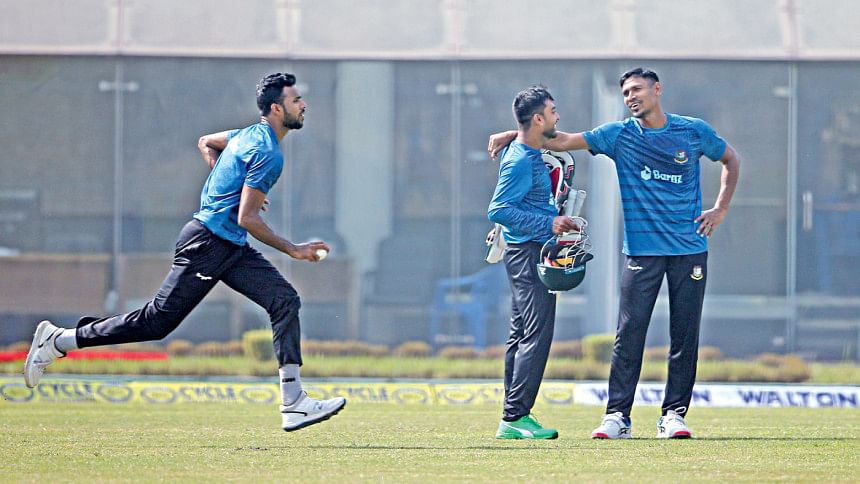 A series victory beckons for Bangladesh when they take on India in the second ODI in Mirpur today, hoping to repeat the feat of 2015 -- the last time India visited for a bilateral series.
The Tigers arrive with a 1-0 lead in the three-match series after they pulled off a stunning one-wicket victory which looked unlikely at one point before Mehedi Hasan Miraz and Mustafizur Rahman's gritty effort with the bat.
While the morale would be high in the dressing room and despite head coach Russell Domingo's suggestion that there were no headaches regarding the batting, the middle-order effort of veterans Mushfiqur Rahim and Mahmudullah Riyad in the last game has raised concerns over lean patch.
The duo contributed with a 33-run partnership in the first ODI during a fifth-wicket stand but then departed in consecutive deliveries, leaving India with more than a foot in the door. Both batted at strike-rates of 40 and could neither find boundaries while having played 45 and 35 deliveries, respectively, or pick momentum up. With both players past their mid-thirties, Domingo had to field questions on whether their performance curve was on the decline.
"Firstly, I'm going to defend my players. Mushfiqur retired from T20s," Domingo said when asked whether after 'being dropped' from T20 setup, such performances signal a 'declining curve' for the duo.
"Second point is, in the last two games in Zimbabwe, Mahmudullah got 80 and 39. I'm very reluctant to say that (they are in decline). Players have times in their career when they are searching for runs. It was one ODI ago that he [Mahmudullah Riyad] got 80. I have no concerns with him at the moment.
"All players go through these phases in the older phase of their careers. I still have a lot of faith in his ability and batting," he divulged.
The head coach had been working with the 36-year-old at net session yesterday. Batting to throwdowns from Domingo, Riyad was bowled down his leg-side and Domingo was seen discussing head position and tendency to fall over. Riyad appeared to have worked out the tiny adjustments he needed.
"It was about his intensity. I think his intensity dropped as he was looking more to survive than to score. That's why he missed that half volley on leg-stump. If he was looking to score, he would have probably hit that for two or four.
"It is just making sure that we get into the routine and rhythm of being more positive than looking to survive," Domingo said on what he discussed with Mahmudullah.
Keeping faith in Mahmudullah would mean Yasir Ali may not get a game today but with 12 scheduled ODIs as per FTP schedule until the 2023 World Cup, Domingo said there was opportunity to look into different combinations.
"[Yasir] Rabbi did it in South Africa, got a fifty. He came into a couple of difficult situations in the T20s with only a couple of overs left. Afif [Hossain] for me is the guy at the backend. I am still backing Mahmudullah's ability and experience to get us out of tricky situations," Domingo said.
The Tigers may also not field Taskin Ahmed with Domingo suggesting they 'do not want to risk playing him yet' despite the pacer returning to net session yesterday following an injury.
India opener Shikhar Dhawan, meanwhile, said at his press conference that his side had analysed and rectified some of the issues in the first ODI, while opining that the intensity of the crowd keeps the visitors 'on our toes', highlighting that the rivalry is enjoyed.