Commentator apologises following sexist remark during Bangladesh-SL women's T20I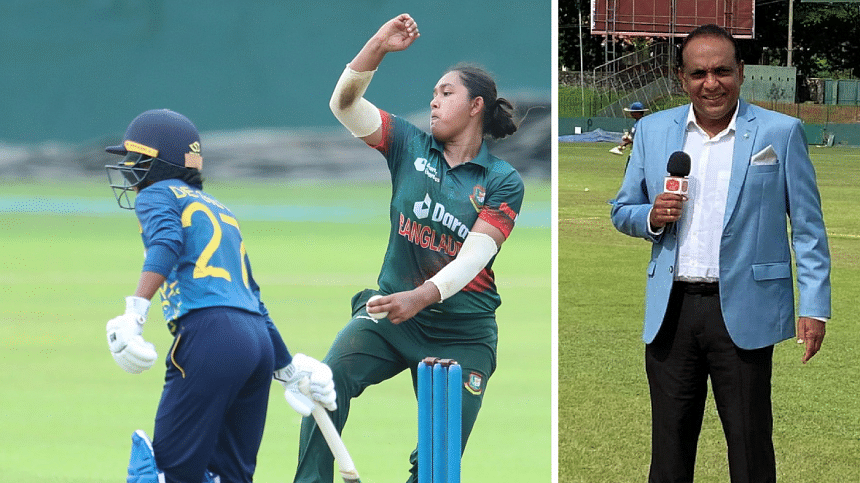 Roshan Abeysinghe, a TV & radio commentator from Sri Lanka, faced backlash on social media after he suggested that it is "unpardonable" for a female cricketer to bowl a front-foot no ball.  
The incident occurred during the first T20I between Bangladesh and hosts Sri Lanka on Tuesday as the latter was batting in the first innings.
In the 13th over when Bangladesh spinner Nahida Akter happened to clip the bails at the non-striker's end before delivery, it resulted in the umpire calling a no ball. In the commentary, however, Abeysinghe was quick to jump to the conclusion that the bowler had overstepped and the Sri Lankan was "very, very surprised" as a result.
"… and it's a no ball as well. Now this is unpardonable," Abeysinghe said.  
He continued, "Unpardonable on two counts: one, a spinner; second thing, a lady… I don't think they have big strides, so in that context, I am very, very surprised how she could have overstepped."
As replay revealed the actual reason behind the no-ball decision, the Sri Lankan was quick to reiterate his perspective.
"She's dislodged the bails, and that is the reason… I told you, this can never be a stride," Abeysinghe further said.
The clip of his commentary went on to provoke strong reactions on Twitter.
Mark Machado, a journalist and broadcaster, wrote on Twitter: "Uncle @RoshanCricket, I respect a lot of your work, but you have let all Sri Lankans down today with these comments."
 "This commentator should be removed from ever commentating on women's cricket again," wrote Goergie Heath, an English sports journalist and commentator, on Twitter as a caption to the aforementioned clip.
Abeysinghe later gave an "unconditional apology" in the comment thread under Heath's Twitter post.
"Hi Georgie let me extend an unconditional apology if you or anyone else were offended. The comments were never meant to be insulting, but was made through a pure cricketing angle innocently. Still I am willing say sorry and stand corrected. Once again my apologies sincerely," wrote Abeysinghe, adding that he "shall be mindful going forward".