Angry Shakib gets into field of play amidst utter confusion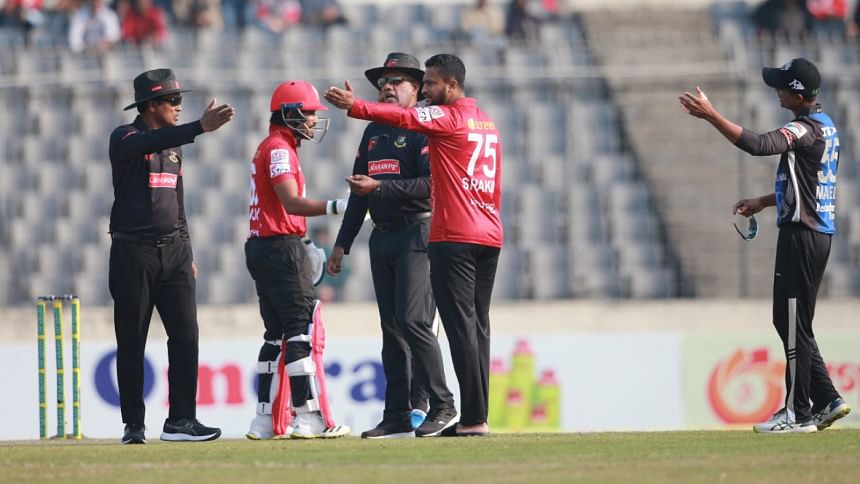 Bangladesh Test and T20I skipper Shakib Al Hasan, who is the captain of Fortune Barishal at least in an official basis, entered the field of play angry at the start of Barishal's chase against Rangpur Riders today.
Shakib looked animated as he discussed something with the umpires even before a ball was bowled in the second innings. Shakib had to be calmed down as he walked back half way with the umpire before he left for the dugout.
Barishal management later informed why the skipper got into the field.
Anamul Haque Bijoy and Chaturanga De Silva had come in to open the innings but could not determine which bowler was coming first.
"According to the rules, after it is determined which bowler will bowl, the batting side determines who will take strike," manager Sazzad Ahmed Shipon stated in a media release.
"In this case, seeing Sheikh Mahedi come in to bowl, Shakib wanted Anamul Haque Bijoy on strike instead of Chaturanga but the umpire wasn't allowing it. Shakib entered the field to discuss it," the manager was further quoted as saying in the media release.
Later left-arm spinner Rakibul Hasan was given the ball and Chaturanga took strike for the first ball. There is some confusion over whether Shakib broke any rules when entering the field. According to an official of the BPL technical committee, a player can enter with the umpire's permission and it remains to be seen whether Shakib had done so during the ensuing chaos.