IPL 2016
Fizz-fired Sunrisers face Raina's Lions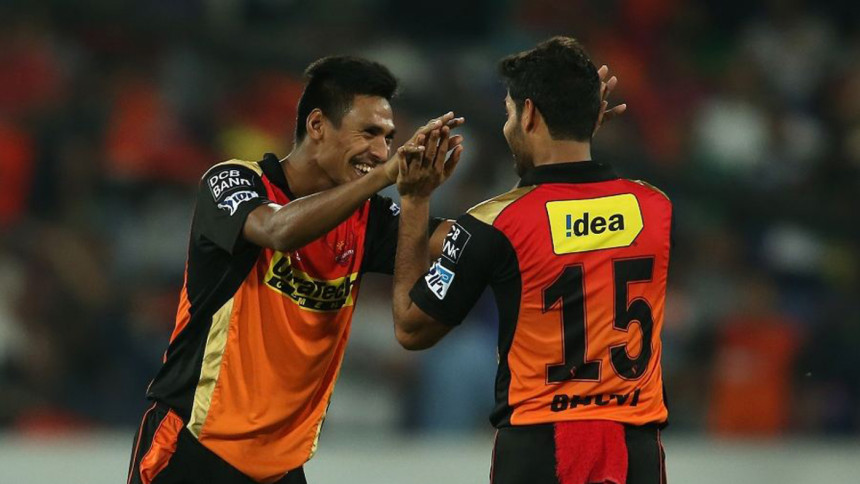 When Sunrisers Hyderabad take the field at the Feroz Shah Kotla today for the second time in 48 hours they will once again bank on Bangladesh's young pace bowler Mustafizur Rahman's cutters and yorkers to cross the virtual semifinal hurdle against Gujarat Lions and set up a date on Wednesday for the grand Indian Premier League (IPL) final against Royal Challengers Bangalore.
Mustafizur has been a talking point in the cash-rich T20 competition ever since making his IPL debut this year. Although he did not claim a single wicket in Sunrisers' victory over Kolkata Knight Riders on Wednesday, the 20-year-old played a big part in his side's defence of a fighting 162. With 16 wickets under his belt, Mustafizur is easily the best bowler at the death in the competition with an economy of 7.28 (16-20 overs).
Mustafizur hogged the international spotlight with his slow cutters when he arrived on the big stage last year. But in the IPL it is his deadly yorkers that added additional bite to his already famous repertoire. It was again on display against Kolkata in that crucial Eliminator in the 17th and 19th overs when he conceded just 14 runs in two overs. But those runs could hardly speak for how well he bowled.
In the 17th over he bowled those yorkers so precisely and accurately that the batsmen could only dig out and scamper for singles. It was only an odd full toss that was punished for a four by Manish Pandey. The 19th over was a classic example of a keen cricketing brain outsmarting a big-hitter like Jason Holder.
Holder faced four deliveries and struck a four which could have been a catch at mid-on had there been a taller and more agile fielder. Facing the second ball of the over, the giant West Indian charged down the wicket but ended up in no man's land as Fizz fired his famous off-cutter, which angled away.
The next one was a leg-stump yorker that cramped Holder in his crease. Holder tried a reverse dab but Mustafizur, who has that uncanny ability to read a batsman's mind, adjusted his line and pace at the last moment and Holder could only take it onto his shin. There was a couple off the final delivery but it was more a case of digging a yorker to wide mid-wicket.
Considering the lofty standards he has set, Mustafizur is unlucky not to get more wickets. However that has more to do with the batsmen being reluctant to attack him, something that was evident with the likes of an all-guns-blazing MS Dhoni.
Already homesick after featuring in all 15 games for Hyderabad in a gruelling campaign, Mustafizur is now left with a maximum of two more games to accomplish a memorable IPL season for him and for his side, who are yet to win a title since being renamed from Deccan Chargers in 2012.