'Exceptional' Australia claim Ashes as Smith seeks whitewash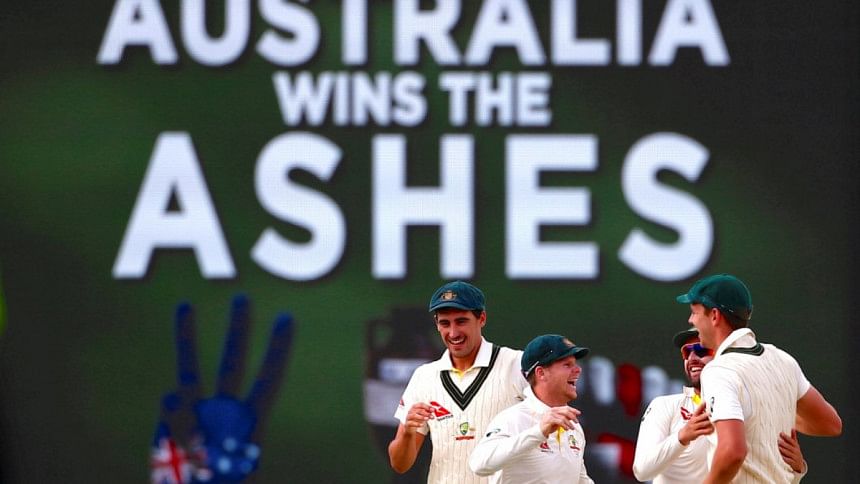 Steve Smith praised his "exceptional" team as Australia reclaimed the Ashes with an innings win over England in the third Test in Perth on Monday, and set his sights on a series whitewash.
Australia dismissed England for 218 in their second innings after rain delays and a pitch controversy on the final day in Perth to win back the urn in the last Ashes Test to be played at the WACA Ground.
That gave the home side an innings-and-41-run win and an unbeatable 3-0 lead in the five-match series, having won the opening two Tests in Brisbane and Adelaide.
"It's been an amazing couple of weeks," said Smith.
"What the boys have delivered has been exceptional. England have had their foot in the door in a couple of games and we've been able to claw our way back to get back in the game, and then keep the foot on the throat."
Having confirmed his status as the world's best batsman with a match-winning double century, Smith added victorious Ashes captain to his ever-expanding resume.
That CV also includes a role in the 5-0 whitewash of England on their last tour to Australia, and Smith said his team would now seek to repeat that achievement.
"It'd be fantastic to do that and we'll talk about Melbourne when we get there," he said.
"Right now, I'm just really satisfied with what we've achieved in these first three Test matches. I'd love to do that again, but we will just take it one step at a time."
England captain Joe Root said the gap between the sides was not as stark as the scoreline suggested.
"It's bitterly disappointing, one of the most frustrating things is we haven't been blown away, we haven't been completely outplayed," he said.
"We've put up some good performances, just not for long enough. In all three games there have been periods we have matched and outplayed the Australians.
"These three games are not a fair reflection of how we have played and what we are capable of, so we need to do ourselves justice."
'Umpires made the right call'
While it was a comfortable win for the home side in Perth in the end, there was high drama on the final day courtesy of yet another WACA pitch controversy.
Victory seemed assured for Australia when they had England 132 for four at the conclusion of the fourth day, still 127 runs behind, but a rain-damaged pitch threatened to foil the home side.
Showers had caused play to be abandoned early on the fourth day and they continued through to Monday morning, with Australia needing just six more wickets to win.
Complicating matters further was a damp spot on the pitch, just outside the popping crease at the southern end of the ground.
WACA staff worked furiously with leaf blowers to try to dry the patch out as more showers passed through.
Umpires Chris Gaffaney and Marais Erasmus would not allow play to resume until they believed the pitch had been returned to the same condition as at the end of day four, which ended up being after lunch.
"It was a shame that was some water was able to get through the covers in the first place at an international venue," Smith commented.
"The umpires made the right call to get us back on to play the game."
Root agreed with Smith, saying: "Credit to the umpires for making the right call on the start of play."
"They gave it time to dry out as when we got to the ground it wasn't fit to play on," he added.
Wickets tumbled quickly for England upon the delayed resumption, with Jonny Bairstow bowled for 14 by the first delivery he faced for the day from Hazlewood, which kept low.
Hazlewood also removed England's last hope Dawid Malan -- who backed up his first innings century with a fighting 54 before being caught behind -- to finish with figures of 5-48.
Malan's first day heroics, which helped England a dominant position at 368-4 from which an innings defeat would have appeared almost impossible, seemed a distant memory as he trudged from the field.
Only seven sides in Test history have been beaten by an innings after scoring 400 in their first innings, and it has happened to England three times in its last 12 matches.