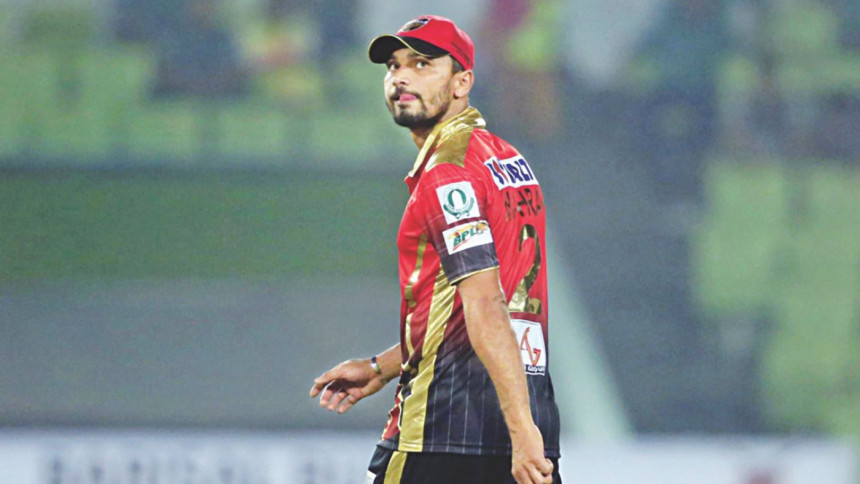 Reigning champions Comilla Victorians have begun their defence of the Bangladesh Premier League in one of the worst possible fashions. Their batsmen are not clicking and with two matches gone they have not been able to find their best possible combination.
Comilla skipper Mashrafe Bin Mortaza, as a result has urged his local players to pick up their game, because if they do not they will keep struggling with their combination, the skipper pointed out.
"Our combination has a few problems and we are trying to work that out. If you see, we haven't managed to play our best bowler, leg-spinner Rashid Khan, as yet. For us to let him play, our local batsmen need to step up. At the moment the foreign players are also under a bit of pressure," Mashrafe told reporters after his side's six-wicket defeat to Mushfiqur Rahim's Barisal Bulls.
"If we try to strengthen our foreign batting then our bowling will be weak. If we try to strengthen our foreign bowling then our batting will be weak. We lack a pace bowling all-rounder in the team. And that's why I have said that we need our local players to up their game. They have the capability. We have a number of in-form players in the team who have played well in international cricket, but we just have not been able to click," he added.
The player Mashrafe referred to, Rashid Khan, had troubled Bangladesh a month and a half ago in the three-ODI series with Afghanistan. The leg-spinner was eventually picked up by Comilla, but unfortunately they just have not been able to find the right balance in the team to play him yet.
Mashrafe though still believes that his team can come back in the tournament. "It's just the start of the competition. We have lost two matches yes, but there are still 10 more games and we haven't fallen that behind that we can't come back from here," said Mashrafe.
While winning captain Mushfiqur Rahim was delighted with the win, he hopes that the tournament produces wickets that are more batsman-friendly in the coming days.
"Honestly speaking, when you see the wicket, you think that it's going to be good for batters. But once you start playing it becomes difficult. It turns out to be a challenge for batsmen. There is something in it for both the spinners and pacers here. There are sometimes when the ball gets extra bounce so a batsman always has to stay on his toes. This might be happening because of the weather," Mushfiqur told reporters after the match yesterday.
"If you notice players have found power hitting difficult here. None of the teams have managed to score a total of 170 as yet. Comilla's side has Marlon Samuels who is a power hitter but even he found it difficult. Hopefully in the coming days we can get a true wicket where it will be good for the batsmen and more suitable for T20 cricket," he added.