Cricketers' injury rundown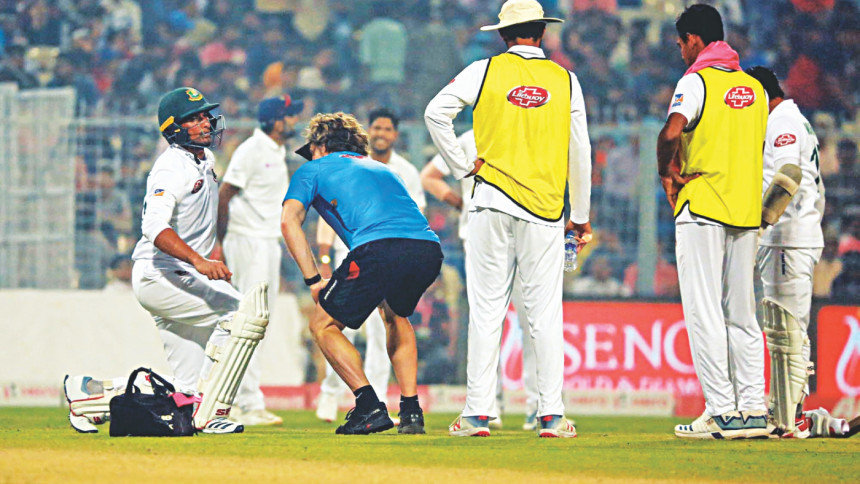 Over the past two weeks, both Bangladesh male and female cricketers have suffered injuries while on duty or have been resting for an old injury. While Mahmudullah Riyad suffered a hamstring injury during the Tigers' Kolkata Test against India, Liton Das and Nayeem Hasan were hit on the helmet and suffered concussions in the same game. Meanwhile, leg-spinner Aminul Islam suffered an injury on his right hand while fielding during Bangladesh Emerging Team's opening game against their Hong Kong counterparts in the recently concluded Emerging Teams Asia Cup. Bangladesh ODI captain Mashrafe also suffered a groin injury while practising in Mirpur on November 17 and Bangladesh women's team's ODI captain Rumana Ahmed has been recovering from a knee injury for the past few months.
Bangladesh Cricket Board (BCB) chief physician Dr. Debashish Chowdhury yesterday briefed the media on the latest condition of these players.
Mahmudullah Riyad
Mahmudullah suffered a Grade-1 hamstring injury. He did a scan yesterday [Monday] but we are yet to receive any report. The important thing here is that even if it is a slight hamstring injury, we prescribe players a minimum of seven days' recovery period for rest and rehabilitation. There is a possibility of recurrence if they return to cricket without taking proper rest. Our main aim is to stop him from getting injured again because it takes twice as much time to recover if the player suffers from the same injury again, in which case it takes almost a month to recover. And if the player suffers the same injury for the third time then there is a possibility of the player missing the entire season.
Liton Das and Nayeem Hasan
They received primary treatment over there [in Kolkata] after being hit on the head [helmet]. They were scanned at a local hospital there and the report showed no bleeding or anything serious. So, it can be assumed that their concussions are not that serious. But as per the rules, they need to be in complete rest for the first two days. ICC has some guidelines regarding head injuries. They can return to normal activities two days after suffering the head injury. Till now the report suggests that they are out of danger. But we will do more tests once they return home.
Aminul Islam
They [Bangladesh Under-23] will be going for the SA games soon. There are a few injury problems there. [Aminul Islam] Biplob and Shafiqul [Islam] will not be going as they are yet to recover from injuries.
Mashrafe Bin Mortaza
Mahrafe is trying to continue his rehabilitation programme. He did physiotherapy and gym session today [Tuesday]. But he is not able to put in the time we want him to for the rehabilitation programme. His pain has reduced but it cannot be said that he has fully recovered. If he could give more time out of his busy schedule then he could have recovered faster. Considering the time he was injured and the time that is left, it can be hoped that he will recover before that [BPL]. But his rehabilitation will play a big role. The more time he can give, the easier it will be for him to recover.
Rumana Ahmed
Our women's team [ODI] captain Rumana has been suffering from a knee injury for the past five-six months. We are trying to manage it. It usually takes a few months to recover from this type of problem. The main problem is that we could not keep her at rest for a long period as she had to participate in some important tournaments. But now we have decided that she will be rested till the next world cup [Women's T20 World Cup in February 2020]. She will be under the total care of physio and trainer for the next two months. She has been in rest for the past month and a half and will also be away from cricket for the next month and a half.