Third time's the charm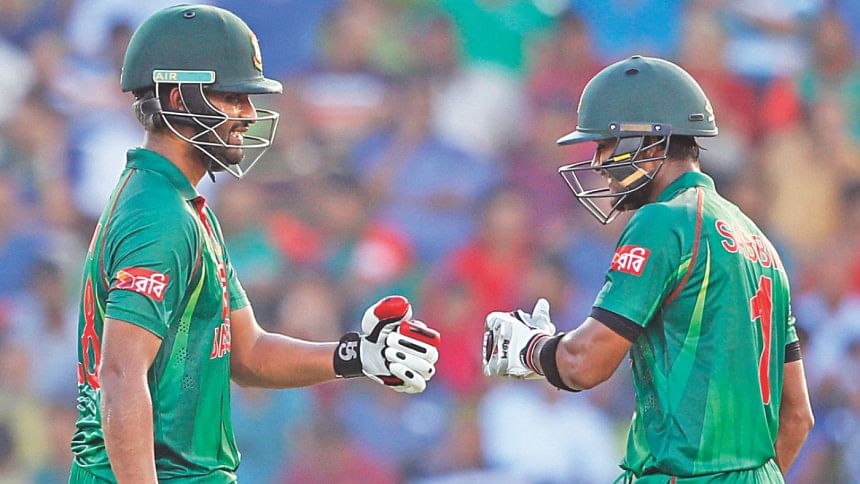 It took three attempts, but a so-far misfiring Bangladesh team finally came good with most of the departments clicking in the third and series-deciding ODI against Afghanistan at the Sher-e-Bangla National Stadium yesterday.
It was not all gravy, however. After Tamim Iqbal's brilliant and Bangladesh-record seventh ODI century, a total that looked for all money to be swelling towards 300-plus only touched 279 for eight, leaving worries about Bangladesh's end-over credentials intact. But the rest of the Tigers' play seemed to sync up well, especially finally getting their combination right with respect to the surface they were playing on to come away with a 141-run win.
The England players sitting in their fortified hotel rooms will have been impressed by the comprehensive nature of Bangladesh's 100th win, but they should also be encouraged by their upcoming opponents managing just 64 for the loss of five wickets in the last 10 overs, after having been in a position of strength at 215 for three in 40 overs.
The bowling, with Shafiul Islam replacing Rubel Hossain and Mosharraf Hossain -- who picked up three for 24 -- coming in for Taijul Islam, resembled a well-oiled machine against an Afghanistan crumbling under the weight of runs they had to chase. Even Taskin Ahmed was economical and picked up two wickets.
The fielding too seemed to be clicking at the right time, with two direct-hit run-outs contributing to Afghanistan's implosion for 138.
It was Tamim's century and the 140-run second-wicket partnership with Bangladesh's latest number three experiment, Sabbir Rahman, that took them to that position of strength. The crucial difference from the first two matches was how these two negotiated the middle overs and dictated terms to Afghanistan's spinners. While off-spinner Mohammad Nabi has been routinely excellent, it was the seeds of uncertainty planted by leg-spinners Rashid Khan and Rahmat Shah that put the brakes on Bangladesh's scoring in the first two matches.
Yesterday however, Tamim 2.0 -- a leaner, more patient batsman intent on running the singles to keep the scoreboard moving when boundaries are not readily on offer -- did not allow that to happen. In the first two matches, the spin-heavy period that started from Rashid's introduction to the 35th over yielded 89 for two in 20 overs and 81 for five in 21 overs respectively. Yesterday, that period produced 122 runs for the loss of Sabbir's wicket in 22 overs.
Sabbir was streaky at first, batting at number three -- a rifle-shot pull over square leg off Dawlat Zadran in the 11th over was offset by numerous swing-and-misses early on. Even so, he could not outscore Tamim in their partnership, such was the left-hander's mastery of the bowling. After Asghar Stanikzai dropped a sitter off Tamim in the third over, he was determined to capitalise.
Tamim ran 44 singles and seven doubles to go with his 11 boundaries and two sixes. Two of those sixes came in the same over after he reached his century in the 37th over off his 110th delivery. In the next over he hit Rahmat Shah for a six over midwicket and followed it up with the shot of the match -- a shimmy down the track that culminated in a minimalistic flick of the wrists that sent the ball soaring over the cover fence.
He holed out off Nabi in the following over, and that is when the demons revisited Bangladesh. Against the run of play Shakib Al Hasan nicked off to Zadran in the 43rd, while Mushfiqur Rahim completely misread a Rashid leg-spinner that trapped him in front in the following over. The only remaining card in the Bangladesh's deck, Mahmudullah Riyad, performed his customary rescue act with a 22-ball 32 that took them to 279 for eight. It turned out to be more than enough for Afghanistan.