A Bangladesh in Adelaide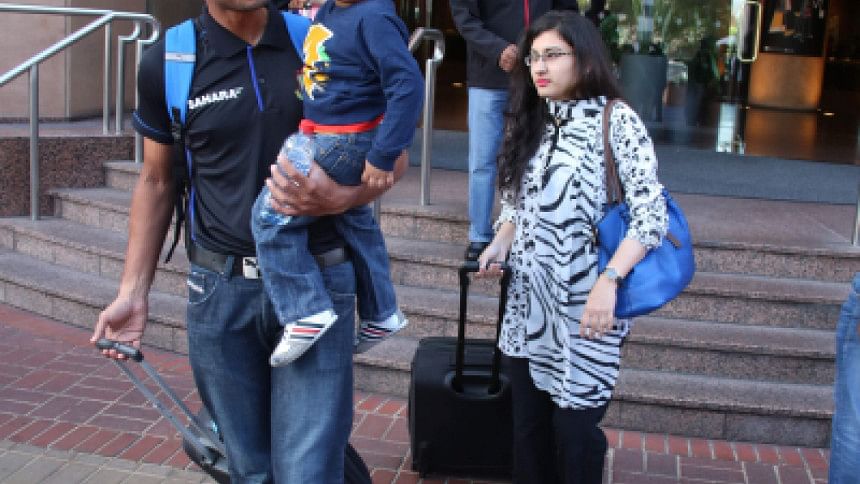 A small yet noticeable part of the Adelaide Airport yesterday turned into a mini Bangladesh as the players, some of them with their family members, and the coaching staff gathered and mingled there on way to fly across the Tasman Sea to play their last pool match against co-hosts New Zealand in Hamilton on Friday.
From the staffs of airlines to officers at immigration desks, everyone appreciated the Tigers for their Monday night's effort that took them into the World Cup quarterfinals for the very first time and it seemed as though just one win had suddenly brought the Bangladesh cricket into the centre of all attraction.
While entering the Air New Zealand plane, the cabin crew welcomed the Bangladesh team on board and announced the names of the players one after another with big applause and it got only louder when the names of the match heroes Mahmudullah Riyad, the first Bangladeshi centurion in World Cup, Mushfiqur Rahim and Rubel Hossain were announced.
To catch the morning flight the players had to wake up early, but they all were in a jubilant mood and fatigue was not at all an issue for them. Almost everybody agreed on one point that "it's a great moment for Bangladesh cricket".
"Don't ask this question today," Tamim Iqbal requested with a smile when asked about that dropped catch. What he said was: "It's a great moment for Bangladesh cricket. It's a huge achievement to reach the quarterfinals in such a big event for the first time and just think it's in Australia."
Young Soumya Sarker, who, according to chief selector Faruque Ahmed, has created a positive vibe in the team with batting approach though the left-hander has yet to make anything big. But that matters little for him.
"I cannot actually say in words how excited I am. It's my first World Cup and we are in the quarterfinals …it's amazing," said the soft-spoken top-order batsman.
To all-rounder Shakib Al Hasan every win for Bangladesh is memorable.
Rubel was over the moon. "I will never forget this moment," said the right-arm paceman who shattered the English chase.
After staying the Tuesday night in Auckland, the team will go to Hamilton, which is 124 kilometres away, by road today with a mood that they have nothing to lose against the Kiwis, rather can achieve many things before their quarterfinal match on March 19.
Having already achieved what they wanted by reaching the last eight stage of the mega event, the Tigers can now dream bigger.
TODAY'S MATCH
Scotland v Sri Lanka
Time: 9:30am    
Venue: Hobart
THURSDAY'S MATCH
South Africa v UAE
Time: 7:00am    
Venue:     Wellington