Bangladesh Premier League, 10th Match
Dhaka thump Chittagong by 6 wickets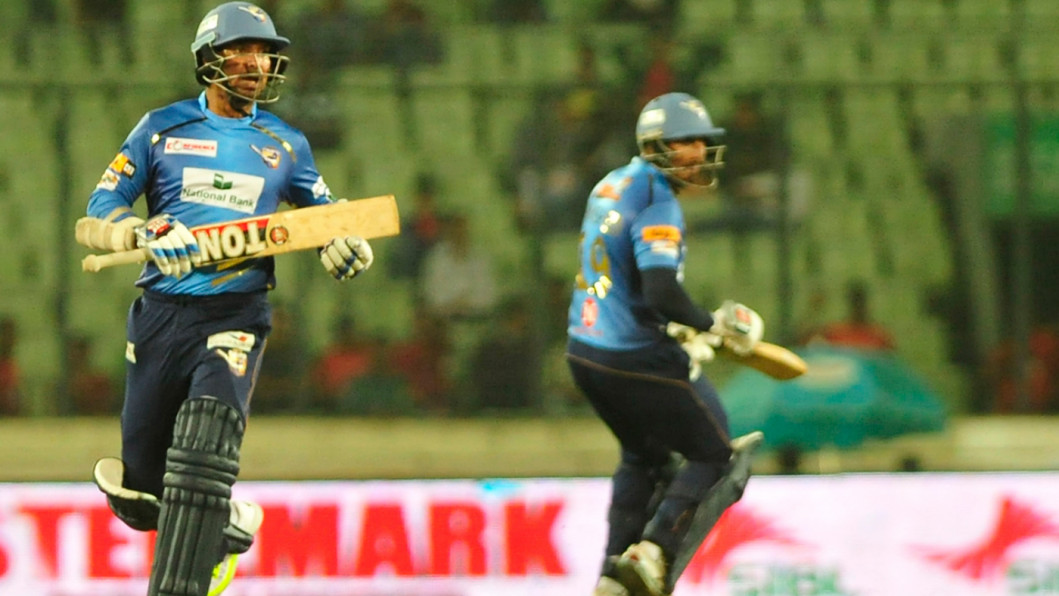 Dhaka Dynamites humbled Chittagong Vikings by six wickets in the 10 th match of BPL-2015 at Mirpur tonight.
It was a shambolic show from the Chittagong dug-out, after they capitulated to 92 all out with eight balls left in their innings.
Chittagong Vikings v Dhaka Dynamites
Dhaka:
96/4 (17.1/20 over)
Chittagong:
92 (18.4/20 over)
The miserable total never really troubled Dhaka. Although they lost a few wickets in sight of victory, the result was not in doubt at all.
Naeem Islam picked up his third victim for only seven runs.
Shadman Islam, after laying the foundation for victory fell in the 17th over to Naeem Islam for a well-made 45. The Dhaka batter played 47 balls and smashed six boundaries in his valuable knock.
Nasir Hossain couldn't make much of an impact, he came and went, gave Naeem Islam his second wicket in the process.
Naeem sent back Nasir Jamshed for 12 to give Vikings supporters something to cheer about.
Although Chittagong managed to break the opening stand, it was too little too late with only 92 to defend.
Shykat Ali fell after an enterprising knock of 23 from 17 balls. He struck two fours and a six to the delight of the Dhaka fans.
Earlier, Dhaka Dynamites strangled the life out of Chittagong Vikings' innings with wickets in regular intervals on a slow, abrasive pitch at Mirpur.
Mustafizur took the last wicket when he dismissed Saeed Ajmal for four in the 19th over. The Bangladeshi pacer took three wickets for 14 runs in 3.4 overs.
Nasir Hossain was Mustafizur's partner in crime, and also captured three wickets in his four overs giving away only 12 runs.
For Vikings, Naeem Islam was unbeaten on 29 from 38 balls, by far the highest scorer for the hapless Chittagong side.
Enamul Haque jnr was Mustafizur's second victim when the batter spooned an easy catch to the bowler.
Nasir Hossain broke the back of Chittagong's resistance with a two-wicket burst. First he got Mendis and then the big-hitting Ziaur Rahman. 
Chittagong lost their sixth batsman when part-time bowler Nasir Hossain trapped Mendis for a single.
The ball was delivered quicker through the air and skidded on to strike the front pad.
The move to promote Mohammad Amir didn't work as Yasir Shah bowled his countryman for two with a loopy, full delivery.
Mosharraf Hossain took the big wicket of Tillakaratne Dilshan to send the Vikings reeling only in the eight over.
Dilshan was given out lbw for 20, but replays showed the ball would've bounced over the stumps.
Chittagong Vikings suffered a crippling blow when Mustafizur Rahman used his trade-mark off-cutter to dismiss Yasir Ali.
Yasir smashed three boundaries in his 14 runs before Mustafizur's delivery found the edge of his bat to keeper Sangakkara.
Farhad Reza sent back Anamul Haque in the third over and sent the cat among the pigeons as far as the Chittagong Vikings were concerned.
Anamul went for the pull, the ball kept a bit low and trapped the batter in front for one.
Tamim Iqbal couldn't get going when his team came out to bat after winning the toss, and played nine balls for just a single run.
Abul Hasan induced an edge from Tamim's bat and Sanga didn't make any mistake behind the stumps.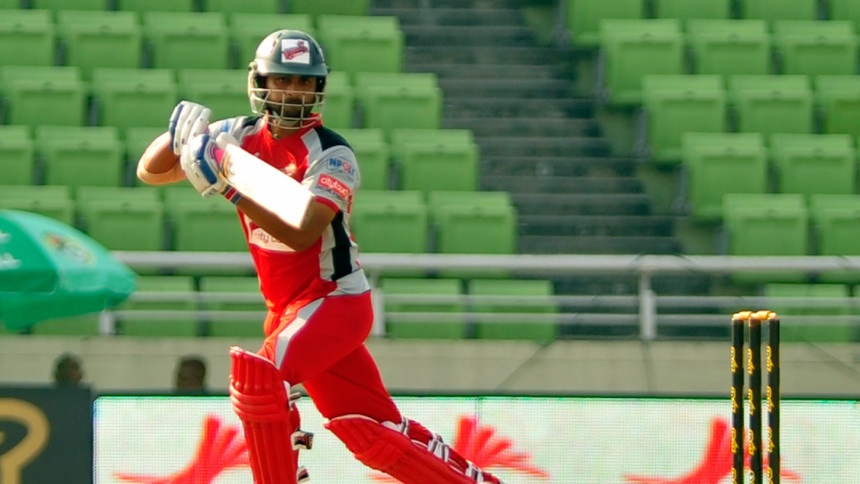 Chittagong Vikings skipper Tamim Iqbal decided to bat first after the coin fell in his favour ahead of the game against Dhaka Dynamites at Mirpur.
Both Chittagong Vikings and Dhaka Dynamites tasted defeat in their last matches, and would love to get back on the winning side.
Chittagong captain Tamim Iqbal needs to marshal his bowlers much better, considering they failed miserably to defend 176 against Comilla on November 24.
On the other hand, the batting has become Dhaka Dynamites' Achilles heel, and their captain would want the likes of Nasir Jamshed, Shamsur Rahman and Mosaddek Hossain to fire.
With one of the best teams on paper for the third edition of BPL, Chittagong Vikings have been below-par as a team so far, and need a spark to light up this T20 tournament.
Dhaka have had a hot and cold run, and need to be consistent to make a mark soon.
Chittagong Vikings Team
Anamul Haque (Wicketkeeper), Asif Ahmed, E Chigumbura, TM Dilshan, Elias Sunny, Enamul Haque jnr, Kamran Akmal, CK Kapugedera, BMAJ Mendis, Mohammad Amir, Nafees Iqbal, RJ Peterson, Saeed Ajmal, Shafiul Islam, Tamim Iqbal (Captain), Taskin Ahmed, Yasir Ali and Ziaur Rahman
Dhaka Dynamites Team
Abul Hasan, Farhad Reza, Irfan Sukkur, Mosaddek Hossain, Mosharraf Hossain, Mustafizur Rahman, Nabil Samad, Nasir Hossain, Nasir Jamshed, KC Sangakkara (Captain, Wicketkeeper), Shamsur Rahman, Shykat Ali, Sohail Khan, RN ten Doeschate and Yasir Shah