Blame it on rain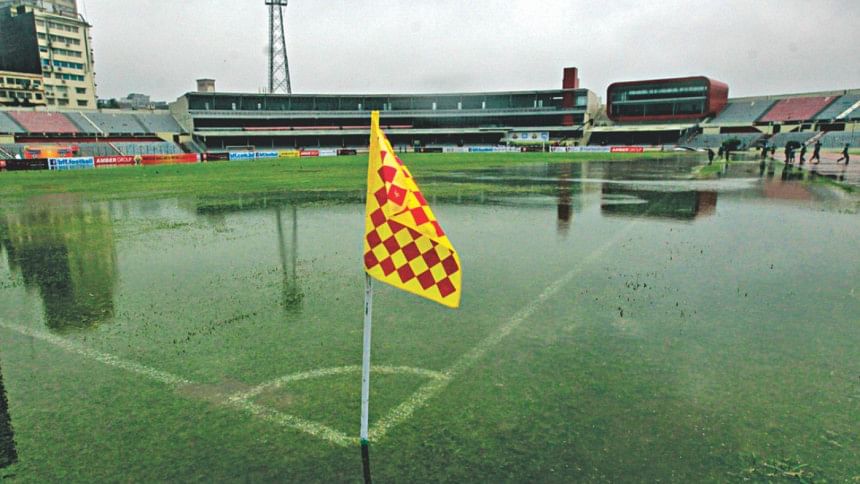 The two scheduled fixtures of yesterday's Manyavar Bangladesh Premier League were postponed after heavy downpour turned the pitch at the Bangabandhu National Stadium unplayable.
Only seven minutes was played in the day's first match between Mohammedan SC and Rahmatganj MFS before referee Hannan Miron stopped play as heavy rain continued along with thunderbolts. Once rain relented, parts of the pitch became completely waterlogged, forcing the referee to call an end to the proceedings for the day.
The two postponed matches will be held today where the first match will begin from the eighth minute and with the same eleven that played the first seven minutes yesterday while the remaining fixtures will be bodily shifted.
However, the question regarding how an international venue becomes so unplayable in just half-an-hour's rain reigned supreme. The obvious answer is the poor drainage system at this multi-purpose venue, which is scheduled to host Afghanistan and Singapore for two friendlies later this month before hosting Kyrgyzstan and Tajikistan for World Cup and Asian Cup Qualifiers in mid-June when the rainy season will set in.
"We don't have enough modern equipments to remove water quickly from the ground," said Fazlur Rahman Babul, chairman of the BFF grounds and facilities committee.
"Some parts of the pitch were waterlogged. The two flanks have become uneven due to frequent use of rollers and that is where water logs heavily," explained Babul. The veteran organiser also expressed his displeasure over the fact that crores of taka is being spent over renovation of the stadium but the authorities concerned never gave much thought about improving drainage system.