Khaled Mahmud wants more from Tigers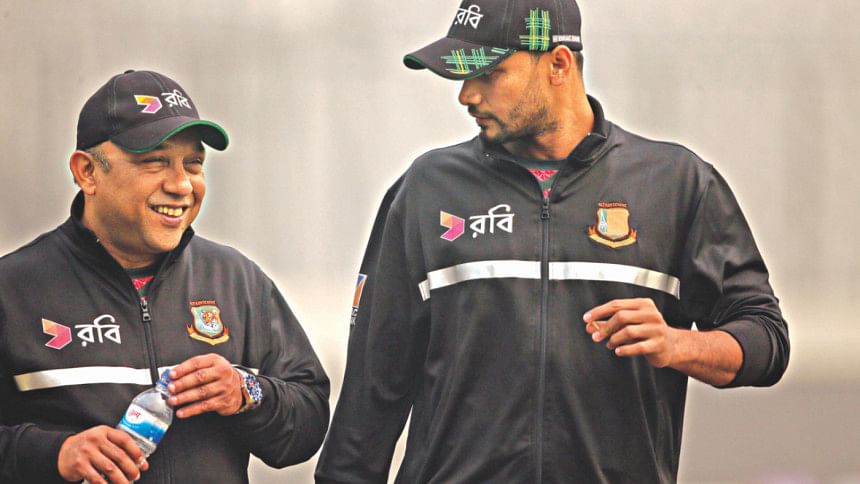 Bangladesh have started 2018 in fine form, notching up three ODI victories on the trot from three matches played. However, Tigers' technical director is not yet content with the performances and suggests that there is a lot that can be improved upon.
With their 91-run victory against Zimbabwe, Tigers notched up big margin victories in all three tri-nation series matches so far. Tigers won the first match of the series against Zimbabwe by eight wickets before defeating Sri Lanka by 163 runs to record their largest-margin victory in ODIs – overtaking the 160-run win against West Indies in 2012.
Bangladesh play Sri Lanka in their final round-robin fixture on Thursday ahead of the final on January 27. Bangladesh did not hold a practice session today and Tigers enjoyed a rest day when Khaled Mahmud spoke from the team hotel.
"I feel that there is no opportunity to remain pressure less. There won't be anymore breaks and the final is the most important for us. We played yesterday and tomorrow we will play again and then comes the final on 27th. So, the team needed a break. To relax and take their minds off cricket but it is not about being relaxed," Sujon reiterated when asked if the Tigers are relaxed.
Bangladesh suffered against Zimbabwe when they posted only 216 runs on the board. Gritty batting from the tail-enders ensured a fighting total on a pitch that did not exactly favour stroke play. Tigers, despite a middle-order collapse put in commendable effort with the ball as Zimbabwe were all out for 125.
Tigers' innings collapsed badly after a brilliant 106-run second-wicket partnership by Shakib Al Hasan and Tamim Iqbal as they slumped from 147 for two to 192 for nine, losing seven wickets for 49 runs.
Sujon gave the team credit for defending 216 and said: "We won the game by defending 216 fantastically." The technical director however opined that the middle-order batsmen needed to prove themselves in the Zimbabwe game. Mahmudullah Riyad, Sabbir Ahmed and Nasir Hossain all fell to single digit scores following the wicket of Mushfiqur Rahim.
"I am not yet satisfied. We understand that in order to become a big side we need more quality. There are many options going forward and we want to be tight and do better. Yesterday, there was an opportunity for the middle order to prove themselves but it didn't happen.
"When the top-order fails, the middle-order takes responsibility in the top sides."
Mahmud however remained hopeful that improvement will come.