Match abandoned, teams share points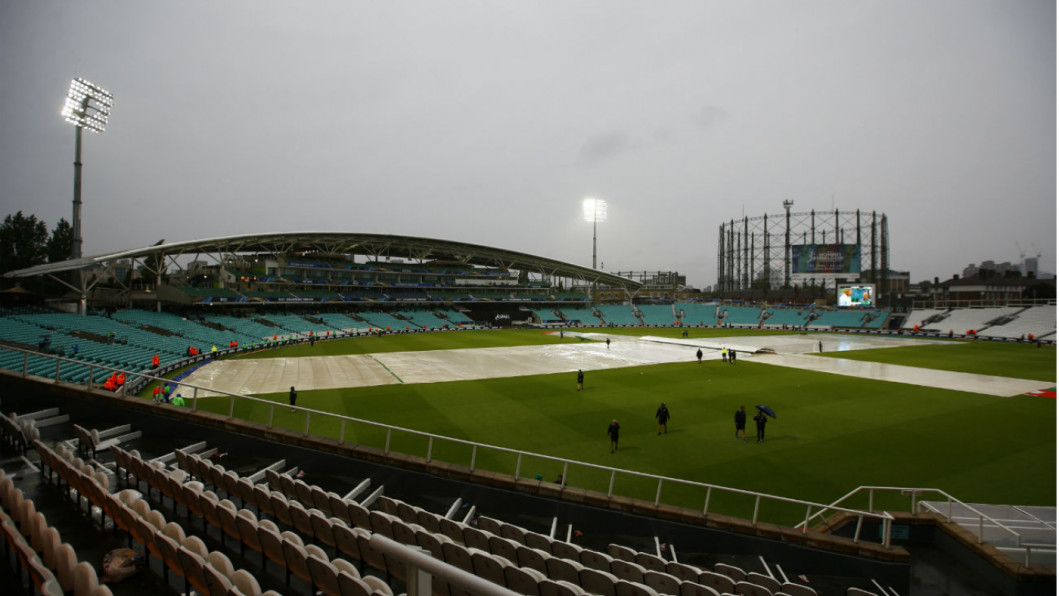 2:18am -- Rain thwarted thwarted the promise of a 1:30am restart and the match was soon called off, meaning that Bangladesh and Australia get a point apiece from the encounter. While the Tigers live to fight another day, specifically June 9 in their last group game against New Zealand, Australia will feel hard done by as they had the match well within their grasp after a Bangladesh collapse to 182 all out. The Aussies had reached 83 for one in just 16 overs, and needed the match to go on for just four more overs for the Duckworth-Lewis calculations to name them winners, provided of course that they did not lose a host of wickets while scoring virtually nothing in those four overs. 
The situation now stands the same as it was before the match for both teams. To have any hope of advancing to the semifinal, they have to win. Australia face England on June 10 in their last group match.
1:15am -- After an inspection of the ground by the match officials, it has been decided that play will resume at 1:30am (8:30pm British Standard Time), with Australia set a revised target of 172 in 43 overs.
1:00 am (8:00pm British standard time) -- From this point, an over will be lost every four minutes. The rain has stopped and the umpires are conducting an inspection. If the game is abandoned as is, it will be a no-result with points shared between the teams as a minimum of 20 overs is required in the second innings for Duckworth-Lewis calculations to come into effect and produce a result. If the players get on and complete four more overs without much damage to Australia's wickets column, the Aussies will win the match as they are currently far ahead of the D/L par score. Even if they do not score a single run in the next four overs without losing a wicket, Australia will still win by 32 runs via the D/L method 
The cut-off time for the match is 2:59am Bangladesh time -- in other words, if at least four overs cannot be completed by then, the match will end in a no-result. 
Aus 83/1, 16.0 overs -- Pouring rain at The Oval forces the players off with Australia captain Steven Smith and opener David Warner looking in complete command of the proceedings.  
Aus 45/1, 7.5 overs -- Rubel Hossain gets the first wicket for Bangladesh as Finch misses the line of the ball and is out leg-before-wicket.
Last batsman Finch lbw b Rubel 19(27) 4x3 6x0 SR: 70.37
Aus 18/0, 3.2 -- Wrong line from Mashrafe, as he bowls one down the leg side. Easy pickings for Aaron Finch who flicks it to fine-leg for four.
Aus 8/0, 2 overs -- A good over from Mortaza ends. Australia would like to finish this game early.
Australia are chasing a target of 183 against Bangladesh at the Kennington Oval, London today.
Ban 182/10, 44.3 overs -- Mitchell Starc the usual suspect gets the final wicket. His amazing spell brings Bangladesh innings to an early end at 44.3 overs.
Starc finishes with 4-29. The Australian Sppedstar unleashed hell on the Bangladesh tail enders.
Last bat Mehedi Hasan Miraz b Starc 14 (26b 1x4 0x6) SR: 53.84
Ban 181/9, 42.4 -- Starc with another tremendous delivery aimed well at the stumps. Rubel Hossain's stumps are shattered as Bangladesh lose their last three wickets without a run being scored. Mitchell Starc is on fire.
Last batsman Rubel Hossain b Starc 0 (1b 0x4 0x6) SR: 0.00
Ban 181/8, 42.2 -- Mashrafe has been clean bowled by a brilliant delivery from Starc.
bat Mashrafe Mortaza b Starc 0 (2b 0x4 0x6) SR: 0.00
Ban 181/7, 42.1 overs -- The pull shot- one of the favorite of Tamim Iqbal brings his downfall.
bat Tamim Iqbal c Hazlewood b Starc 95 (114b 6x4 3x6) SR: 83.33
Ban 177/6, 40.6 overs -- Bangladesh are 177 for the loss of six wickets against Australia as a bit of rain seems to be coming down at the ground. Tamim Iqbal is on 94 runs.
Ban 153/6, 36.6 -- Mahmudullah inside edges a Zampa delivery onto his wicket. Bangladesh have lost their sixth wicket.
The leg-spinner has struck again, picking up his second wicket of the match. The flipper was very ill-judged by Mahmudullah who plays a rash shot to bring the ball onto his wicket. Bangladesh innings is crumbling as Tamim keeps running out of partners.
Last batsman out Mahmudullah b Zampa 8 (11b 0x4 1x6) SR: 72.72
Ban 150/4, 35.4 overs -- Mahmudullah smashes one over the top of the bowlers head for six to bring up Bangladesh's 150. Promising start to the innings for Mahmudullah.
Ban 141/4, 34.2 overs -- Sabbir tries to whack Zampa over mid-off but manages to find the fielder. Bangladesh continues to struggle.
batsman Sabbir Rahman c Smith b Zampa 8 (14b 0x4 0x6) SR: 57.14
Ban 141/4, 34 overs --Sabbir paddles one down to fine leg off Hazzlewood. The loss of wickets during key moments have slowed down the momentum of the Bangladesh innings. Tamim Iqbal is on 78 from 97 balls. It has been a determind knock from the opening batsman.
Ban 122/4, 29.5 -- Shakib Al Hasan out leg-before-wicket. The batsman asks for a review but the third umpire has also gone with the decision of the on-field umpire. Shakib was caught far forward his crease and the decision looks a bit unfortunate.
Last batsman out Shakib Al Hasan lbw b Head 29 (48b 2x4 0x6) SR: 60.41
Ban 121/3, 29.2 overs -- Tamim Iqbal hits back-to-back sixes off the bowling of Travis Head.
Ban 104/3, 27.3 -- The two left handers at the crease have brough up their fifty-run partnership for the fourth wicket. Tamim Iqbal is on 55 while Shakib is on 29. Progress has been slow but this duo are looking to create a platform from where Bangladesh can launch towards a good total.
Ban 101/3, 26.3 -- Shakib square cuts one and runs two to bring up 100 runs for Bangladesh. This partnership has looked promising.
Ban 90/3, 23.3 -- Tamim hits the ball casually past the bowler for a single to bring up his fifty off 69 deliveries. The stylish left hander has hit five bounderies and a six on his way to a half-century.
Ban 78/3, 22.2 -- Tamim charges down the ground and smashes the ball out of the park for a six off Henriques. That is easily the shot of the match as the ball goes high over the cover for a maximum.
Ban 72/3, 21.6 overs -- Shakib is dropped by Maxwell as he tried to whack a Starc delivery through the off side. Ball moved at a quick pace and Maxwell fails to hang on.
Ban 65/3, 20 overs -- Bangladesh succumbed to some disciplined bowling from the Australian attack. Shakib Al Hasan has come to the crease and he would have to keep a cool head to pull Bangladesh out of this slump.
Ban 53/3, 16.2 overs -- Mushfiqur Rahim gets stuck in his crease trying to manage a Henriques delivery on the back foot and is out leg-before-wicket. Ball comes back in off the angle and Mushfiq fails to account for the slight in-dipper.
Last bat Mushfiqur Rahim lbw b Henriques 9 (20b 0x4 0x6) SR: 45.00
Ban 50/2, 14.5 overs -- Musfiqur Rahim glides one down to third man to bring up the 50 for Bangladesh. It has been an uphill battle after the loss of two early wickets.
Tamim Iqbal is on 28 and Mushfiqur Rahim is on 9. Only Tamim has managed to show any authority witht the bat. He is the in-form batsman as far as Bangladesh are concerned.
Ban 42/2, 11.5 -- Hazzlewood bangs one in short of length and Mushfiqur Rahim tries to play a pull shot but skies it high towards deep fine leg. Fortunately the ball falls short of the man at the boundary.
Hazzlewood comes back to the attack and looks like he has the right ideas on how to bowl at this wicket. Most deliveries that have been pitched up have caused trouble for the Bangladesh batsman. He has managed to beat the bat a couple of times.
Ban 37/2, 10.2 overs -- Kayes sees a wide one from Pat Cummins and decides to play it over square mid-off. He ends up chipping it to cover point for a very soft dismissal. Catching practice for Finch at point.
batsman out Imrul Kayes c Finch b Cummins 6 (16b 0x4 0x6) SR: 37.50
Ban 35/1, 9 overs -- Bangladesh have steadily moved to 35 runs after 9 overs. Australia have the upper hand after taking the scalp of Soumya Sarkar. Tamim Iqbal (23) and Imrul Kayes (5) are looking to consolidate the innings.
Ban 22/1, 5.2 overs -- Hazzlewood pegged Soumya back the previous delivery with one that came back in to the left-hander. This time he has managed to find the outside edge. Soumya goes is caught behind by Wade after scoring three runs.
batsman out Soumya Sarkar c Wade b Hazlewood 3 (11b 0x4 0x6) SR: 27.27
Ban 22/0, 4.6 overs -- A bit of width on offer from Starc and Tamim smashes it past backward point. Ball races to the boundary.
Ban 11/0, 3.3 overs -- Tamim Iqbal gallantly comes down the pitch and smashes Hazzlewood down the wicket for four. Clear show of intent from Tamim Iqbal that he will not allow the Aussie seamer to dictate terms.
Ban 6/0, 1.3 over -- There seems to be a bit of swing for the Australian fast bowlers early on. A few leg-before-wicket shouts from the Aussies. Umpire turns down Josh Hazzlewood who had Tamim Iqbal struggling at his crease after the delivery jagged back into the left-hander. 
Decent battle between bat and ball as Bangladesh face Australia in the first day-night match of the Champions Trophy at the Kennington Oval, London today.
Bangladesh comes into today's day-night game on the back of a punishing eight-wicket defeat against hosts England. Australia on the other hand feel that they were lucky to sneak away with a crucial point against New Zealand in a rain-abandoned game where they were precariously placed at 53 for 3 chasing the Black Caps' 291.
Bangladesh have beaten Australia once in their previous ODI meetings. Incidentally that famous victory was in England way back in 2005 in Cardiff's Sophia Gardens. However, the Tigers hardly get the opportunity to play against Australia with their last one-day fixture against them in Dhaka way back in 2011, during a three-match series.
Little tectonic plates have been noticed at the Oval pitch. There are cracks available for the bowlers to exploit. The conditions are conducive to a bit of swing for the quicker bowlers according to a few experts.
Australia captain Steven Smith acknowledged his team now have to win their remaining group matches if they are to advance to the semi-finals.
"It's a pretty quick tournament. So you can't really afford a washout or a loss.
"You've got to turn it around quickly now and control what you can control."
Iconic duo Mashrafe Mortaza and Shakib Al Hasan equal Mohammad Ashraful's record of playing 175 ODI matches for Bangladesh.
BAN XI: T Iqbal, Soumya Sarkar, I Kayes, S Al Hasan, M Rahim, S Rahman, M Hasan, Mahmudullah, M Mortaza, M Rahman, R Hossain ICC Live Scores (@ICCLive) June 5, 2017
AUS XI: A Finch, D Warner, S Smith, M Henriques, G Maxwell, TM Head, M Wade, M Starc, P Cummins, A Zampa, J Hazlewood ICC Live Scores (@ICCLive) June 5, 2017