Titans down Comilla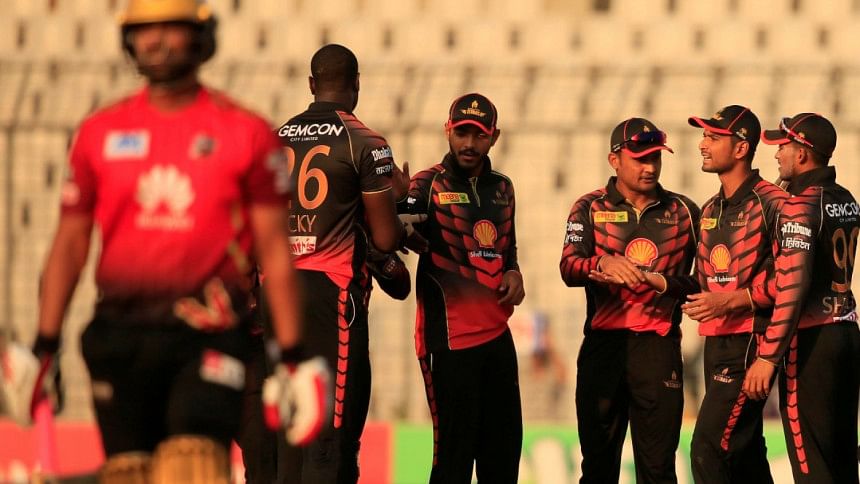 Khulna Titans win their final round robin fixture with a 14-run victory over Comilla Victorians.
The Comilla Vikings' chase of Khulna's 174 started on the wrong foot as they lost opener Solomon  Mire in the first over as Titans skipper Mahmudullah Riyad bowled him out.
Tamim Iqbal was then joined by Imrul Kayes and the duo looked like they would take the game away from the Titans. Tamim hit Abu Jayed straight down the ground for four before rocking back to place another delivery through backward point for four in the second over. The left hander then took on Mahmudullah who conceded 16 runs off the third over as Tamim kept playing his shot. The next over, Imrul Kayes was dropped as Brathwaite dropped a sitter.
Brathwaite made up for his mistake by taking Kayes's catch in the eighth over and soon, Comilla lost Tamim Iqbal as well, to leave Comilla in a bit of bother with the score at 69 for three after ten overs.
Tamim left after a 33-ball 36 but after his departure, Comilla lost their rhythm. Shoaib Malik hit a 23-ball 36 but in the end Comilla kept losing key wickets in crucial stages of the match. Marlon Samuels hit a few big ones at the end but in the end the equation became too difficult for the Victorians as they needed 31 off the last over. The last over from Abu Jayed saw 16 runs conceded and Khulna went on to win by 14 runs.
Earlier in the day, left-hander Nazmul Hasan Shanto gave Khulna Titans a flying start after their skipper Mahmudullah Riyad elected to bat first against Comilla Victorians.
Comilla had started with spinners at both ends and it worked for the first three overs where Khulna managed only 15 runs.
Nazmul cracked a six off Shoaib Malik in the third over before he hit Mahedi Hasan for a four and a six off consecutive deliveries in the fifth over. He was dropped on the first ball of pacer Al Amin's over and he struck two boundaries in the sixth over but Al Amin ca,e back with a sharp reply as he cleaned up Shanto's off-stump with a fantastic yourker. Nazmul fell after a 21-ball 37 with the Titans score on 55 after six overs.
Mahmudullah was looking in good touch as he struck Mahedi for a four a six in the eighth over. Comilla managed to dry up the runs for the next two overs and it resulted in Klinger being holed out at cover off the bowling of Solomon Mire.
Khulna lost a few quick wickets as Mahmudullah and Nicholas Pooran were removed in quick sucession.
The powerful Carlos Brathwaite launched into Al Amin in the 18th overs as he hit three fours and a six to pick up 19 runs. He fell to an unfortunate dismissal after Ariful Haque's strike ricocheted off bowler Mahedi's boots and hit the stumps at the non-striker's end with Brathwaite out of his crease.
Ariful Haque struck a 21-ball 35 as he and Beny Howell then went after Al Amin in the last over. Howell hit two boundaries before Ariful took over and hit a four and a six off the 20th over. Ariful fell on the last ball of the innings but not before the picked up 19 runs of that last over as Khulna Titans posted a formidable 174 run on the board.
Al Amin picked up three wickets but ended his spell with 52 runs conceeded off four overs