THROUGH THE EYES OF
SHARMILI AHMED
The name Sharmili Ahmed is indistinguishable from the platform of television in Bangladesh. She is a living legend who has acted in numerous television dramas and also appeared on big screen in several movies. At the age of four, she started acting on stage. She started her career on radio in 1962, on film in 1964 and on television in 1968. She is one of the luckiest artistes who got the opportunity to act in 'Dompoti', the first drama serial in the history of Bangladesh television. Some of her remarkable works are 'Malancha', 'Dompoti', 'Agun', 'Abirvaab', 'Poush Phaguner Pala', 'Meherjaan', 'Abar Hawa Bodol (2014)', 'Brishtir Pore (2005)', 'Amader Ananda Bari (2005)', 'Anchol (2006)', 'Aguntuk (2005)', 'Poshak (2005)', 'Chheleti (2011)', 'Uposhonghar (2010)', 'Chena Manusher Panchalee (2007)', 'Dhupchhaya (2009)' and many more. She will be cherished forever as an honorable personality for her tireless contributions in the cultural arena of Bangladesh.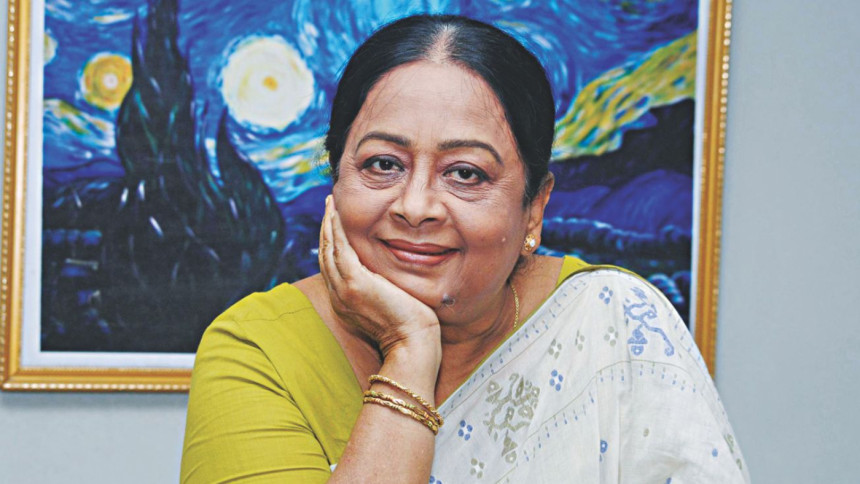 INSPIRATION

Whatever I have accomplished in life is thanks to benevolence of the Almighty. I must say that my father is my first inspiration and I am blessed to have such a genuine artist as my father. He was a stunning performer who achieved the Master of Drama Award by the then-Deputy Commissioner of North Bengal and was also honored with a gold medal. He was an outstanding actor, director and instructor of the stage drama and he also contributed in the radio. My mother is my inspiration too. She used to play setar amazingly and could also write mails with ornamental words. There was a practice of reading storybooks and my siblings were much inclined to arts. My family as a whole was extremely motivational in flourishing my potential in acting.
PHILOSOPHY

My life is designed in its simplest frame and I believe in honesty. I think every ethical work deserves respect. Any effort with honesty at my workplace gives me the highest possible gratification. I always try to be connected with my family, relatives, friends and co-artists. My philosophy is to love others and I have limited needs, which helps me restrain myself from living lavishly. I do not work for any material award; rather, the love and respect of the people are my most precious awards and sources of inspiration. They give me sanity and steer me towards the moral path.
VIEWS ON HER PROFESSION

I have chosen acting as both my passion and profession. It is an art which introduces people to a prestigious era of culture and widens their thoughts. Acting is a way of feeling the heavenly grace of art and I would love to continue acting till my last breath. Currently, the new generation artists are running towards the shortcut path, which I find very threatening. My request to the young generation would be to respect the directors, seniors and co-artists, and to work with passion and dedication. They should always be punctual and sincere to their work. Together, we have to make an atmospheric condition where they can find their interests in art and culture.
MUSIC

I love listening to melodious songs which have thoughtful depth such as Rabindra Sangeet, Nazrul Sangeet and some of the modern songs. Whenever I am in a gloomy mood, I start listening to Rabindra Sangeet. The heart-melting melody always gives me immense pleasure. Hemanta Mukhopadhyay, Sandhya Mukhopadhyay, Shyamal Mitra, Sabina Yasmin, Fahmida Nabi, Shubir Nandi and Farida Parveen are some of my most favorite singers. 
FILMS

As I am deeply inclined to the film industry of our country, I had the opportunity to watch a lot of movies. Pather Panchali and Jibon Theke Neya are two of my most favorite movies. 
BOOKS

Though I do not have enough leisure hours now, since childhood I love reading story books. The short stories of Rabindranath Tagore are on top of my list of favorites. Sarat Chandra Chattopadhyay, Bankim Chandra Chattopadhyay, Shirshendu Mukhopadhyay, Rizia Rahman and Humayun Ahmed are some of my favorite authors.
FUTURE PLAN

I always love to work with passion. Currently, I am involved in four serials at different TV channels. They are Brishtider Bari (BanglaVision), Gulbahar (RTV), Babui Pakhir Basha (ATN) and Tumi Acho Tai (SATV). Seven television dramas had recently been telecasted on the occasion of Eid. Shooting of some other dramas are also running. I always try to work with a proper balance of time and effort. I often prefer package drama if I find my role interesting. I have no specific future plan. Rather, I would love to spend the rest of my life with love and respect of the people of our country.
IDOLS

Unquestionably, my parents are my idols. My father was an honest, liberal and humble person who taught me to taste the freedom of life. My mother was also a modest, honest and kind-hearted person. They grew my thirst for acting and their footprints led me toward the path of morality.
By Shawreen Rahman