Driving Cows, Goats and Humans in Mirpur Traffic!
A few months ago, a responsible minister of the government caused a stir with a quixotic statement. After a spate of traffic accidents he was asked the criteria for issuance of license to drivers. Whether it was in jest or irritation to the many questions bombarded by journalists - pat came his reply - 'as long as an individual can spot the difference between cows, goats and humans, a driving license will be issued'. For weeks there on, mainstream media pulverized him with intense criticism and the trolling on Facebook was merciless. Yet, I do not recall any clarification or retraction of this bizarre claim. However a strange realization has dawned on me recently. The minister's claims deserve some 'merit' even if they didn't back then. Let me explain: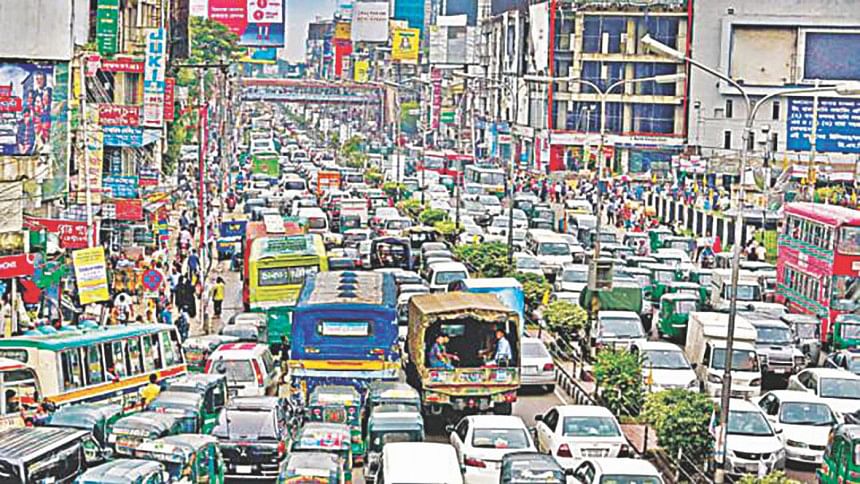 For those of us not using chauffeur driven cars and literally 'battling' an existence by self driving or using Uber, CNG three wheelers or public transports to commute - matters in the lanes, by lanes, streets and main roads of Mirpur where I live is a time bomb ticking to explode. Unending and ongoing 'development works' of nearly four years, have rendered all side and by lanes impassable to traffic. Dug up for civil constructions, mostly sewerage lines - renders 40 percent of all such lanes useless. The woes of the sick, elderly, students and children are, in one word – pathetic.
The pressure on main roads are therefore insanely immense. On the flip side, the 'silver lining' to the dark clouds of Mirpur i.e. the MRT Monorail Project has already gobbled up 50 percent of the main road and it is unlikely to finish until 2022. Mirpurians are thus in a Catch 22 situation that sees no end in sight.
Let's take the 8 kilometers stretch of main road from Pallabi to Agargaon - via Shewrapara, one of the busiest roads in the entire metropolis. What will surprise anyone is the absence of any traffic police or for that matter any other law enforcement official on duty. A few may be spotted around the Mirpur-10 intersection - but their actions only compound to the exasperation of an already chaotic mess. Stopping cars and buses during the height of congestion to 'check documents' is only a ruse to extort money that inevitably creates huge tailback. This is an almost daily 'ritual'.
Add to that, on the 6 kilometer alternative stretch of road, the so-called '60 feet' one will spot menacing vigilantes armed with sticks 'volunteering' in the onerous role of 'traffic policemen'. They only add to the chaos by permitting driving on the wrong side, with offenders varying from Government vehicles to unending streams of dangerously driven motorbikes, rickshaws and push vans. Grotesque is the sight of police vehicles blaring sirens as if there is some 'serious emergency' when in reality one can see families of policemen comfortably seated inside.
The '60 feet' road is actually reduced to less than 40 as all 'traffic' - be it vehicular, pedestrian, pushcarts and vans, jockey precariously for space to maneuver. These moves injure people on a daily basis. Damages, specially dents and scratches to cars by rickshaws and motorbikes are also a daily fare - and heated arguments often do not end in hours. Of course the oldest of 'class war arguments' in our society comes into the fore. If a rickshaw hits a car- the fault is always that of the driver or owner- the boro loke!
The other culprits are public transportations with poetic Arabic names such as RabRab or Jabal E Noor, whose drivers are notorious for their rash driving, overtaking and the cause of many unreported accidents. They singularly contribute to traffic holdups as in the 'competition' to pick up passengers they block traffic in maddening proportions by parking their vehicles any way they want and, as and when they want. It is normal for up to 10 to 15 such vehicles blocking each other for as long as it takes for these contraptions to fill up with passengers.
If there is a veritable 'jungle' anywhere, this is it and jungle laws are all that Mirpurians face in their daily trials and tribulations. The resultant road rages and fisticuffs which are conducted in the foulest of Bangla language, again holds up traffic for hours and creates tailback that extend several miles or more - sometimes even up to Metropolitan Dhaka.
While the Government spends a lot of money constructing beautiful footpaths and pavements, these are rarely used by pedestrians. Most have been taken over by vendors and hawkers leaving pedestrians to walk in the middle of the road, as casually as they would in their verandahs or backyards. The term 'jaywalking' for Mirpurians is a misnomer!
And when it 'rains cats and dogs', Mirpur looks like a bombed out city in Syria. With cesspools and sewerage water overflowing on to the roads, one has to be very talented and very lucky to reach his/her destination in any good shape. The stench is simply overpowering.
And of course the last laugh in the Mirpurian tragic-comic dark humor of recent days is: we do not see cows or goats on our roads any more. That 'glorious role' has been taken over by us humans. The Minister surely was 'far sighted' about goru, chagols and humans!
By the look of things the authorities have completely abandoned Mirpur - a part of the city where millions live, and who survive the daily ignominy centering around commuting. Mirpur doesn't deserve this stepchild treatment. It has to stop right now!
Maqsoodul Haque (Mac) is a  columnist and a jazz-rock fusion musician