Hindi Romantic songs per excellence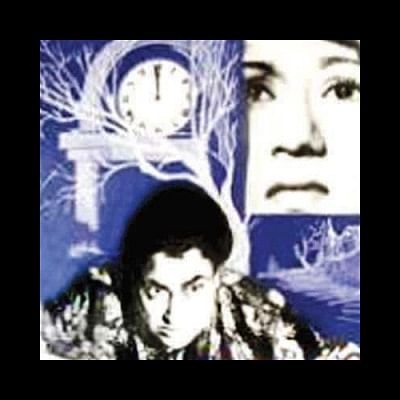 The old Hindi songs lovers of this country would remember some of the blockbuster films of Bombay of the '40s, '50s and '60s, like  Mahal, Daag, Andaz, Awara, Aan, Sree 420, Barsaat, Chori Chori, Deedar, Naya Daur, Baiju Bawra, Dulari, Babul, Aarti, Bahar, TajMahal, Anarkali, Insaniyat and so on. Though some of these movies never got screened here but people have been listening to the songs on radio, and from records on vintage gramophones. These movies had some of the great romantic songs of the era, and they became very popular on this side of the border as well. People used to queue up to buy records of the hit songs as soon as they arrived from Bombay.
In the old part of Dhaka, these popular Hindi songs used to be played over loudspeakers during weddings and on other pompous occasions. It is needless to mention that to have a treat free of extra charge, song aficionados used to order for the third cup of tea in restaurants where these songs used to be played throughout the day.  
The song that haunted the young men growing up in the 50s was from the 1949 film Mahal. The iconic number was sung by Lata Mangeshkar for Madhubala in the film, 'Ayega ayega ayega, aane wala….".  Many people those days went to see the film a good number of times only to listen to this song of extraordinary merit.
The lilting music for the popular songs of film Naya Daur  was composed by maestro OP Nayar. Songs like "Maang ke saath tumhara..", "Reshmi shalwar kurta jalika…", "Saathi haath barhana…" and  "Uren jab jab zulfen teri…" can still be heard in some channels during music competitions.  
An outstandingly romantic composition came from another music maestro of that time Roshan. It is a Lata-Rafi duet from the film Aarti, which goes like this, "Bar bar tohe keya samjhae payel ki jhankar,
tere bin sajan laage na jia hamar,  a tohe sajni le chalu nadiy ake paar..." This beautiful song would possibly fill the heart of the most ascetic among us with romance.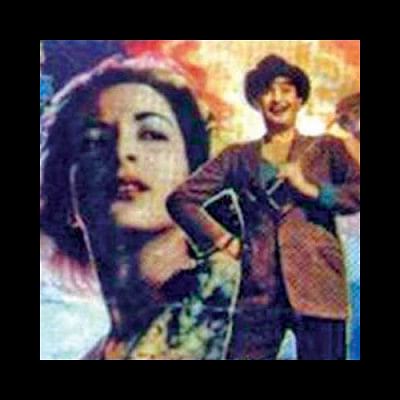 Film Awara would be remembered for some of the most beautiful romantic numbers that are relevant even today. Who can forget songs like, "Ghar aya mera pardesi…", "Dum bhar jo udhar moo phere…", Hum tumse mohabbat karke sanam…" or "Jab se balam ghar aaye…" ?
Shankar Jaikishan composed the songs which would be on every lip for many many decades.
Film Bahar would also be remembered for its songs, composed by SD Burman. "Saiyan dil mein aana re…" and "Duniya ka maza le lo…" sung by Shamshad Begum were chartbusters of the year.  Then there were  "Pyar ki bahar leke dil ka karar leke…" and "Kusoor Aapka Huzoor aapka…", two other very popular songs from the film.
The audience of the sub-continent was swept off their feet when the songs from the film Baiju Bawra were released. The poetry written by Shakeel Badayuni, tune of the songs composed by Nawshad  and the voice of Lata Mangkeshkar and Mohammad Rafi created magic once again. The hauntingly melodious songs include, "Dur koi gaey, dhun yeh sunaiye, tere bin chhaliyare, bajena muraliya re…", "Tu Gangake mouj mein Jamunaka dhara…", " Jhoole mein pawan ke aayi bahar…" and "Bachpan Ki muhabbat ko dil se najudaa karna…". The last one is a mix of sad-romantic number.
Maestro duo Shankar Jaikishan worked to win the audience back with their absolutely mindboggling numbers in the film Sree 420. People listen to them even today while they take a stroll down memory lane. "Dil ka haal sune dilwala…", "Ichak dana, beechak dana…", "Mera joota hai Japani…",  Ramaiya vastavaiya…", "Piyar hua iqrar hua…" are some of the everlastingly melodious songs from the film.
The Raj Kapoor, Dilip Kumar and Nargis starrer that had busted many records of the time was the film named Andaaz. The film will be remembered by many for its beautiful songs, composed by Naushad. The songs were written by Majrooh Sultanpuri.
"Dar na mohabbat karle…" was a duet sung by Lata Mangeshkar and Shamshad Begum. Mukesh sang the romantic number, "Hum aaj kahin dil kho baithe…." but the singer stole the show with the sad-romantic number , "Jhoom jhoom ke nacho aaj, gao khushi ki geet…".  He also rendered the beautiful song, "Tu kahe agar…" for Dilip Kumar in the film.re, ghunghat ke phat na kholey re…".

The writer is Special Supplements Editor,
The Daily Star