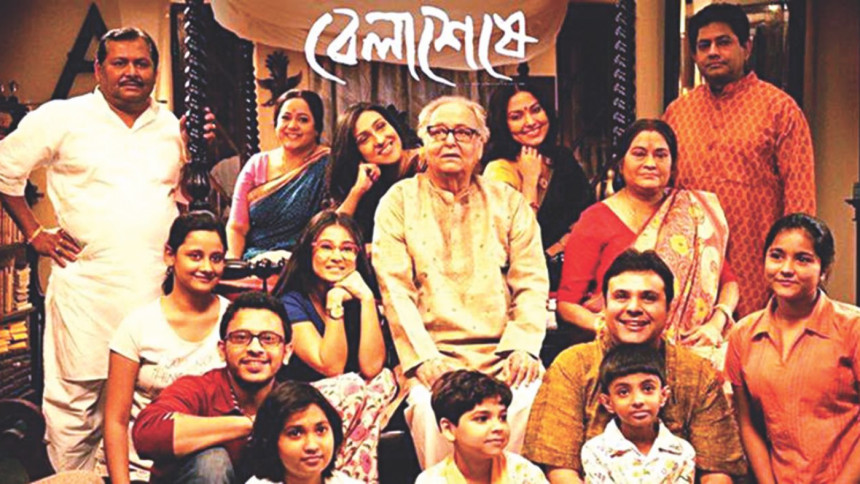 Directors: Shibprasad Mukhopadhyay, Nandita Roy

Writers: Shibprasad Mukhopadhyay, Nandita Roy

Stars: Soumitra Chatterjee, Swatilekha Sengupta, Rituparna Sengupta

Strength:  Story, 

Weakness: Duration

Runtime: 141 mins

Rating: 4/5    


PLOT: A story of relationships that searches the details of married life, promises, expectations, love and lasting companionship.
REVIEW: The story is about a successful publisher Biswanath Mazumdar, played by Soumitra Chatterjee, who takes the decision of divorcing his wife Aarti Mazumdar, played by Swatilekha Sengupta after being married for 49 years after being distressed by his children, their spouses, and his grandchildren. Mazumdar is at heart, a patriarch, and decides on announcing his plan to split his marriage on the last day of the Durga Puja festival. This creates chaos, with each of his child branding him with various insults. The rest of the story forms from how the couple and the family deal with the dissonance. 
The film possesses strong actors, each of who deliver exceptionally convincing performances respectively. Soumitra Chatterjee and Swatilekha Sengupta make for a credible aging couple, who are best at their craft. The couple provides regular fights, share personal moments, and complain to each other just as every other couple of their age does, making the film enriched in credibility. 
Other than the emotional storyline and exceptional performances by the actors, the music and cinematography works very well. 
There are very few impractical situations presented in the movie, however, they are trivial in nature and can easily be overlooked. The movie has a clear message educating the viewers about life, and valuing loved ones, allowing the viewers to relate. While the film is lead by two actors in their in their 60s, in reality the movie is for every generation.
Source: Internet