Celebrating Life 2016 Lifetime Achievement Award Winner Alam Khan
The veteran composer has been around in the industry for decades, showering the audience with beautiful melodies throughout his career. Some of his notable works include composing for "Ebadat" and "Ke Apon Ke Por" among many others. One of his greatest compositions "Nil Doriya" is still sung by generations old and new, and is undoubtedly one of the best songs to have been produced. In addition to the several awards that he received throughout his career, his latest one will be the Celebrating Life Lifetime Achievement award. Showbiz proudly presents an interactive session with Alam Khan.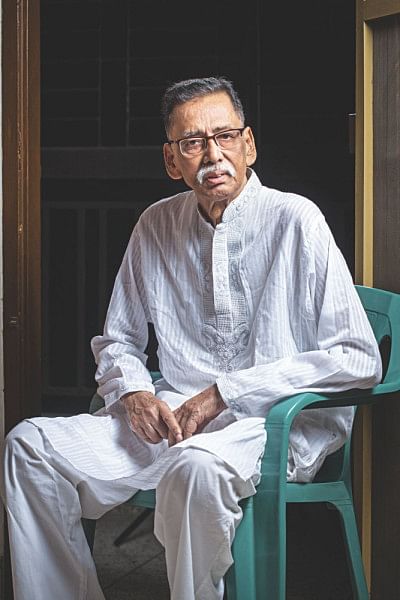 What brought you into the world of music?
When I was a just eight or ten years of age, my family had a quarter in the Azimpur colony. Next doors lived Ratan Bhai, who had an orchestra group of his own. Since I used to spend a lot of time with him, he asked me to take up music since I was very interested in music anyways. From then on, began my journey into the world of music.
How and when did you get your first music directorial offer?
My first time working as a professional musician would probably be around 1969 or 1970. I was 20 to 22 years of age. And my first time directing, was with Abdul Jabbar, in the movie "Kach Kata Hire". My friend, Jahangir Khan, son of the Late Abdul Jabbar Khan, was familiar with my work and quite liked my music. Since I had recordings and a few hit songs, then, he recommended me to his father. Mr. Abdul Jabbar liked my work and soon after offers came rolling in. The amount of work pressure was so much that I even counted as high as twenty-five movies that I had to work on at a time. 
Who were your idols or inspirations while pursuing music as a career? 
Well, some names that cometo my mind are of Salil Chowdhury and Altaf Mahmud. Hence, I was so excited working with him in, "Ka Kha Ga Gha Umo". But the preeminent of all inspirations, have to be my father. As he used to say that, "Even if you want to be a dacoit, be the one that leads all of them" and this pushed me to be all that I am today.
How did "Nil Doriya" come into existence? 
In 1968, I was very ill for a season. And the doctor prescribed me to take leisurely strolls every now and then. And while doing so, in my mind, I started humming this tune out of nowhere. However, there were no lyrics suitable for me to put this into a song. Therefore, I spoke to Mukul Chowdhury about this and he came to me with the whole song prepared in just two days. This song has a specialty as I experimented the most with this track of mine. It was divided into three distinctive parts, where 'Sampan' returns home using three modes of transport. The first was a train, where we made gaps in a long piece of wood and then dragged another wood on it to create similar sounds to the locomotion of the parts within a train. The second part contained the screeching and splash sounds of the row, mimicked by a bucket of water and a piece of wood. We used 'Ektara' for the muddy road scene for the latter part of the song.
How do you feel about the Celebrating Life Lifetime Achievement award that you are getting from The Daily Star and Standard Chartered? How does it compare to the feeling of getting an award for the first time?
Art, of any form is successful once recognized and respected at such a big platform. I am and will forever be grateful towards The Daily Star and Standard Chartered for the award. The feeling has never quite differed from the first time that I got the award to the very last one that I got.



Interviewed by Rafi Hossain