Kutumba
Kutumba is an instrumental band known for using traditional Nepalese instruments to create fresh tunes which attract millions of music lovers worldwide.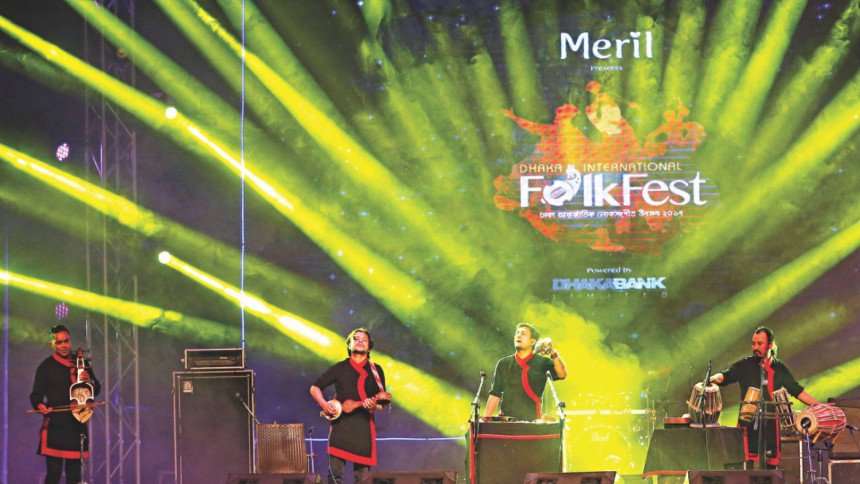 Is this your first time in Bangladesh? Who are your favorite Bangladeshi artists?
We have performed in Bangladesh before, but we always love coming here. We really like Anusheh (Anusheh Anadil) and we have even performed with her in Kathmandu. She is really fantastic. Another would be Baul Shafi Mondol, we are truly mesmerized by his soulful singing.
Could you tell us more about your band and what kind of music you like to do?
We are a band that likes to play old, traditional instruments that are found in Nepal. We formed this band fourteen years back with a vision to promote and popularize traditional instruments with the youth of the country. We do contemporary folk, which is a mishmash of traditional folk with fusion. We also do a lot of collaborations, and we are always reminding the younger generation that folk music is still alive and kicking.
What kind of music is popular in Nepal these days?
The music scene has been changing drastically. The youth, as well as the older generations are opening up to different kinds of music. As a result, you can listen to a wide variety of music ranging from folk to rock, jazz, blues, R&B and many others.
You are playing today in the Dhaka International Folk Fest. How excited are you for the performance?
We are really looking forward to it. We have been preparing our performance since yesterday and have also been observing how the other artists play. We especially look forward to seeing performances from world-renowned artists like the Nooran Sisters and Meekal Hassan. Most of all, however, we really want to see some traditional Bengali folk.
Do you find any similarities between Nepali and Bengali folk music?
There are a lot of similarities, to be honest. When we collaborated with Anusheh, we found that we could input some Nepali-styled music with her singing. It sounded amazing, and the two kinds of music blended together like a charm. 
What particular element in folk music do you think people love the most?
Well, folk music simply brings people together. It contains the aura and essence of the land that it originates from. In Nepal, you will notice that the higher up in altitude you travel, the more the sound varies. The variation is more or less applicable for all countries. When we travelled to Europe, the music that was played in the mountainous areas were quite similar to the ones we were used to hearing in Nepal. Fascinating, really.
Is there any message that you want to convey to your fans from Bangladesh?
Love your roots, love yourself, and be original! We are very glad that we are able to be here, in one of the biggest folk festivals of South Asia. We look forward to coming back because we have received so much love from here, and the warmth of the Bangladeshi listeners always surprises us. We are thankful to everyone.
By Sadi Shahnewaz