Bridging Bangladesh and Cannes
The city known for one of the major film festivals in the world - Cannes has a special appeal that is difficult to describe to people who haven't actually been there. It also has a special role in forming, what I would call, the global film fraternity. If you have anything to do with film - director, producer, writer, musician, editor, distributor, festival director, sales agent and actor - you need to be at Cannes. To learn, to watch, to make contacts, to immerse yourself in this incredible atmosphere where everyone, every single person who is there, is there for films. For cinema.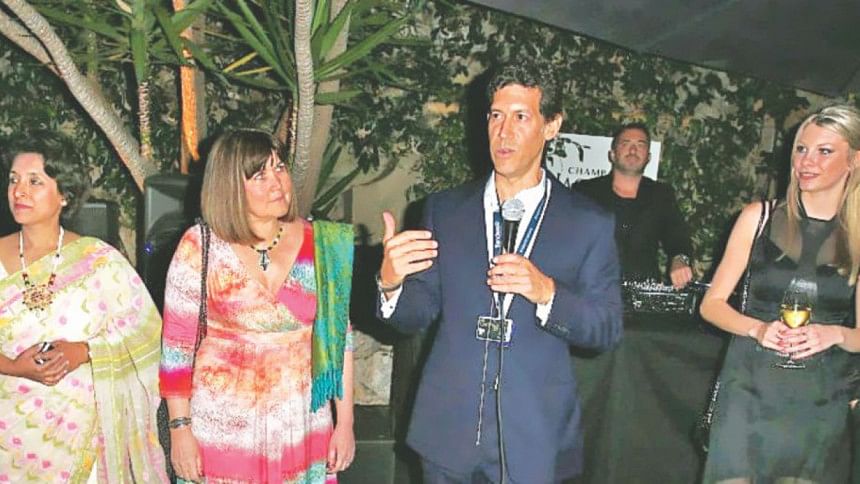 This particular year, my regular Cannes trip has been special for two reasons. Firstly, I started the International Film Initiative of Bangladesh (IFIB) to help connect films and filmmakers from Bangladesh with the international film fraternity. Another reason is the presence of several producers, directors, festival directors, other film officials, and journalists from Bangladesh at Cannes this year. 
IFIB will take several young filmmakers to Cannes next year as part of a Dhaka to Cannes program supported by International Emerging Film Talent Association (IEFTA). This was declared at the IEFTA 10th Year Anniversary Gala at Cannes and we shall soon announce the full program in Bangladesh. It is also a very exciting time for me, as I have been working for last three years to make this happen. The Gala itself was special as it was part of a conference called Refugee Voices in Films, and some incredible films and filmmakers were part of that programme. Many of our filmmaker friends will remember the conference in January as part of the Dhaka International Film Festival, where we discussed the issues related to 'Finding the Global Audience for Bangladesh Films'. Several ministries and institutes were also part of the conference. IFIB is a direct result of work that resulted in the realization that a much more proactive role from within Bangladesh is needed to bring our films and filmmakers to the international audience. Some of our filmmakers are already doing a commendable job and breaking into several festivals with their new films. Still, there is a lot more to be done, and the IFIB program at Cannes in 2017 supported by IEFTA, is part of that overall drive.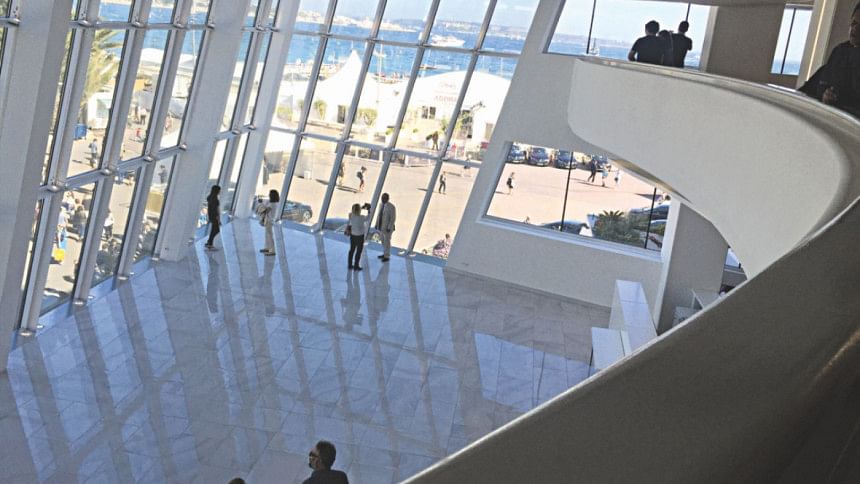 I noticed, let alone our films, I had to explain Bangladesh itself to many people. Interestingly, several people mentioned cricket when I said Bangladesh, as our success in this game has led to some recognition. There is a film waiting to be made there! Equally, our recent and future successes in film festivals will be noticed without a doubt. If we study the recent global successes of some 'new' countries, film commissions or other institutes are doing the bulk of this work: working as both cultural ambassadors of their countries and of film. We also need a comprehensive strategy to do something similar for Bangladesh.
Before all that happens, in true entrepreneurial spirit, I suppose, we are all working and trying in our own way.  It was indeed a wonderful feeling this year at Cannes that two of our films, "Oggatonama" of Tauquir Ahmed/Impress Telefilm and "Aynabaji" by Amitabh Reza Chowdhury/Half Stop Down were in the Market at Cannes 2016. This is something new for our producers, and hopefully, in the coming years, it will become a regular feature of Cannes and other major festivals. If we don't go and participate, how can we hope for international deals and international sales? This, as a concept, is part of the national film strategy of many countries. I strongly recommend all our directors and particularly the producers to be aware of the major festivals, especially where a co-production market is available or where generally major film-figures gather, and to simply go and talk about Bangladesh and films of Bangladesh. It is bound to have an impact eventually. At Cannes and other festivals, relationships are forged and new ideas are exchanged. There are plans to turn IFIB into a major resource centre for such information and exchanges. 
I did manage to watch some films too, which is always a pleasure; but, interestingly, it is not the only thing happening in Cannes. The glamour shots of the red carpet are only the icing on the top of the giant cake. Underneath the fashion and film fame, thousands of people are busy buying and selling their films. One would say, in the last fifteen years at least, the market has become the main focus of the festival. My favourite place at Marche is what is called the Next Pavilion, which is only 3 years old. This is where all the new ideas and new technology are discussed and demonstrated. Be it web based film distribution or virtual reality or climate and film, I have come across many new ideas at the Next Pavilion. This stop is almost, on its own, worth the trip to Cannes.
When I saw the slightly larger group of film personalities from Bangladesh, and the names of more people printed on the Marche guide of Cannes 2016 under the name of Bangladesh, it was a special feeling indeed. We do not yet, have an official presence at Cannes - that is to say we do not have a country pavilion or booths taken by producers or other national organisations - but these things will happen. A word of caution though, as I have seen country pavilions start and then fold the next year, we must have a comprehensive strategy about how to take our films to the rest of the world including Cannes and work according to that plan. Without a long term vision, long term success won't be possible.

The writer is a film director, producer and the initiator of International Film Initiative of Bangladesh.