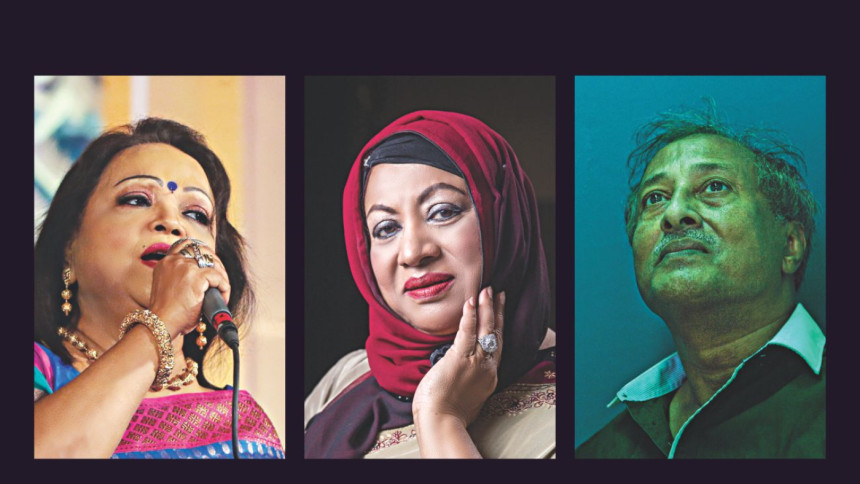 Sabina Yasmin
Sabina Yasmin is no stranger to awards, her golden voice has accumulated 12 National Awards until now. After ruling the music industry for four decades, she is to be awarded with The Daily Star-Standard Chartered Bank's 'Celebrating Life Lifetime Achievement Award' in Music. The iconic singer talks to Star Showbiz about her latest achievement. 
You just received the 'Celebrating Life Lifetime Achievement Award'. How do you feel?

Any award or recognition is a great feeling, and this particular one is very special indeed. I am proud of this achievement, and would like to thank The Daily Star and Standard Chartered Bank for bestowing me with this honor. This will give me immense courage to move forward.  
At this stage of your illustrious career, which people do you remember the most?

The person who first comes to mind is my mother. If she hadn't given me the basic knowledge for everything, I would not be where I am today. Of course, I have to talk about both my parents. Ustaad P.C Gomez, my mentor who taught me classical music is also fondly remembered as well as all the great composers and music directors that I have worked with over the years. Throughout my career, I have learned a lot from them and am truly grateful. 
What is music to you?

For me, Sabina is music and music is Sabina. It is simply my life. 
Could you tell us about your early days in music? How did you start?

Since my mother and sisters used to sing, I also tried to sing children's songs with the harmonium that we had at our home. The first song that I learned with the harmonium was Khokon Moni Shona. In 1964, I sang regularly in the radio program named Khela Ghar. My mother, Mouluda Khatun, always believed that I could do well in singing. One day, Altaf Mahmud came to my neighbor's house, and my mother insisted that he gave me a chance to sing for him, and he eventually did. My first song was in Zahir Raihan's film named Agun Niye Khela, and it was called  Modhu Jochnar Dipali.  However, my first breakthrough came in the form of the song Shudhu Gaan Geye Porichoy. 
Do you have any new plans regarding new songs?

I am recording the songs of the person who I hold in the highest regards, Altaf Mahmud. He is someone who brought me to the industry, and I am extremely glad that I am doing this album, which will have 10 songs. I have sung for films all my life, and never really relied on planning as such. I have always tended to follow my heart on such matters.
Interviewed by Zahid Akbar

Transcribed by Sadi Mohammad Shahnewaz
---
Suchanda
Anyone familiar with classic Bangladeshi films know the level of star power that Suchanda possesses. Known nationwide as an iconic actress, she had started her career during the 1960s and has starred in a large number of films, some of which are 'Jibon Theke Neya (1970)', 'Teen Kanya (1985)' and 'Jhinuk Mala (1990)'. In her debut film 'Kagojer Nouka (1966)' she performed alongside Razzak and Syed Hasan Imam. For the film 'Hajar Bochor Dhore (2005)' she won the National Award for the Best Director, and has directed several other films in the past. She is a recipient of this year's The Daily Star-Standard Chartered Bank's 'Celebrating Life Lifetime Achievement Award' in Film. Suchanda talks to Star Showbiz about her career, thoughts on receiving the award and much more.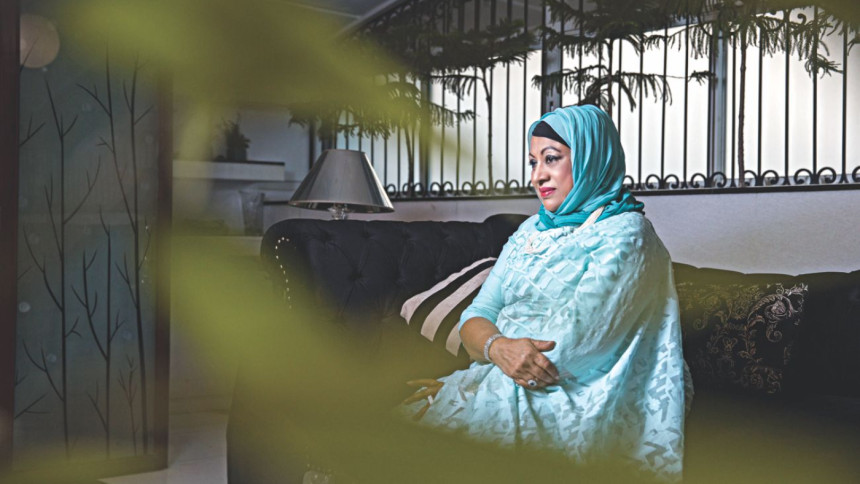 You have received a lot of awards during your illustrious career. How does it feel to win the 'Celebrating Life Lifetime Achievement Award'? 

I can't quite put into words how I am feeling at the moment. It is a great honor and I would like to thank The Daily Star and Standard Chartered Bank for presenting me with this great award. I would especially like to thank them for remembering me while I am still alive. I am truly grateful and extremely happy.
The success that you have had is completely attributed to your hard work and persistence. What inspired you to take such a difficult path and set a benchmark for all other actors to follow?

I don't know if my life and career is 'successful' per se, but it is true that I had to face a lot of hurdles in life. I lost my mother at a very young age, and my father had also fallen very ill. At that time, my brothers and sisters were very little, and I had just entered cinema. I had struggled a lot and formed my career with my own hard work, no one else did that for me. I unfortunately lost my husband, Zahir Raihan in 1971. It was a great loss not only for me, but for the entire nation.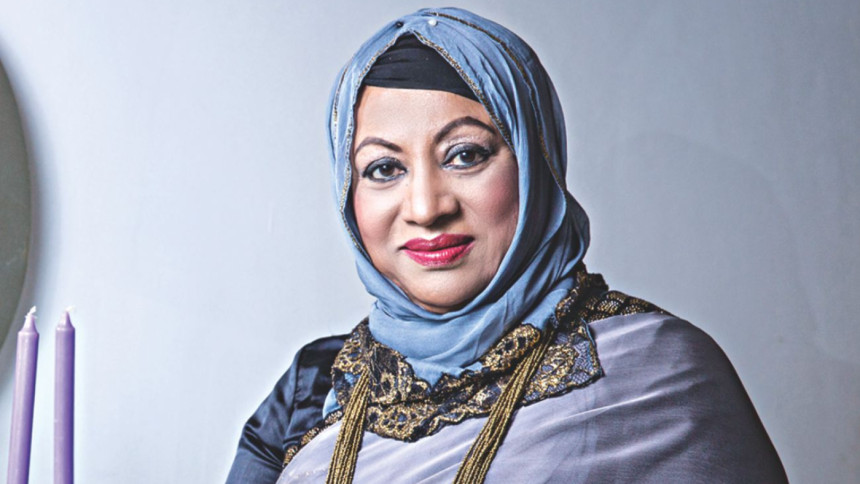 At this point in life, which personalities do you remember the most?

A part of the reason I said that I had to walk my path alone is because very few people in the film industry bothered to look after my wellbeing after Zahir (Zahir Raihan) had left us. When he was here, there were so many people who would come and meet us on a daily basis. Most of them did not even ask how my children and I were doing. I understand that they might have been busy with their own work, but it would have been nice to get some moral support because we were going through some tough times. I would still say that I am lucky to have worked with extremely talented people. Before the Independence, there wasn't a single director that I hadn't worked with, irrespective of them being established or new. Many of them have now passed away, unfortunately.
You had so many successful films. Which ones impacted your career the most?

I would say that at that time, all my films were talked about and made a mark because of the sheer passion and talent that drove them. However, some films that will always be close to my heart are Jibon Theke Neya, Anwara, Moner Moto Bou, Chawa Pawa, Asru Diye Lekha, Kothay Jeno Dekhechi amongst many more. 
Interviewed by Zahid Akbar

Transcribed by Sadi Mohammad Shahnewaz
---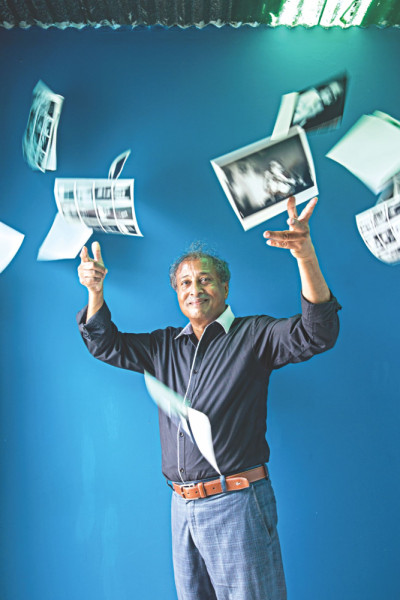 Nasir Ali Mamun 
Discusses Photography 
Nasir Ali Mamun is a prominent portrait photographer whose pictures revolve around important personalities and celebrities of this country. He has extensively worked in the black-and-white analogue media, contributed to the development of portait photography in Bangladesh, and has over 40 solo exhibitions and several photobooks under his name. He is a recipient of this year's The Daily Star-Standard Chartered Bank's 'Celebrating Life Lifetime Achievement Award' in Photography. In this exclusive interview, Nasir Ali Mamun talks about the development of his career and preferences in photography.
My first attempt at photography began when I used to live in Green Road, where there was a studio named Studio Neha. I had good connection with the people there and at times they used to lend me a 120 Box Camera. Back then I didn't know about developing films or printing photographs. I had to slowly learn photography myself, but the lack of a dark room made photo development quite difficult. Thus, I used the bathroom at my home as a dark room by covering the windows with newspapers. In the same plate that I ate from, I filled chemicals to develop films, and despite never smoking, I used to light cigarettes to see the development of the black and white films. Back then I also used a photographic fixer called Hypo, which handled the permanent negative in pictures. Nothing could describe the joy I felt when I saw that the pictures came out properly!
When I was 11 years old, I grew this admiration and respect for famous people. Every day, before my father could get his hands on the newspaper, I used to cut off the newsprint picture of the famous celebrities, writers and political personalities. Even after being constantly reprimanded by my father, that habit of mine never stopped, and only fueled my obsession for pictures of famous people further. I used to look at those pictures and wonder what techniques those photographers used to take the pictures. Afterwards, in 1972, I decided to introduce portrait photography in this country.
When it comes to my own style of portrait photography, controlling the light and shadow is of paramount importance. Whenever I go to someone's home to take their picture, I ensure that the windows and doors are closed shut and the lights are turned off. Then I make sure that the person is sitting in the perfect position, preferably besides the windows or doors, and then manage the shadow from there. A lot of people ask me how I take such dark photos without a studio. The truth is, I don't use an artificial studio camera or apply flash photography. I prefer using the natural light. In a way, I steal the rays of the sun and place them on famous people. I try to bring life into my photography using the light from nature.
Seeing the photographs of influential people such as Vladimir Lenin, Karl Marx, Albert Einstein and Rabindranath Tagore have always inspired me. Marx in specific have been a huge source of inspiration for me. I would say I have been quite successful in capturing many important people in the lens of my camera. I have taken pictures of Mother Teresa, Bangabandhu Sheikh Majibur Rahman, Mawlana Bhashani, Dr. Muhammad Yunus, General Muahammad Ataul Gani Osmani, Mikhail Gorbachev, Jasimuddin, Kazi Abul Kashem, Günter Grass, and many more prominent personalities. I have gained deep friendship with many of them. I am indebted to them and whenever I look at their pictures I feel like they will come to life and ask me to take their photographs once again.
Besides portrait photography I have other interests as well, such as collecting autographs, writings and letters. I also encourage people to draw pictures and I have collected thousands of drawings by famous people. I even had exhibitions feature my private collection of drawings.
Interviewed by Abid Hossain Khan

Transcribed by Shams Rashid Tonmoy