Because every picture deserves a frame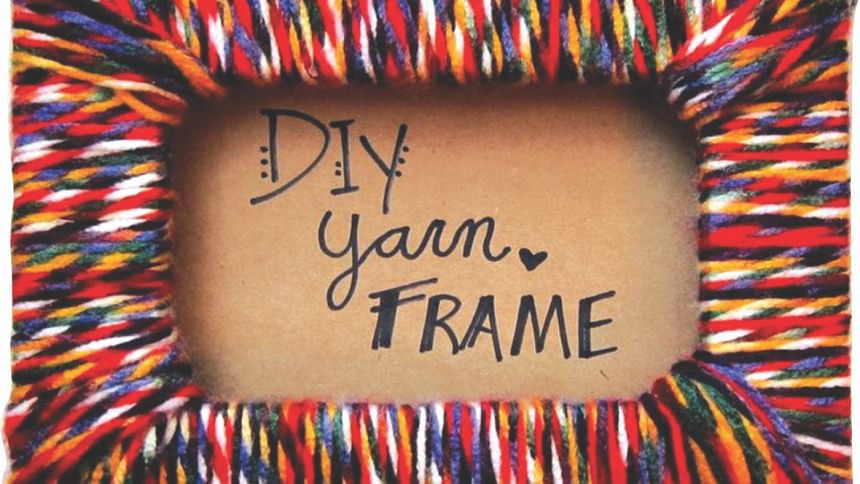 Many a times you may have found yourself examining the shelves of artisan stores, looking for the perfect frame for a treasured memory captured in a photograph. You find one too. You look at the price tag and you're forced to put it back. 
Read on and you'll never go through this trauma again.
The Basic Cardboard Prototype 
To get started with making your very own photo frame, you'll need some good old cardboard. This cardboard structure is your basic foundation to making each and every kind of frame you can ever imagine.
Start off by deciding on the size of the frame. Using an anti-cutter cut two rectangles of desired dimensions; one will act as your background and the other as your frame. On one of the rectangular pieces, leaving about 1.5 inches from each side, cut out a smaller rectangle from the centre - this is where your photo is going to be. Now, cut out 3 strips of cardboard 1.5 inches wide and the length should correspond to 3 sides of your rectangular template. 
Then, it's only a matter of assembling your frame together. First, place the solid rectangular piece that is going to act as your background. Then, on three sides of your background, place the 1.5 inches wide cardboard strips and glue in place; the empty side is going to act as a slot for you to insert your photo. Finally, place your cardboard piece with the cut-out centre on top and glue in place. Add a strip of 2 inch wide cardboard at the back and duct tape it for support. Voila, you can now officially laugh on the face of that completely unreasonable price tag because you now have your own no-cost photo frame.
However, this is all but a skeleton. Here are a few ways to go about to glam up your photo frame: 
Sequined, laced and satin
The simplest way to go about fancying up your photo frame is to wrap it up in satin, the darker colours of which usually look more chic. Simply use hot glue or fabric glue and wrap the topmost cardboard piece, which is your frame, before assembling with the fabric. Make sure to stretch the fabric tightly as you're gluing it as well as smoothing out any wrinkles in the fabric. If not fabric, lace on a solid dark background is a look that could never go wrong. For this look, paint the topmost layer of your frame in metallic copper, dark purple, navy blue or a solid shade of black. Allow the paint to dry and then apply a smooth layer of fabric glue. Carefully place your lace along the frame, trimming or wrapping up any excess overhangs around the edges. When the glue has dried, paste sequins in gold or copper and pearls for an elegant touch.  
Frame of yarn
If you have a ton of yarn lying around at home, this is the project it was destined for. Start by gluing on one end of the yarn to the frame and wrap the frame bit by bit, reinforcing the corners with glue as you go. Try to go multicolour with the yarn, you'll see what I'm talking about once you're done.
Leaves and twigs
Since it's officially fall, the season of autumn leaves and twigs lying haphazardly on the ground, bunch them up and glue them onto your frame for the ultimate fall photo frame good for all year round. This could be a good way to save a memento for this season or for any year to come.
Labiba Mustabina studies biochemistry and biotechnology at North South University. A tree hugger, she also claims to be a closet artist. You can reach her at [email protected]