Barbie Lovers' Paradise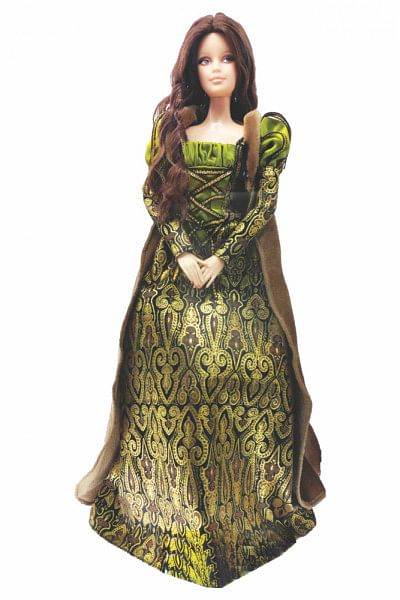 I'm a Barbie girl, in a Barbie world / Life in plastic, it's fantastic...
This famous pop song of Aqua from the nineties started to play in my mind just after I entered the main door leading to the Barbie Expo of Montreal. I was already quite excited on the prospect of visiting the world's largest Barbie museum. Like thousands of other girls, I am a huge Barbie doll fan. So when I got a chance to explore a museum devoted solely to Barbie dolls, it was no lesser than a dream come true. But honestly speaking, I got more than what I had dreamt of!
Inaugurated on 11 February, 2016 at Les Cours Mont-Royal in the buzzing downtown Montreal, the Barbie Expo is really one-of-a-kind museum to visit. There are more than a 1000 Barbie dolls on display, but these are not the ordinary ones we are familiar with. Each doll is unique in every aspect, whether it is the looks or dress and other details. All Barbies featured here have been collected from collectors, designers and artists. And what a collection it is! 
Some Barbies remind us of our childhood favourite classics, others are high fashion and extravagant ones. Montreal is a world fashion hub, and this Barbie Expo truly represents this characteristics. 
Each Barbie doll is a designer collection, and the minute details are simply breathtaking. I was just awestruck after scrutinising every doll. The drapes, the accessories, the hairdo, even the shoes they wore were just perfect! 
I did not have any idea that the world famous brands showcasing exclusive collections could make even a doll look more sophisticated. There were Barbie dolls in designer costumes by the likes of Christian Dior, Giorgio Armani, Ralph Lauren, Donna Karan (DKNY), Versace, Vera Wang, Burberry, Givenchy, Kate Spade, Coach, Christian Louboutin, Calvin Klein, Diane Von Furstenberg, Carolina Herrera, Herve Leger, Oscar de la Renta, Anna Sui, Juicy Couture, Anne Klein, Nicole Miller, Dooney & Bourke, Cynthia Rowley, Zac Posen, and that is just the tip of the iceberg! 
The little girl inside me suddenly woke up and I looked at the enormous collection with great longing…if only it were mine! There were celebrity Barbie dolls as well. The famous Marilyn Monroe with her seductive smile, in the company of Audrey Hepburn, Elizabeth Taylor, Beyonce, Cher, Jennifer Lopez, Lucille Ball, Faith Hill, Heidi Klum, Farrah Fawcett, Cyndi Lauper, Barbra Streisand, Kimora Lee Simmons, and even Daniel Craig as James Bond. 
I also found Captain Jack Sparrow of Pirates of the Caribbean, Marie Antoinette, Coco Chanel, Grace Kelly, Cleopatra; characters from The Hunger Games, The Wizard of Oz, The Twilight Saga, Titanic, Grease, My Fair Lady, Gone with the Wind, The Addams Family, and Legally Blonde.
Royalty is re-modified here, and you will understand why I am saying this if you come in this museum. Barbie dolls wearing marvellous gowns represent different kingdoms and empires. All their gowns were worth a second look for sure. One section is dedicated to dolls wearing bridal outfits. Apart from the western brides, there were brides from different cultures, even an Indian bride wearing a sari! At one end I found the famous royal couple from England - Kate Middleton and Prince William in their beautiful wedding outfits. 
Before going there, my husband and I were discussing that it would take about two hours to see all the Barbies, but we were so wrong! It took much longer and yet we felt that we had seen just a tiny portion of the Expo. I was so mesmerised with the dolls that I could just not tear my eyes away from them. 
Standing in front of the glass shelves where the dolls were, I went back to my childhood. I could clearly remember that day when my father bought me my first Barbie! I was just six years old then and I still have that Barbie in my collection.
Back to the real world, or it would be better if I say the Barbie's world. 
Apart from the celebrity and royal Barbies, there are dolls that are just like you and me. Their attires and looks are given in such a way that they can make a connection with the onlookers. May be that is the charm of a Barbie. There were Barbies showing tribal cultures, office goers, cooks, fashionistas, cabaret dancers, rock musicians, and racers! Even zombie and vampires were a major part of the collection, though I found them a bit quirky. 
My favourite ones were Barbies wearing dresses inspired by some world famous paintings. There were five of them - 'Water Lily' by Claude Monet, 'Reflections of Light' by Renoir, 'Adele Bloch-Bauer I' by Klimt, 'The Starry Night' by Van Gogh, and last but not the least, the famous 'Mona Lisa' by Da Vinci. 
I could not believe what came next. There was a live fashion show going on, and all the models are none other than the Barbies themselves. The model Barbies were standing on a moving platform, and beside the platform audiences (Barbies as well) were sitting and enjoying every bit of the show. Some of them were holding cameras flashing time to time. You can experience too, along with being in the universe for a bit, by posing like a Barbie, and have your photos taken at designated spots! 
By Fahmida Haq

Photo courtesy: Fahmida Haq