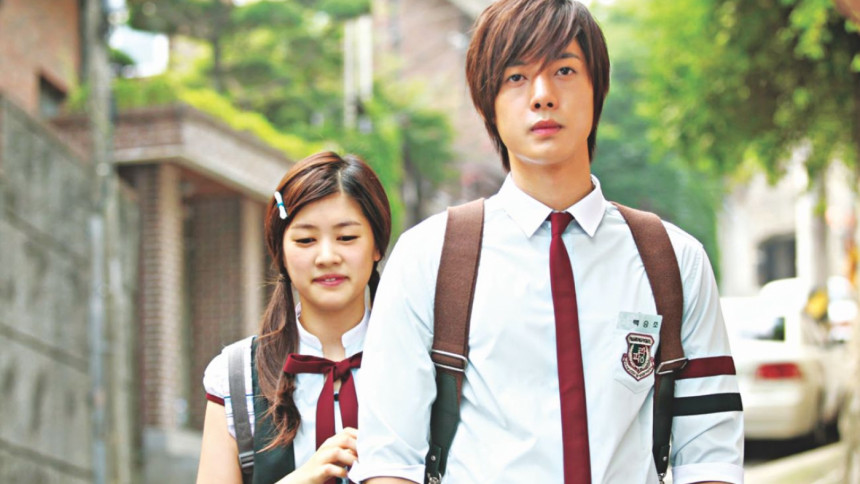 The Hallyu Wave has been creeping up on the Bangladeshi audience slowly and stealthily in the last couple of years. For those who do not know about it, you can consider it as the wave of the increasing popularity of the South Korean culture.
These days most of us have those friends who enjoy either K-Pop or K-Dramas or both. People who do not understand this Korean obsession either make fun of them or are mildly curious as to why they have lost some friends to the land of perfect cheek bones and indecipherable language. For those who are curious enough to find out, here is a little intro to five must-watch K-Dramas:
1. Boys Over Flowers: This is probably the most famous K-Drama to ever exist. The story revolves around the unfortunate but warm-hearted girl Geum Jan Di depicting her struggles and adventures upon joining Shinhwa High School and getting sucked into the glamorous life of the F4, the fabulous "flower" boys who have it all. The dynamics between the main "triangle" is astoundingly well executed. It's a wild roller coaster ride of crazy emotions and even crazier occurrences.
2. My Love from the Star: It easy to get skeptic about a Korean drama regarding an alien but this show really surprises you. The plot is very different from your average K-Drama. It has a very serendipitous feel to it which captures your attention from the very start. The frank yet silly persona of the Hallyu star Cheon Song-yi is very refreshing and matches well with the stoic Do Min-joon, a wise, immortal alien who has been stuck on earth for 400 years.
3. Playful Kiss: Most people will remember this drama for the insolent yet attractive attitude of Baek Seung-jo, the male lead. Opposites truly attract in this show and the chemistry between Seung-jo's cynic broodiness and the female lead, Oh Ha-ni's happy-go-lucky personality is sensational. It is the ideal show for those who adore traditional love-hate romances.
4. The Heirs: This show is basically the Korean equivalent of a Gossip Girl/The O.C. hybrid. It has a lot of themes in common with both the shows, particularly GG because it also revolves around the lives of a few super wealthy inheritors and one less fortunate "outsider".  The show might seem a little slow at start, but it keeps getting more and more entertaining to an exciting climax. The ending truly leaves a fine imprint on the audiences mind.
5. You're Beautiful: This show is the wildest dream of an idol fan. It is a modern Korean adaptation of Shakespeare's play "Twelfth Night". The story revolves around a young trainee nun who has to masquerade as her singer twin brother and live with three handsome K-Pop idols at their dormitory, all of whom eventually fall in love with her. The show is essentially comic in nature, ranging from charmingly silly to downright hilarious. It can become extremely addictive real quick, but it's worth the withdrawal syndromes.
If you're looking to add to your K-craze, I suggest you start on K-Drama. Trust me, you will not be disappointed.
Shama Sania Shiblee is a recovering daydreamer. Her choice of caffeine is chocolate. She is a language fanatic. Reach her at shamashiblee@gmail.com