Peter Brands: An Electrician by Day, Modding Wizard by Night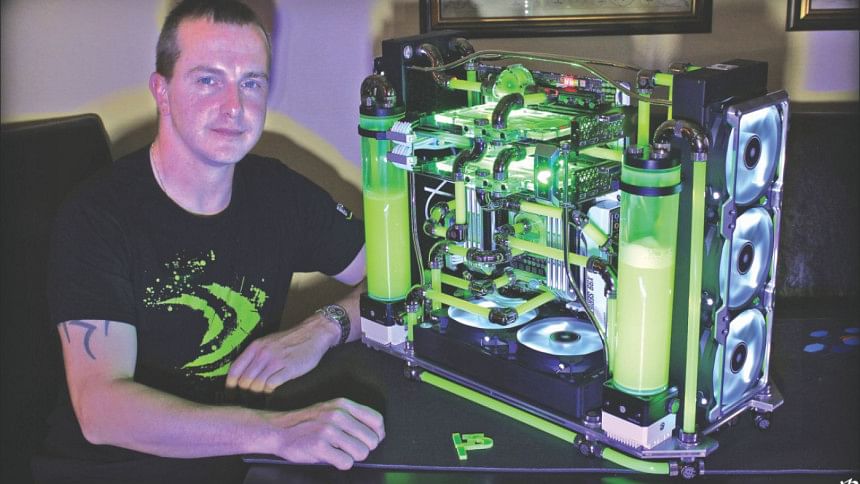 Every case modder has come across the legendary 'L3p D3sk' mods by Peter Brands at least once during their search for inspiration. Which originally blew up on the internet back in 2011 and early 2012 after winning multiple contests and being featured in almost every well-known modding website and magazines. We had the chance to talk with Peter Brands and among many things we discussed were his life outside modding, the inspiration for the L3P desk and upcoming projects.
Who are you behind the alias L3P and what do you do outside of the modding world? 
My name is Peter Brands, I am a 34-year-old-married man with a 4-year-old daughter residing in the Netherlands. Most people online know me as the modder L3P but professionally I am an electrician, mostly active on trawlers, vessels as well as doing onshore installations in industry, utilities and residential buildings.
When did you first start modding and how many have you done till now? 
I started modding and liquid cooling almost 6 years ago, though I've been a gamer and hardware enthusiast since 1995. Early on I did a lot of smaller side projects for other people. But my own best known works are the lucky 7 which are L3p D3sk, L3p L4n, L3p Parvum, Cross Desk, L3p AlCu, Raz3r D3sk and since recently L3pipe.
What sparked the vision for the L3P d3SK Project, were you surprised by its popularity?
I always had my main PC in the living room on a regular wooden desk. When I started with my liquid cooling hobby, it got really tiring to lift a 25kg case from the floor every time to change something. This drove me to start researching and as a result found a few desk builds online, it was instant love! As for popularity, that was really unexpected. It started out just on the national liquid cooling forum. Soon it started spreading like wildfire not only in the 'modding scene' but also outside like Reddit, 9GAG, newspapers, etc. If you ask me if that sudden attention was a surprise, then yes. It was my first real casemod and I did not expect it to reach such great heights. When I published the final photos for the Cooler Master contest it took my complete hosting company down for a day and my website for weeks!
How long does a project usually take? Is there usually a time frame you have in mind for each mod? 
Most of the time goes into preparation. The idea, design, carefully choosing parts and trying to get those parts at home. Since I have a family and a busy job that go first I don't have that much time outside of the weekends. Also the reason most of my mods take up to 9 months from idea to finished build.
What role do you think contests play in the world of modding? 
Personally I feel they play a big role. It keeps the scene alive and evolving. Some modders really live for them, not that the prizes are that big compared to sports but honor plays a big role.
Would you say that doing a themed projects is harder than one tailored by your vision, since it requires a lot more research?
I haven't done any themed projects yet, simply because I prefer scratch builds more. Scratch builds are without an existing case, completely my own design. I can imagine a game or movie related themed build can take just as much time if not more, but it's just not my thing. 
Who are the people who inspired you to get into modding?
I wasn't really inspired by anyone to get into modding. It all started because of creating better cooling solutions for myself. Though later on, I did find modders that inspire me, most notable of them being Attila Lukacs.
So far in 2015 have you seen a mod by someone else that really impressed you but somehow did not get the attention it deserved? 
I've seen this 'scratch build' in the Cooler Master 2015 casemod compo by St.o.CH. Really liked what he did here but unfortunately there doesn't seem to be much talk about it.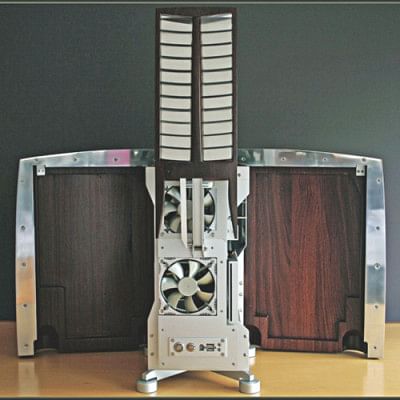 Among all the projects you did, which one required the most work? And do you have a favorite? 
Definitely 'L3p D3sk' in both ways. It took me a full year to get it finished because at the time it was also my only PC, so every change I made I had to get it running again before the weekend ended. Not to mention the cooling system. It has a big 1080 radiator underneath my house in the crawlspace, still ever running in complete silence in the living room despite being 5 years old.
Are you working on any project right now? 
I just finished 'L3pipe' 1 month ago but I am already working on a new one. It's a liquid cooled Steam PC / HTPC called 'Steigerwood'.
What advice would you give to the first time modders out there?
Following your vision is fine, but don't set the bar too high! Try to keep having fun at what you do.  I've seen quite some modders start something but never finish it. Start small, that is the only you will grow big.
Would you say there is a certain element they should focus on more than the others? 
Above all, be patient! Next to that, practice working with basic hand tools and material like acrylic, aluminum or foam. It's very important to know what you're capable of before doing something.
Are there a particular set of tools you would consider a must have for anyone who is intending to try their hand at modding? 
You really don't need anything fancy to start off, for me the most important tools are a file, sandpaper, paint, fretsaw, drill, ruler, calliper and a black marker. You can almost do any mod with this set and then upgrade later as you learn more.
Well that is about it Peter, thanks a lot for your time and sharing your knowledge with us and the community. We hope to see more of your work inspire people in the future. 
Well thanks a lot for having me, I appreciate it. Hopefully I will be able to keep inspiring people with my work.
Spreading the hype for technology and gaming, one word at a time. If you don't mind brutal honestly and countless debates, follow me @AbirZenith or hit me up with an email at: [email protected]